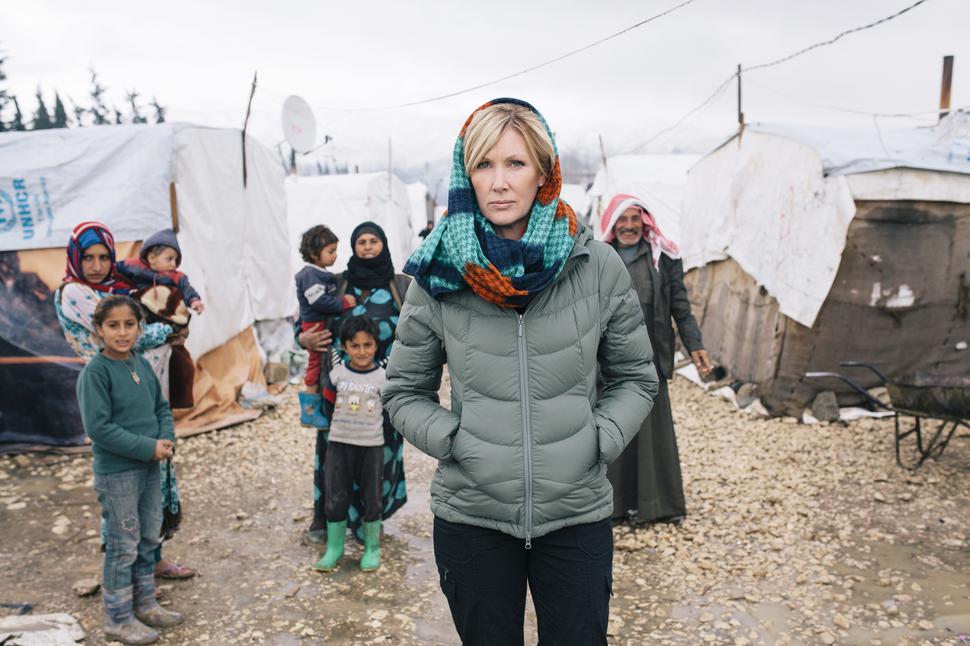 Rachel Smalley's Journey to the Middle East
The Newstalk ZB radio host shares her journey to support the World Vision Forgotten Millions campaign
Wednesday Dec. 30, 2015
THE BOY WHO TRIGGERED A MISSION
It all began in January, in a crudely built refugee tent on the Lebanese-Syrian border. It was winter, a dense layer of snow had settled on the Anti-Lebanon mountains and the wind was cold as hell. I sat hunched over on the dirt floor next to Ralph Baydoun, a Lebanese videographer from World Vision. Rainwater was seeping through a join in the flimsy tarpaulin roof, and six children huddled around a fire burning plastic bags, warming their outstretched hands for a few toxic seconds.
"God, this is miserable," I said to Ralph.
He looked at me and raised an eyebrow. "This is bad? It snowed last month. Can you imagine how bad that was?"
I stared blankly back. No. I couldn't even begin to imagine that.
Adel sat opposite us. He was 12 years old, the eldest and the only boy. He had warm, almond-shaped eyes and an infectious grin. He should be in the throes of childhood but his carefree innocence was buried somewhere in the rubble and carnage of the Syrian conflict.
He told me rockets and raging fires had destroyed his home and school, but the single-most catastrophic event in his young life was the death of his father a few months before our meeting.
His father had been shopping at a local market when a crude barrel-bomb was rolled through the open door of a low-flying helicopter, decimating lives and livelihoods in a matter of seconds. Adel heard the explosion and ran to the market with his mother, Wasfa, and his five sisters. Amid the chaos, the smoke and the flames Adel found his father's lifeless body lying awkwardly on the ground.
"Adel was so brave," Wasfa told me.
The children knelt beside him, unsure of what to do. The youngest tried to wake him, gently nudging his body and calling his name, but Adel knew the life had gone from his father's body. He asked his mother and sisters to help him, and together they lifted his body off the ground and carried him home.
He was buried later that day, in keeping with the Muslim faith, and then Wasfa said she had no option but to board a bus to the Lebanese border and seek refugee status for her family.
The stories of Syrian refugee families are always peppered with tales of suffering and unimaginable trauma but I found Adel's story particularly difficult to listen to. His positivity in the wake of such a tragic event was what challenged me the most. He told me he would train to be a doctor one day and would look after his mother and five sisters. I looked down at his young face knowing he had little chance of achieving his dream.
Ralph and I stayed with the family for some time but as we stood to leave, Ralph pulled Adel to one side and placed a hand on the young boy's shoulder.
"Enta batal," Ralph said.
Adel's face lit up and he beamed a wide smile.
"What did you say to him?" I asked Ralph as we left the tent.
"I just told him, 'You're a hero'."
It was a fleeting, tender moment. The words of a Lebanese humanitarian and the few seconds of joy it brought to the face of a young, fatherless Syrian child. In the midst of such a savage and brutal conflict, you hold dear even the briefest moments of warmth, hope and encouragement.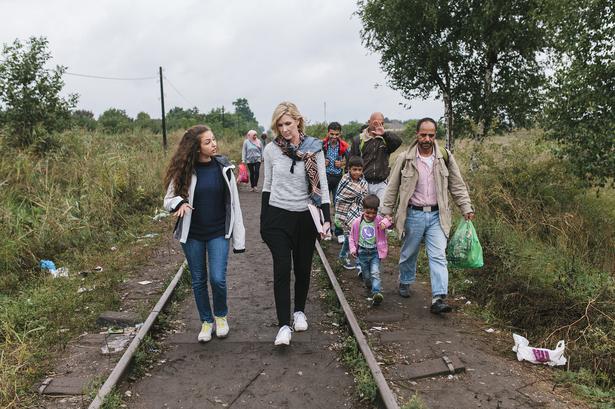 Adel's story was the first of 20 stories I wrote for the New Zealand Herald and World Vision's Forgotten Millions campaign. Our fundraising target was between $100,000 and $150,000 but we were completely in the dark as to how much money we would raise.
Natural disasters always trigger a flurry of donations but the public is less likely to empathise with a man-made disaster.
March 6 was the first day of the appeal and Adel's story triggered some $7000 in donations, but over the next two days the money began to dry up. In the space of 48 hours, just $1300 came in. I felt a sense of despair. I couldn't see how we would reach $50,000 at this rate, let alone $100,000.
Then, in the second week, something changed. The campaign gathered momentum and money began to flow in from all over the country. The $150,000 target came and went and by the end of the third week New Zealanders had dug deep and donated an extraordinary $440,000 to the Syrian cause.
I was buoyed by what the campaign had achieved but the situation in Syria continued to trouble me. The enormous need for humanitarian aid hadn't gone away. Aid agencies were trying to help 13.5 million people including 6.5 million children. What to do? What more could we do?
I went for a run. It had become a form of therapy for me, helping to empty my head — albeit temporarily — of some of the trauma I'd witnessed and heard in the refugee camps in Lebanon and Iraqi-Kurdistan. It was while I was out running that the idea came to me.
What about a marathon? And what if we took a team of Kiwis to the Middle East to run it? I rattled through the countries hosting refugees along Syria's borders.
Jordan? A possibility.
Turkey? No. Too unstable.
Iraq? Hell, no.
Lebanon? Lebanon would be the best option. There were 1.5 million Syrians living inside its tiny borders and it was the country I was most familiar with. I stopped on the side of the road and googled "Lebanon Marathon" on my phone.
Boom! There it was. The Beirut Marathon. It was the perfect place to race.
I emailed Gaz Brown at Get Running. He'd coached me to run two half-marathons and every year he takes teams of Kiwis overseas to run the big, prestigious marathons, such as New York and London.
I met him that week.
"I need your help, " I said. "Will you take a team to Beirut to run the marathon?"
His eyebrows almost shot off his forehead.
"Beirut? What the ... where? Seriously?" he said.
I nodded. He looked at me sideways. I avoided eye-contact and looked around his office, resisting the urge to whistle.
"Are you still trying to save the world?" he asked.
"No," I said. "Just a few Syrians."
He shook his head. "You're nuts."
I shrugged.
Then he turned to look at his desktop and I knew he was researching the race on the web. Every now and then he asked a question.
"Is it safe these days?"
I nodded.
"Really? Beirut?"
"It's safe where we'll be. And the food is great. It's a fabulous city. Honestly. You'll love it." I said.
He shot me another sideways glance.
"I could talk to World Vision and we could go to the border and meet some of the Syrian refugees we'll be fundraising for," I said.
"Which border?" Gaz asked.
"The ... you know. The border. The Syrian border."
Another sideways glance. Another raised eyebrow.
Then he perked up. "Hey, Haile Gebrselassie ran it last year. That's something."
"I know!" I said, although I didn't. "So what do you think? Will you do it?" I asked.
He sighed and rolled his eyes.
"I'll look into it. You're a pain in the arse, Smalley but okay. I'll see what I can do."
Brilliant. I could tell that Gaz was on board.
The next three months were fraught. There was an itinerary to confirm, flights to book, security briefings to sit through and complex insurance arrangements to negotiate as well.
Gaz was in charge of the tour and I was in charge of the fundraising dinner. How hard could it be? Well, quite hard, it worked out. I wanted a big, gala dinner and a high-value auction and time wasn't on my side.
Securing the venue was the easy part. I wanted a big venue for a black-tie event, and I wanted a good deal. I phoned Sky City and arranged to meet with the chief executive, Nigel Morrison, at Depot.
Nigel had done his homework. He was familiar with the Forgotten Millions campaign and spent 30 minutes firing questions at me. What did I want? How much was I trying to raise? Who would benefit?
In the end he ran out of questions.
"Look, it's a great cause and we'd love to help in whatever way we can. We're in. Good luck."
And with that, he was gone. I stayed sitting at the table. I was overwhelmed. In the space of a week I had Get Running and Sky City on board. It was a double-coup for the Forgotten Millions campaign. The Beirut Marathon and the Gala Dinner were going to happen.
In the weeks that followed I was immersed in what seemed to be a million meetings but in September, just a few weeks before the Gala Dinner, the refugee situation took a dramatic turn. Hundreds of thousands of refugees were descending on Europe as the crisis shifted from the Middle East to the Serbian-Hungarian border. I was writing about the crisis when Chloe Irvine from World Vision phoned me. She had just spoken with the Herald and NewstalkZB and they agreed the Forgotten Millions campaign should go back on appeal.
"Can you go to Serbia?" she asked.
"When?" I said.
"As soon as possible."
Serbia was where we needed to be. Culture, religion, politics and race were colliding head-on along the European border. The situation was truly wretched.
The problem was the timing. It was terrible. The Gala Dinner was less than a month away and there was still so much to do.
I called my husband, Luke. What did he think?
"Go," he said. "You've got to go."
Forty-eight hours later I was on a plane to Belgrade with photographer Jo Currie and cameraman Bradley Ambrose. We knew it would be a challenging situation but nothing could have prepared us for what we were about to face in Serbia.
The scale of the crisis was unfathomable. Thousands and thousands of cold, hungry and exhausted people were trudging towards the border. Tiny children with empty eyes and blistered feet walked wearily at the sides of their parents. Mums and dads urged elderly grandparents to catch up. Many were hobbling, nursing painful back problems or troublesome hips. It was a miserable situation made worse by the pouring rain and the menacing Hungarian police who met them at the border, batons in hand.
Rows and rows of cameramen filmed refugees as they crossed into Hungary and photographers scurried along beside them snapping images of people whose names they didn't know, and they didn't stop to ask.
I asked Nada Jahshan, our Arabic translator why some of the refugees were covering their faces.
"They feel humiliated. They feel as if the media is treating them like animals," she said.
"They are," I replied.
The next day we decided to walk the illegal route into Hungary alongside some of the refugees instead of meeting them at the border. The four of us stuffed our passports in our pockets and set off down the railways tracks. Some of the stories we heard along the way will stay with me for life.
Jo, Bradley and I worked late into the night, filing stories, films and photos for more than a week and by the end of the appeal, the Forgotten Millions campaign had generated another $860,000 for the Syrian cause.
Back home, I picked up where I'd left off with the Gala Dinner. There were still tables to sell and I needed more auction items but some of our most prominent corporates jumped on board and, by the cut-off date, we'd sold 300 tickets.
On the eve of the gala I went to Burger Fuel to carb-load ahead of a big training run the next morning. Mum was up from Christchurch and was sitting opposite me when my phone rang. She told me to ignore it.
"That phone never stops. Just finish your burger. Whoever it is can jolly well wait," she said.
I did as she said and then checked the message.
"Hi Rachel, it's John Key here. Can you give me a call when you get this message?"
Mum looked at me. I was shaking my head. "Who is it?" she said.
"It's the Prime Minister. I bet the bugger's calling me to say he's not coming tomorrow night."
I called him straight back. He told me Bronagh was ill but he would be there and then he asked if he could speak for a few minutes at the gala. I said I didn't want the event to become politicised but I could probably make some space for him.
"I've been reading your stories. How much have you raised?" he asked.
I told him it was close to $1.3 million.
"Right. Well, that's great. The Government would like to match that."
I don't remember what I said after that. Not a lot, I think. I know I thanked him several times and told him I would see him the following night and then I walked back to where Mum was sitting, waiting for me. "Mum ... we've just got another $1.3 million for Syria."
She didn't say a word but fossicked around in her handbag for a tissue. She handed me one and the two of us sat in the middle of the restaurant and cried. The Forgotten Millions campaign had just hit $2.6 million.
The gala itself went in a blur. The auction raised another $150,000 and the marathon generated more than $30,000 in direct sponsorship, but the moment that will stick with me forever was when Neil Finn stepped on stage and sang Help Is Coming.
In that moment I thought of the Syrians I'd met in Lebanon, Iraqi-Kurdistan, Jordan, Serbia, Hungary and Turkey and I suddenly felt enormously proud to be a New Zealander. Our little country had raised almost $3 million and that would soon be coming their way.
The next two weeks rocketed by and before I knew it I was on a plane to Lebanon with a team of 15 Kiwis to run the Beirut Marathon.
It was my first marathon, so John Strowger, a lawyer from Chapman Tripp, and Tony Carter, the chairman of Air New Zealand, said they would run it with me. I had no idea what to expect but both men were experienced marathon runners.
I told myself that all I had to do was listen to them and put one foot in front of the other.
It was a beautiful course that zig-zagged its way through Beirut's narrow streets and magical architecture, but the temperature was fierce. It hit 28C at one stage and I lost count of how many litres of water I drank and how many bottles I emptied over my head. I hit the wall not once, but twice — the first time was at the 28km mark and then I almost ground to a halt at 34km as well.
Tony and John kept me going. Neither complained about the heat and, on reflection, I know they wanted to keep me in a positive frame of mind. They told me when to eat, drink water or take on electrolytes. I did as I was told. If it hadn't been for them, I would probably still be out there.
Gaz, my coach, kept dropping in on us.
"Smalley, how are you doing?"
"Hot," was about all I could say.
"Okay, give me your heart rate."
I have a stubbornly high heart rate. I don't know why. I've had tests but it often sits around the 185 mark. "174," I told him.
"Oh. That's quite good for you. Your pace is good. Keep going."
And then he would peel off and join some of the other runners. Gaz spent hours on the course that day running between the different groups and making sure everyone was coping in the challenging conditions.
I'd been out on the course for 4 hours and 24 minutes when I saw the finishing chute. John was running alongside me, smiling and patting me on the back. "You've done it! Your first marathon. You've made it!"
It's hard to describe the feeling but it was a heady combination of emotion, exhaustion and exhilaration. I crossed the finish line and someone placed a finisher's medal around my neck. I don't think I took it off until the next day.
The Forgotten Millions campaign now sits at close to $2.8 million. There are already plans in place to continue fundraising this year and World Vision's 40-Hour Famine will be dedicated to the cause.
I am sometimes asked how I feel about what we've achieved this year and it's an easy question to answer.
Grateful. Proud to be a New Zealander.
Share this: