Real Weddings: Sue Nelson & Deborah Kelland
A surprise wedding at Parnell's Cibo went off without a hitch for Sue and Deborah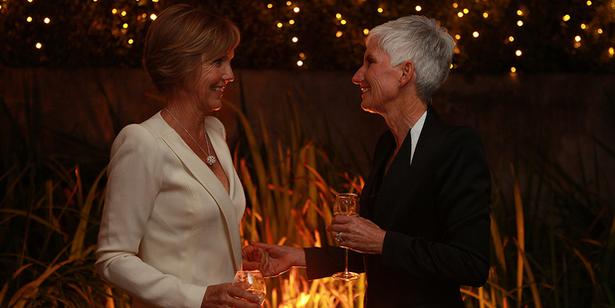 Wednesday Aug. 6, 2014
THE APPROACH
I knew it had to be big to get Sue to finally agree to marry me after 26 years of saying, "No, girls don't do that." So I enlisted the help of Candy Lane and her incredible dancers to do a surprise Flashmob wedding. So everything was done in secret - big risk - even the guests didn't know. Thank God it came off. I also enlisted the help of John Hawkesby and his wife Joyce to manage the guests beforehand because their curiosity, as you can imagine, was huge. John was hilarious, to say the least, managing them - a master.
THE PROPOSAL
After we arrived at the restaurant, Sue was whisked into a spontaneous dance to Flash Dance with 20 of Candy's amazing dancers who pretended to be guests and waiters. My nephew led out our handsome dog, Strauss, with a red rose at the perfect moment.
Then the dancers swooshed us out on to the pavement outside so that I could propose out of everyone's sight (as I did not want them to be disappointed if she turned me down).
Fortunately, Sue said "What is it that you want, darling?" and I said, "Just to marry you!" and she said, "Of course." Just like that. So I said, "Make sure you mean that ... because if you agree it is going to happen tonight."
PRE-WEDDING EVENTS
None of that, clearly, although our daughter, Chelsea, and my sister, Nicola, who planned the whole thing with me and encouraged me when I had sleepless nights beforehand, were at the dress rehearsal with the dancers and helping me choose the outfits, and their advice was essential and encouragement vital.
OUTFITS
An Adrienne Winkelmann dress for Sue and a suit for myself. Fortunately, she still had our sizes from years back and, fortunately, we had not changed.
BRIDESMAIDS AND GROOMSMAN
Our daughter, Chelsea, wore a stunning full-length dark grey dress, which was fitting around her seven months' pregnant body and looked gorgeous. Our friend, Cheryle, wore a lovely black dress. My bridesmaid was my sister, Nicola, who wore a delightful sequined dark grey dress from Helen Cherry.
RINGS
Our engagement rings are Chaumet from Hartfield in Parnell, and we got our wedding rings from Walker and Hall; full diamonds all the way around.
HAIR & MAKEUP
Sky-Cripps Jackson, now in London.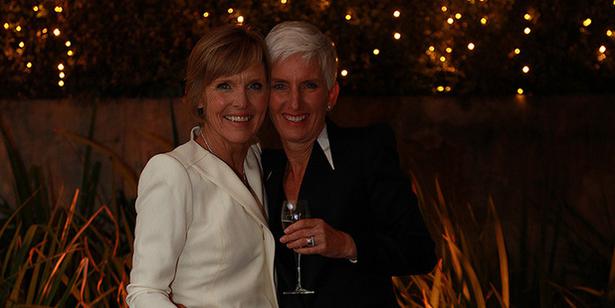 LOCATION
Cibo in Parnell. One of our favourite restaurants and close to our apartment, for Sue to be able to go back and get dressed once we had had the proposal and acceptance. Always impeccable for its standard of food and service. Great also because we had the outdoor area where we were able to stand and marry beside the flames over the water. Perfect, as we are both fire signs. Amazingly, Sue said to me a couple of weeks before as we walked past on our daily walk with our dog, "That would have to be the best place in Auckland for a wedding." Whew, I thought - if you only knew.
TABLE SETTINGS
Very simple as the venue speaks for itself.
FLOWERS
Just some simple roses.
WEDDING VOWS
Spontaneous for us both and as a result not too contrived, and real.
PHOTOGRAPHER
Jacko Andrews, at Onstage Productions, did an amazing video that brought everyone to tears. Still photography was difficult as it was so unplanned but Wono Kim, from W Studio, did what he could in the moment.
SPECIAL MOMENT
I think the whole night was extraordinary because so much was at stake with the proposal, and the relief was enormous. I feel the surprise made the wedding very memorable for all the guests.
HONEYMOON
We went to Hong Kong and stayed at The Upper House.
TOP TIP FOR BRIDES-TO-BE
Be daring and don't get too bogged down. It took Nicola and I three days to plan and implement this wedding and we only booked the venue four weeks out. Just go for it.
I have since become a wedding celebrant as I felt that there is so much room for a celebrant who understands the pain and challenges of marrying same sex couples, challenges that have to deal with their own homophobia and concern for others' reactions.
It is definitely what stopped Sue from saying yes before. I cried for days in preparation for the big day and with my fears associated with still feeling like a pioneer in the public eye. The Same Sex Marriage Bill has helped us feel equal, but there are numerous layers to what we have had to hide for so long.

* For more inspiring weddings, read Jade and Ben's story here, and see Samantha and Kishan's double wedding here. Find your Viva Weddings Special Edition in today's Herald.
Share this: