Real Weddings: Alana Dixon-Calder and Mark Calder
The couple share how their search for the unexpected made their day all the more special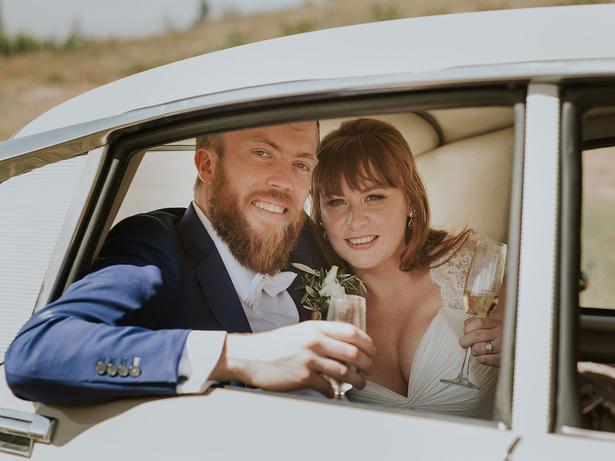 Friday Sept. 30, 2016
DESTINATION
Everywhere in the world we went from Bolivia to Iceland to Slovenia and Phnom Penh — we would always turn to one another at some point in our holiday and say, "it's spectacular, but it's not Wanaka." Each of us had spent lots of time in the Central Otago town with our families as we grew up; since we started dating we have been there a lot as well so it is really special to us.
We did most of our planning while still in London, including tasking our parents with visiting a shortlist of venues. We decided to go with Rippon Vineyard. Our first weekend to Wanaka after moving home, Mark and I drove up the big, sweeping drive and I will honestly never forget the moment the vista stretched out in front of us. Set high on a hill overlooking Lake Wanaka and Ruby Island, it had natural beauty in spades. The view from the hall is just as breathtaking as the view from outside, and we loved the look of the recycled timber floor, elegant timber trusses and stone facade. Plus, the wine is freaking fantastic!
APPROACH
I am not a fan of obvious wedding themes, but in saying that, we wanted to draw inspiration from some of the beautiful sights we'd seen together on our travels. Aesthetically, we wanted to strike a balance between a Tuscan and Provencal feel — laidback, slightly undone elegance — so having local transport providers Funny French Cars was a no brainer. Their vintage Citroens were kind of a jumping point in the development of the look we wanted to go for.
The best weddings are the ones that feel chilled out and relaxed. We wanted our day to feel like a big dinner party, not an uncomfortable "event". We may be biased, but it felt we hit that mark for sure. Everybody genuinely seemed to have had a great time and we even had our Newfoundland puppy, Lottie, there as ring bearer. She spent the day beforehand doing more primping than Mark and I, and she was totally the star of the show.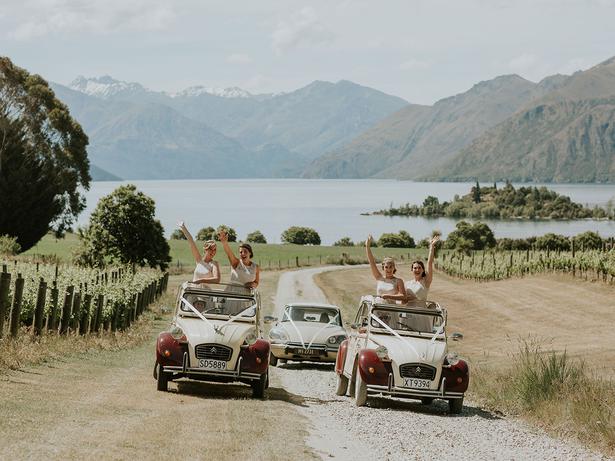 GUEST LIST
We wanted to keep it intimate and ended up with about 86 people there on the day, including ourselves and the bridal party.
HAIR AND MAKEUP
Emma from Alice Hair in Wanaka was amazing, she knew exactly what I was after with my most vague of descriptions — a Bardot-esque half-updo. Janine Joseph based in Wanaka did my makeup and I loved it, very natural looking with my eyes played up slightly.
FLOWERS
Andrea from Andrea Crawford flowers in Queenstown was an absolute champ. Neither Mark nor I have green thumbs at all, so the only direction she got was for white flowers and lots of lush greenery. I was obsessed with foliage table runners and she crafted the most amazing, luscious looks for the tables. She really listened to exactly what we wanted and even added sprigs of lavender to the arrangements to go with our South of France vibe. The bouquets were perfectly flowy, and the tables made it feel as if we were all eating in a garden — paired with the fairy lights later in the evening, it made for a magical atmosphere and really tied the look together beautifully.
SEE: 12 Times Queenstown Proved it's the Most Instagrammable Spot in NZ
TABLE SETTINGS
In keeping with our plan for the day to feel like a dinner among friends, we had our food served family-style. I like to think lots of chit-chat was had as people passed the platters to one another and helped themselves. Our caterers, Raspberry Creek, covered more than just food. As well as crafting an incredible menu, with canapes that nodded to our travels across Asia (and Mark's favourite foods), mains that paired with the look and feel of the day and a dessert buffet.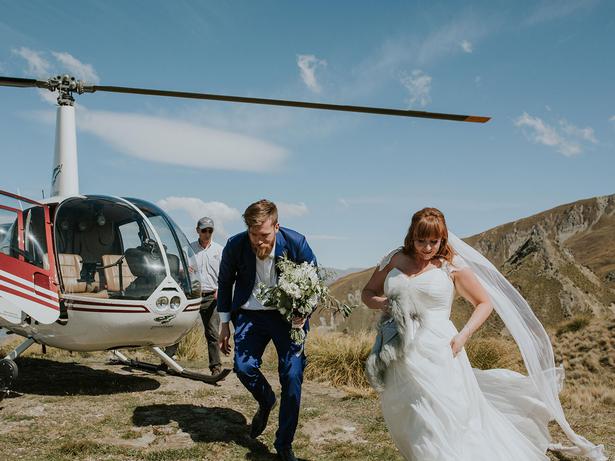 CAKE
Kim Marsh, who owns Cakes by Kim in Clyde, knows how to hit the spot. One layer of our double-barrel cake was white chocolate mudcake, the other was lemon flavoured. It is a miracle the leftovers are still in our freezer, waiting for Baby Dixon-Calder's arrival in March.
ENTERTAINMENT
We had lawn games including croquet and oversized Connect Four for the guests during cocktail hour, and Invercargill band The Flaming Moes had everybody dancing the entire night.
PHOTOGRAPHER
Thanks to Anna from Alpine Image, we get to relive the most spectacular day of our lives every time we open our wedding album. Anna was the first vendor we booked and we have so much gratitude to her for capturing how our day felt so perfectly. We just loved Alpine's candid, documentary-style photography and I love looking at all of the details in the little moments that made our wedding special.
SPECIAL MEMORY
My younger sister Renee blew us out of the water and booked a flight to Mt Roy with Wanaka Helicopters as our wedding gift. The photos are amazing, but equally special was the chance to spend some time together to catch our breath and remind ourselves to take every moment in.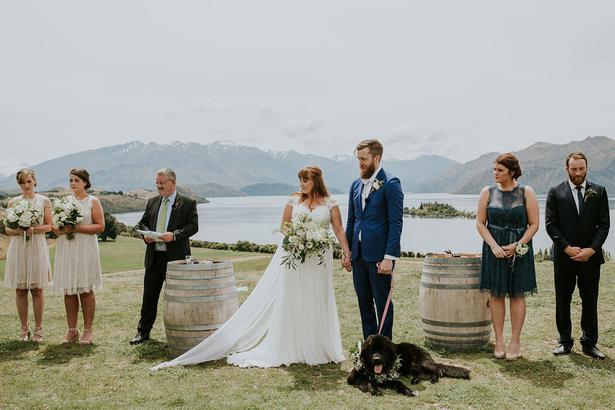 My mother passed away when I was just 19; I have always known that getting married without her would be bittersweet to say the least. I'd always envisioned getting married in Wanaka in autumn with all of the beautiful colours, but after we got engaged we realised my parents' wedding anniversary the following year would fall on a Saturday. Choosing to get married that day, 34 years later, made me feel closer to her. As happy as our wedding was, getting through it without her was always going to be difficult.
I felt very lucky to have had women who were special to her there in my suite at Lakeside Apartments as I got dressed that morning, and I felt even luckier when her beautiful friends Rosey and Marty surprised us at the ceremony by speaking in her honour and performing the most beautiful waiata, in recognition of our heritage. The whole room was in tears but it was a nice release and a moment for all of the guests to come together and remember her. On the day we also remembered my brother Faran, who passed away before I was born, and Mark's cherished cousin Jason.
HONEYMOON
An amazing beach holiday in Kota Kinabalu, Borneo, over New Year's — via a stopover in Guangzhou, China, for Mark to get his fill of yum cha. Normally our travels are all go, so it was nice to unwind and blob out for a change.
Share this: