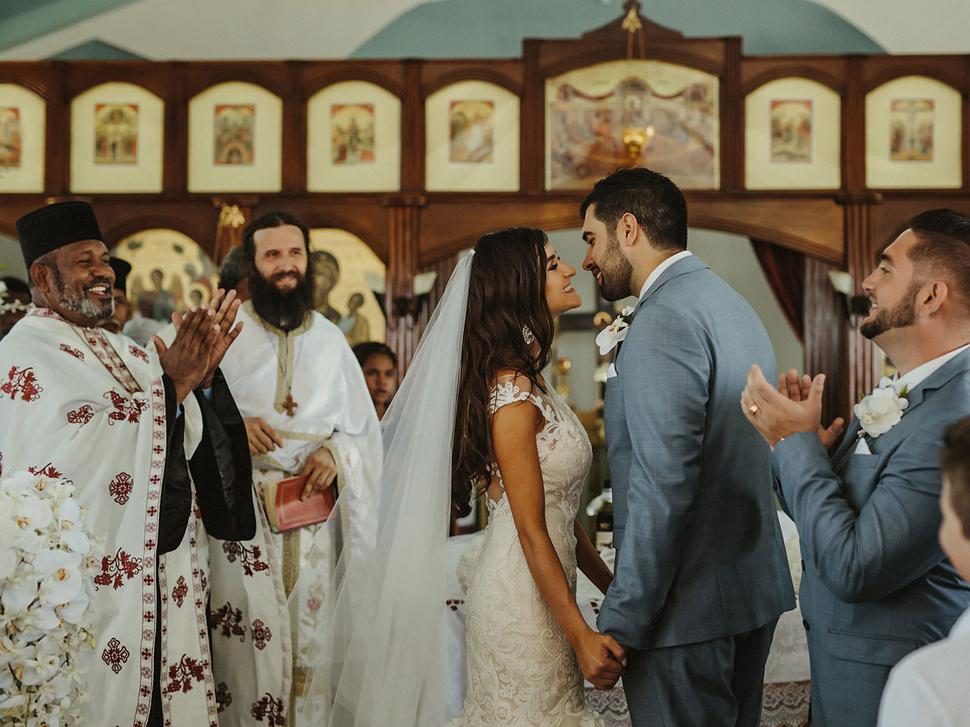 Real Weddings: Alexia and Peter Carras
Be inspired by the lavish Greek Orthodox Fijian island wedding of this real couple
Wednesday March 30, 2016
THE PROPOSAL
Peter and I met in 2004 at a local Greek dance. We became best friends and have been together since 2006. He proposed on the beautiful island of Moorea, Tahiti on January 4 2015. We had just spent a wonderful day exploring Moorea, getting up close with a bottle-nosed dolphin, touching stingrays and feeding sea birds and were relaxing on a hammock on the beach enjoying the sunset. The perfect setting for a dream proposal really. Peter took my hands in his and said "first comes love, then comes this..." and he got down on one knee and asked me to marry him.
ENGAGEMENT RINGS
The engagement ring has a beautiful emerald cut centrepiece diamond, emblazoned with a round brilliant diamond frame and shoulders designed by Michael Hill. Peter's wedding ring was designed by us and handcrafted by the fantastic team at Village Goldsmiths; a mix of brushed gold and polished gold with a centred princess diamond.
LOCATION
One night someone suggested a destination wedding as a joke and this planted the seed. From that night onwards, nothing would change our minds and we were ready to face any challenge to make our dream a reality. We have a love for the South Pacific islands and everyone knows that about us, so it couldn't be a more perfect location to tie the knot. However, our culture and traditions are very important to us and choosing to have a destination wedding meant that we were risking losing all of that.
When we became aware of a little Greek church in Fiji (which our Archbishop, K.K. Amfilochios from Wellington, New Zealand built), we thought that this could be the only possible way to unite all of our ideas. From here it was full steam ahead to try and plan our 'big fat' Greek wedding in Fiji, in under one year.
THE APPROACH
When we decided to get married in Fiji, we never thought we'd have such a difficult time planning our big day. We weren't your typical 'fit the package' type couple, and being Greek Orthodox made it more difficult. We wanted to be married in an Orthodox Church, so this meant that the whole 'beach wedding' idea was out. Our choice of venue for our reception, allowed us to bring in the whole island/beach wedding experience, allowing us to have the best of both worlds.
We had been struggling for months to find the right decorating company, and were so lucky to come across Sydney-based Tropical Destination Weddings. Michael Sawicki, the manager of the Flying Fish Restaurant, was exceptional too and went beyond the call of duty in order to ensure our expectations were met. Our biggest worry was how everything would eventuate given the amount of time we had, the heat and the new/never trailed jobs we had given them but we were in the safest hands with them. They managed to prepare and decorate our entire reception venue in just over two hours - we still don't know how they managed.
GUESTS
We were honoured to host over 120 of our closest family and friends. Our guests travelled from all ends of the world; South Africa, London, Canada, Oman, Australia and New Zealand. Having your guests share in your special day is truly an amazing experience, but having your guests share a further week with you is incredible. This trip was not only for us, but it was for all of our guests as well. As two families came together, we all united. New friendships were formed, old bonds were rekindled and we all formed memories that we will never ever forget! It truly was a special unforgettable experience and nothing will ever come close to matching the days we shared with everyone. We couldn't recommend an experience like this more highly.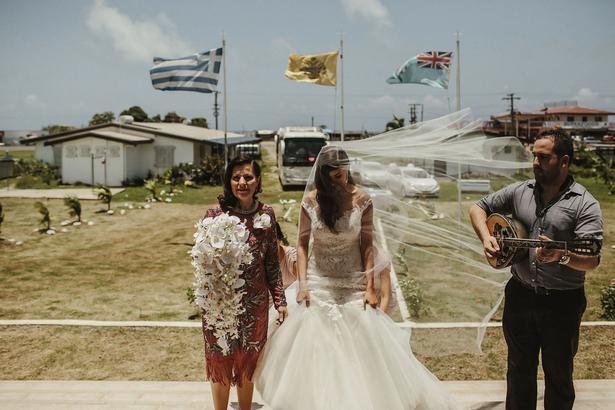 Alexia Carras. Picture / Danelle Bohane, danellebohane.com.

THE DAY
We were so worried in the few days leading up to the wedding, as Cyclone Ula was hanging around. We had very high winds and non-stop rain and were running around organising back up plans with all of our suppliers. The wedding day came and we did not have one drop of rain, in fact it was one of the hottest days the locals had seen in a while. We really struggled to get through the 36 degree heat and 96 per cent humidity.

A few coaches were organised to pick up our guests and take them to our little Greek Orthodox Church. The Holy Trinity Church is nestled in the village of Lautoka and it meant that our guests had to travel 40 minutes across the backroads, giving them the opportunity to see the real side of Fiji on the way. The church was quaint, with a sky blue ceiling, two beautiful rustic chandeliers and an alter decorated with Greek icons. It was an honour to be married by our Archbishop K.K. Amfilochios and four priests (an extremely rare occasion for any Greek wedding).

To have a bouzouki player walk me up the path to the church and to hear those church bells ring as we entered, was moving and added to the excitement. Having lost my dad many years ago, my mother walked me down the aisle and handed me over to Peter at the alter - a truly special moment. There was nothing more unique than having the local stray dogs enter the church during the ceremony and having the young Fijian orphans sing in Greek as our church choir.

THE CEREMONY
The highlight of the service is the exchanging of the rings. Our Koumbaro (best man), Stergios Kamberogiannis, changed the rings three times, symbolising the entwining of two souls into one. When the Koumbaro exchanged the rings, it symbolised the mutual support and common strength in the new family. The Priest then joined our ring hands and they remained joined throughout the service, symbolising our "oneness".

The crowning ceremony was the climax of the wedding service, which symbolised the unity of two souls. The crowns (Stefana) were joined by a white ribbon and our Koumbaro exchanged the crowns three times as a witness to the sealing of our union. The drinking of the wine from the Common Cup served to impress upon us that from that moment on, we will share everything in life; joys, as well as sorrows, and that we are to "bear one another's burdens." The Priest and our Koumbaro then guided us by our joined hands and lead us around the altar – these were our first steps as a married couple.

On exiting the church, we were met by a shower of rice and confetti. Our wedding reception was held at the beachfront Flying Fish Restaurant at the Sheraton Fiji Resort. Our guests were seated at long tables decorated with beautiful white sequined tablecloths, and the white flower garlands (with candles in between) adorned the tables from one end to the other. Everyone was in awe of the way things were decorated and couldn't believe the stunning white wonderland that they were surrounded by.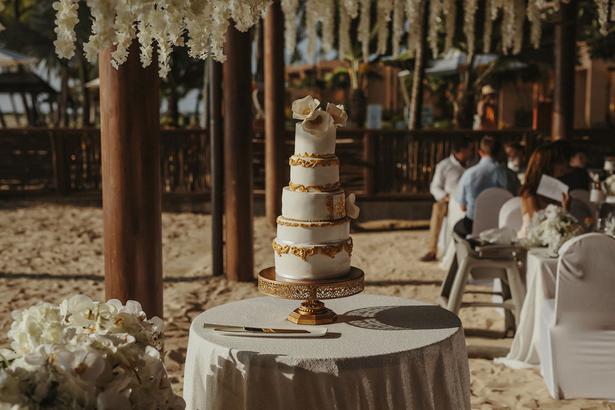 The wedding cake. Picture / Danelle Bohane, danellebohane.com.

OUTFITS
I was lucky to come across my stunning Sottero and Midgley dress, with bold patterned lace adorning a portrait illusion front and back neckline. The dress was found on a girls trip to Sydney at the lovely Abbey Bridal Boutique. Peter and his groomsmen struggled to find summer coloured, light weight suits for our island wedding and turned to online retailers. Peter thought he'd try his luck with the quality of a suit from Asos and was more than happy with the result. They ended up purchasing their shoes and bow ties from Asos as well. My two maid of honours wore beautifully gathered v-neck, full length gowns by Pia Gladys Perey in Rosy Latte.

HAIR AND MAKEUP
CJ Makeup Artistry from Sydney did the bridal party's hair and makeup on the day. I went for vintage waves but they didn't quite hold up in the heat.

THE FLOWERS
You'd think that a tropical island would have heaps and heaps of flowers for you to choose from but this wasn't the case. We worked with Tropical Destination Weddings to come up with ideas to utilise the real flowers we could, but with a mix of artificial flowers. White dendrobium orchids, white hydrangeas, white peonies and white and cream phalaenopsis orchids were our chosen flowers and the team couldn't have done a better job at making everything look alive and real. With a ceiling covered in white wisterias, we felt like we were all sitting in an orchid of flowers. They had to ship in over 33 boxes, so over 400kg of flowers, candles, tablecloths and chandeliers to give us the touch of luxury we wanted.

THE CAKE
Taste of Fiji delivered five tiers of gold and white deliciousness; a stunning gold gilded cake with a form of renaissance style detail. The various flavours were chocolate mudcake, lemon, banana and chocolate and our favourite, passionfruit and white chocolate.

ENTERTAINMENT
For Greeks, the most important aspect of any event is 'kefi', defined as "spirit, triumph, joy, adrenalin". If an event doesn't have kefi, it isn't successful. We flew DJ D'Angelo all the way from Sydney because he knows how to read a crowd and we knew we wouldn't have a problem with him. He also plays bouzouki (a Greek instrument), so our guests were treated to a live bouzouki floor show, allowing us to party the Greek way. He had us dancing non-stop under the stars; our guests enjoyed it so much, that they even ended up dancing in the ocean. The vibe was felt in other resorts and we found that several spectators ended up joining in the festivities.

PHOTOGRAPHY
Danelle Bohane's style really stood out to us and we were impressed with her ability to shoot in any lighting condition. Lato Photography, our videographers, all the way from Northern Italy have such a unique style with their stop motion photography. With their special creative touch, we just had to have them video our day.

PLANNING
Pinterest, Instagram and Etsy became our go tos throughout the planning stages; they were our source for inspiration. It opened the door to unique suppliers from all over the world, allowing us to utilise their unique skills and products and allowing us to have true one of a kind items.

TOP TIP
Enjoy absolutely every moment. From the day you get engaged to every second of the wedding day, enjoy it. You'll be left wanting to do it all over again, so make sure you stand back and take it all in. Also, you go through so many different emotions from day one, don't forget the reason why all of this even begun.

Share this: