Real Weddings: Dahlia Ghani & Ibrahim Al-Mudallal
The couple held a colourful and floral-abundant ceremony, dinner and dance party in Auckland's Town Hall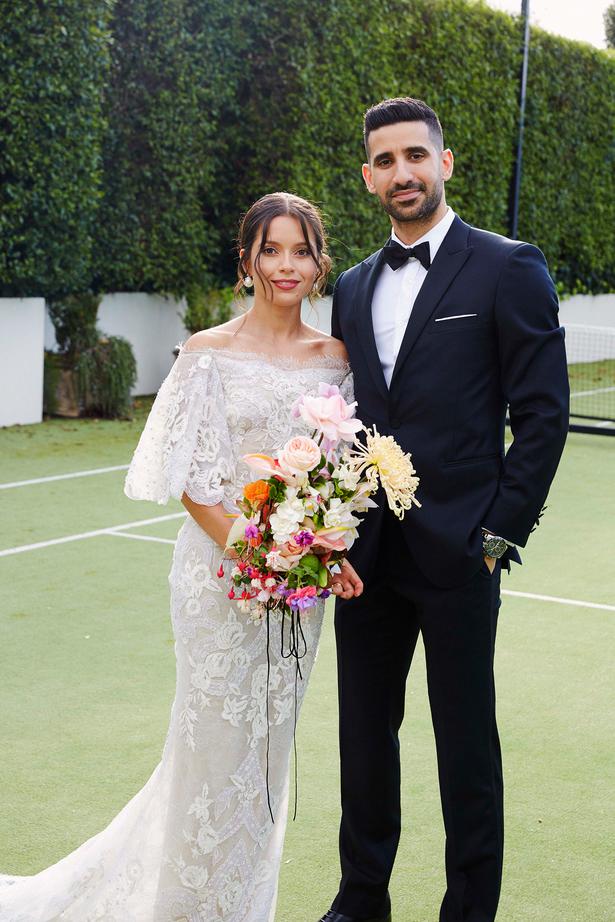 Thursday Sept. 13, 2018
THE PROPOSAL
Dahlia: We were at the top of the Waitakere Ranges, overlooking the Tasman Sea, over an earthen pathway covered in petals. We had been trudging through the same trail a year earlier mid-winter in bad weather. We somehow got off the three-hour track on to an eight-hour track, and fell full body in a pool of mud with not much daylight left but still felt as if we were the luckiest people in the world.
READ: Adorable Real-Life Proposal Stories
A year later Ibrahim proposed to me at the same peak where we had our adventure. He completely caught me off guard and the moment will be forever imprinted in my mind.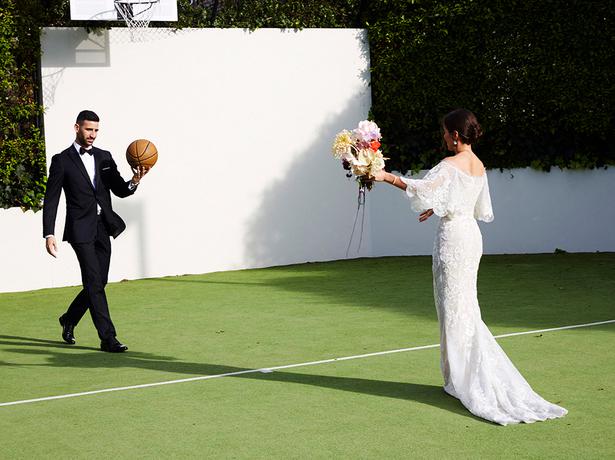 THE DRESS
I wanted a dress that felt romantic, elegant and whimsical at the same time, but it also had to be comfortable. It was a tall order, so I emailed a handful of designers, including someone at Marchesa. I received three options and immediately fell in love with a dress with flutter sleeves, a Victorian bodice threaded with a Chantilly lace underlay and embroidered with flora-like ivory threadwork.
READ: The Rise of the Multi-Dress Wedding
A friend brought it over from NYC within a few days and it was clear that it was the one as soon as I received it — it needed very little tailoring. My beautiful mum bought me baroque pearl Celine earrings to wear that I will treasure forever and I was given a stunning bracelet by my lovely mother in law.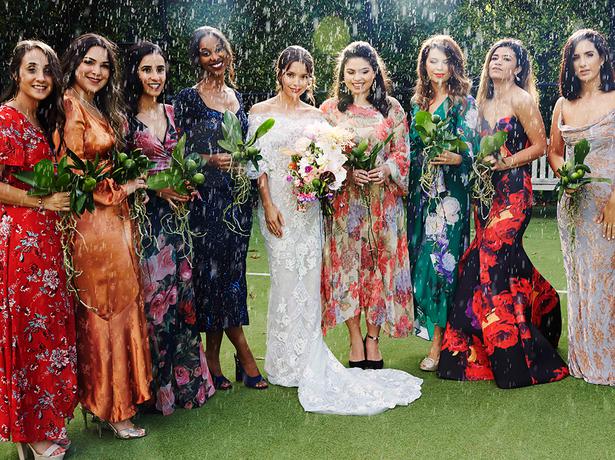 THE BRIDESMAIDS
The bridesmaids all wore different bright floral gowns. When standing together, their colour combination looked like beautiful tapestry. Their dresses were the inspiration for my tropical bouquet, complemented by the bridal party's kaffir lime forage bouquets.
READ: How To Look Good In Wedding Photos
THE PHOTOGRAPHER
We knew we didn't want a wedding photographer and were reluctant to be in super-corny situations with a lot of post-production and filters. We loved Rebecca's (photographer Rebecca Zephyr Thomas) aesthetic and she understood ours.
The actual day went by so fast — so much so that we ran out of time to go off and take bride and groom shots at another location. Instead Rebecca captured so many beautiful photos that are so true to our day. Capturing happy and emotional moments so naturally, surrounded by family and friends.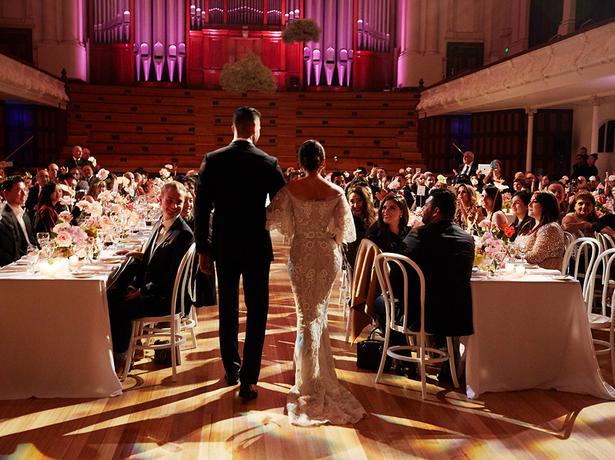 THE LOCATION
With a guest list 170 people long, we needed a venue that could accommodate the large number, and after some searching, ended up choosing the Auckland Town Hall. It was built in 1911 and has been fully restored as a beautiful event space.
We loved its neo-Baroque aesthetic, beautiful stained glass and ornate plasterwork. It was the perfect place for an expansive ceremony, dinner and dance party. It's also protected as a Category A heritage site so it will never be demolished and will be a reminder of the best day.
TRADITION
We had a mahr ceremony two weeks before the wedding where we were Islamically wed. It was beautiful, emotional and intimate. Our wedding ceremony was officiated by Sheikh Jehad Ismail, who Dad had always said would fly over from Australia for our wedding.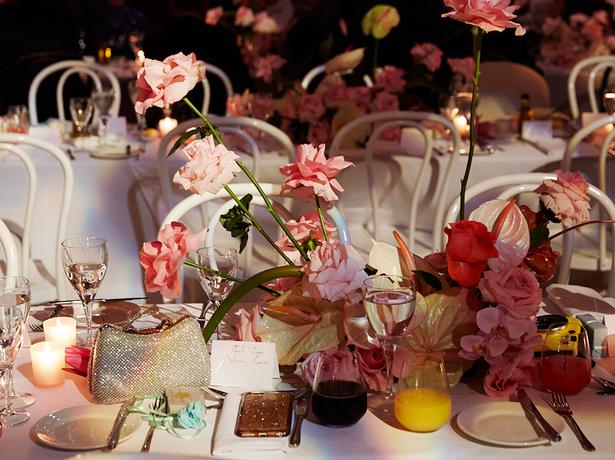 THE FLOWERS
For me, the floral arrangements were the most important part of the overall aesthetic and Brittany Asch, of Brrch, whose work is so breathtaking and unique, came up with the most bountiful arrangements. In addition to the bouquets for myself and the bridesmaids, she created giant clouds made of baby's breath that floated above Ibrahim and I on the stage where the ceremony took place.
Brrch created rows of pastel notes, pinks and pops of red, lining all the long tables in the space with coloured orchids, water lillies, lotus, anthuriums, garden roses, chrysanthemums, fuchsias and an abundance of other flowers and kaffir limes. There were layers and layers of flowers reaching out in all directions and creating movement at every angle. Every arrangement had new aspects and surprises.
READ: Five of the Latest Floral Trends for Weddings
A lot of logistics were involved and flowers had to be ordered months in advance. Brittany ordered a lot of speciality products and different varieties that we don't get here, all the colours were so unusual! The anthuriums were insane. She mixed these with lotus flowers with huge stems, which she wrapped through all the arrangements. With the Edwardian Baroque town hall as a backdrop, it was a dream come true.
THE DAY
The wedding was completely overwhelming and surreal — we're both averse to attention so it really felt like an out-of-body experience.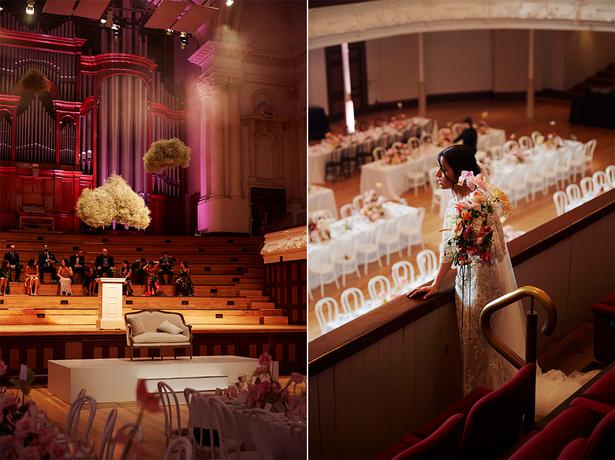 SPECIAL MOMENTS
My brother proposed to his now-fiance! We had planned it with him a few months in advance. It was so special to share our day with them. Double the celebrations and everybody was very surprised.
THE HONEYMOON
We hired a car and road tripped through Sicily in off season, the atmosphere was very relaxing. And the landscape is so breath-taking.
They have no beaches, just cliffs and caves and the most intensely blue azure. A lack of planning and booking meant every day was unplanned and spontaneous.
READ: Time to Brush Up on Wedding Etiquette
LESSONS LEARNED
Plan all the creative aspects as a couple. We handcrafted Aleppo soap with our initials in Arabic stamped on each one and individually wrapped in coloured tissue paper for guests at our wedding; it took months but it was a true labour of love.
It's only a few hours of one day out of 365 days in a year of your life together, it genuinely reveals nothing about what your marriage will look like. As long as you are marrying "your" person, you will be happy despite anything that goes wrong.
Share this: