Real Weddings: Grace and Matt Saathof
Be inspired by the relaxed wedding day with a stylish twist of this real couple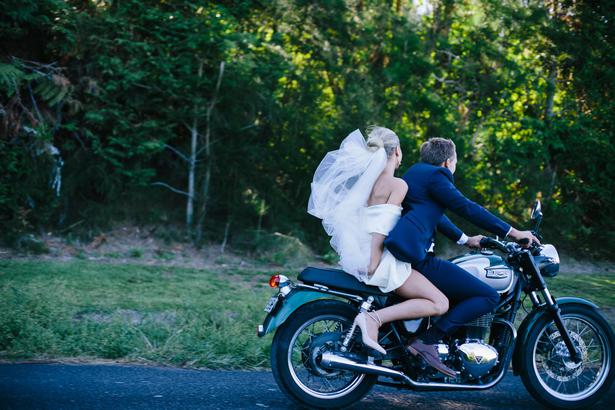 Wednesday March 30, 2016
THE PROPOSAL
We tramped down to a secluded beach called Homunga Bay, at sunrise we decided to go for a nudey swim. After we got out of the water, we stood on the beach watching the sunrise for a while, then Matt said, "wait there". I thought he was going to get the camera, instead he came back and got on his knee and asked me to marry him. It was perfect, and ironic because the first time we met, we went skinny dipping!
PRE-WEDDING EVENTS?
Just a hens do and stag do. No time for an engagement party as we got married after a 3 month engagement.
THE APPROACH
Very relaxed and with lots of dancing. We also wanted it to completely reflect our love for each other and involve God as much as possible. I've worked at lots of weddings so I knew what was important, for example favours were not on the priority list, instead lots of good food, and plenty of champagne!
LOCATION
The ceremony was held at Bethlehem College Chapel, it is where I went to school and my Dad had renovated it recently to make it look as stunning as it does. The reception was held at my parents place in Te Puna, they have lived there for 20 years, and I grew up there. It was held in a marquee. It was super relaxed. We loved it! We had 105 guests, most of that was family too, Matt comes from a big Dutch family.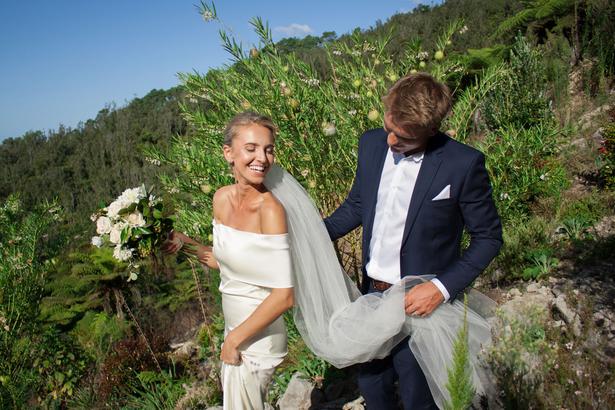 THE DRESS AND SUIT
The dress fabric was spotted at the fabric store when Rose and I took a trip to Auckland. It was the first roll of fabric we picked up (which was lucky). The dress was a joint venture between my sister and mother who worked tirelessly with the little time they had to make it. It was fitted to my body perfectly and I had complete faith they would pull through, even when Mum was making final touch ups the day before the wedding! I managed to remain calm though. Matt's suit was from Barkers, everything from head to toe, shirt, pants, jacket, shoes, socks, belt. One stop shop.
BRIDAL PARTY
My maid of honour, my sister Rose Ackland, wore a vintage Laura Ashley cut-on-the-bias dress, and my other bridesmaid Hannah Warren wore Miss Crabb.
HAIR & MAKEUP
Tonia Procter from the hair lounge did my hair, we played around with some ideas but I quite liked the idea of a romantic bun with my veil coming underneath. A friend Jess Thomson did my make up and I wanted to look like myself, so we kept it as natural as possible.
THE FLOWERS
My gorgeous friend Bianca Nardella came from Melbourne and did my flowers as her gift to us. We used vendella roses and chrysanthemums, and I liked the idea of greenery too.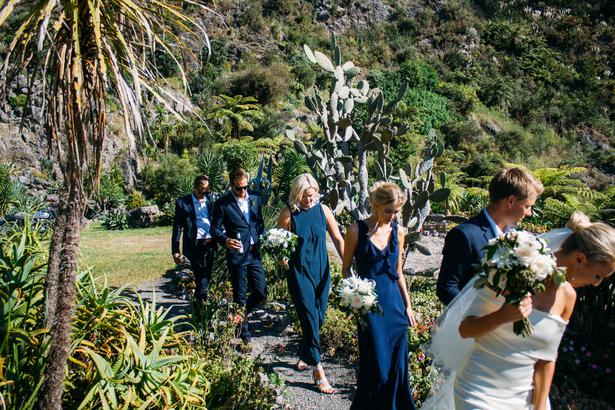 TABLE SETTINGS
I wanted to keep the table settings simple as we had family-style food, where it is placed on the table and everyone helps themselves. I liked the idea of it being like a big family dinner, and everyone is chatting to each other and asking for this and that to be passed to them. One of our favourite things is big family dinners so it suited us perfectly. 
THE CAKE
It was a chocolate and coffee mud cake made by Matt's cousin Olivia Redman. We had lots of friends and family willing to help in any way they could. It was very humbling and we feel blessed to have such special people in our lives.
ENTERTAINMENT
We had a live band that my dad organised. He plays at weddings often. He said he was only going to play a couple of songs so he could dance with Mum, instead he ended up playing at least three sets. Matt and I danced until 2am. We were the last ones standing. We stayed true to us. It was amazing.
PHOTOGRAPHER
Jess Lowcher is a friend from America and we felt comfortable around her. We wanted candid, relaxed photos with minimal posed shots. We think she nailed it.
SPECIAL MEMORY
My veil came off at the start of the ceremony but I didn't care, I just gave it to my sister because I couldn't be bothered fussing around with it. There were so many special moments. Riding in to the reception on a motorbike was pretty cool and got the crowd going. Having everyone you love and care about in one big tent was overwhelming in a good way! The speeches were hilarious and we got a video so I can't wait to see that.
TOP TIP
Don't worry about the little things on the day. I know everyone says that but trust your family has things under control and enjoy your guests. We both got up straight after dinner and went round to all the tables saying hello and checking everyone was having as much fun as us. I'm glad we did that.
Share this: