Real Weddings: Gwendalynn (Lini) & Luke Thorburn On Puketutu Island
For Lini and Luke, the Kelliher Estate on Puketutu Island was the perfect venue for their special day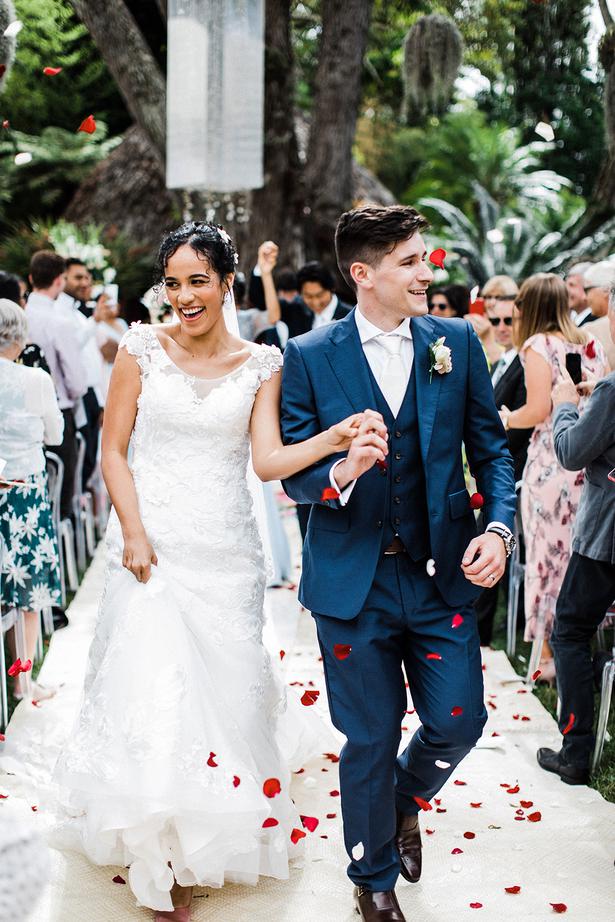 Sunday April 14, 2019
The Proposal
Lini: Luke's family and I were staying at this beautiful house by the lake in Queenstown. Luke and I went for a walk as we arrived and the view was picturesque — it was my first time in Queenstown.
We were called by Luke's sister to come home for drinks so we went back and arrived to an empty house, with Luke fumbling with the key for a bit (I think this is where he started to get nervous). He suggested we go out to the balcony.
READ: Adorable Real-Life Proposal Stories
As we were walking out he had his hands covering my eyes. I could hear soft music, and there was the most romantic picnic set up on one side and Luke on one knee on the other side. An absolute amazing weekend of celebration and tears of happiness.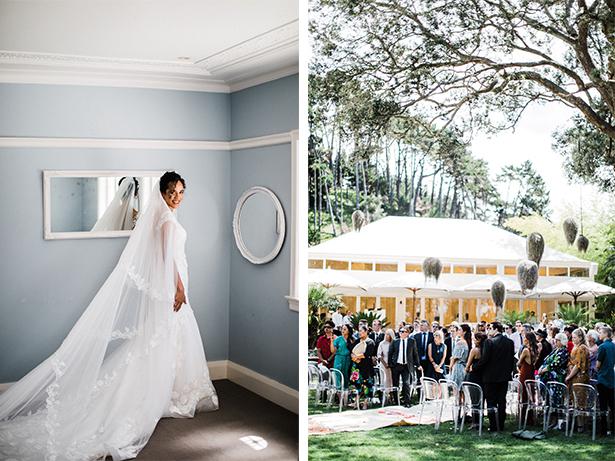 The Vision
A day of celebration, love and joy. It was no doubt going to be the best day of our lives so we just wanted all our closest family and friends to have a really memorable day with us.
The Traditions
Luke: We had our pastor conduct the ceremony. We all sang a hymn which was really nice. Lini's aunties laid traditional Tongan mats in the aisle and at the register. We made sure to incorporate as much Tongan tradition as possible.
READ: Leisha Jones & Malcolm Campbell's Beautiful Hunua Falls Wedding 
For the reception there were traditional Tongan dances. Lini performed a tau'olunga while I performed a mako with Lini's two brothers. These Tongan dances were the highlight — guests got up to dance beside us, which got everyone hyped up.
As per Tongan tradition, we were covered head to toe in coconut oil, guests then put money on us; in Tongan this is called fakapale — essentially prize money meant to be given as a gift to the bride and groom.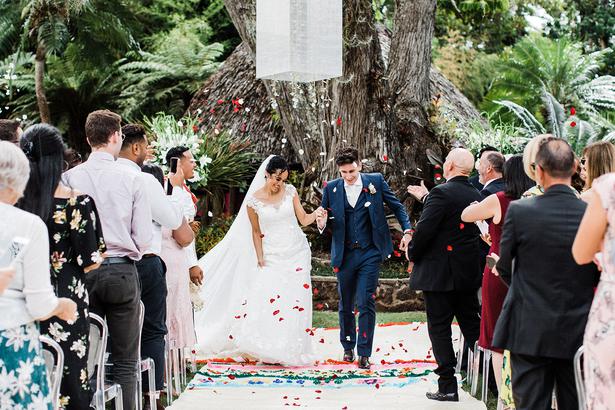 The Location
Luke: The Kelliher Estate on Puketutu Island was the third and final venue we visited. It was a recommendation from my eldest sister. Lini and I arranged a viewing of the venue and, much like myself with Lini, it was love at first sight.
We absolutely adored the venue and knew we wanted to get married there. I have lived in Auckland the majority of my life but didn't know this place existed.
The estate is a one-stop shop — a beautiful house to get ready in, a secluded lounge to relax in before the ceremony, a magnificent spot to get married, and a ballroom for the reception. I could go on and on but it was honestly the best venue we could have hoped for.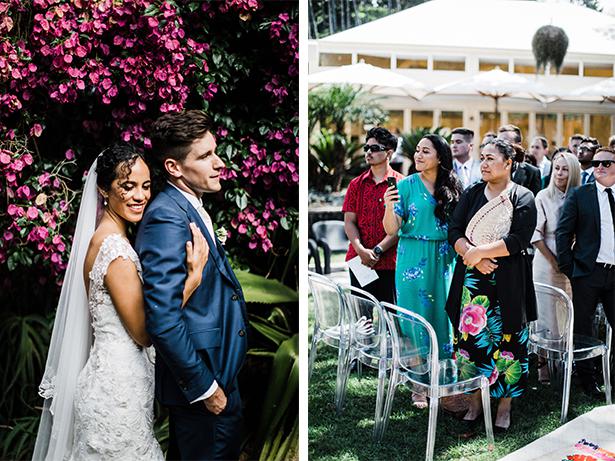 The Rings
Luke: The youngest brother of our MC, Jeremy Freeman, is a jeweller. I had always promised him that when I did find the one I would use his brother to make the rings! Asher Freeman of Freeman Jewellery Design did a fantastic job with the rings — he handmade them, which made them extra special.
The Dress
Lini: My dress was made by Juli Bridal in Remuera. It had such beautiful flower detail, complemented by the longer veil trail with the same details as the dress. It was the perfect duo of elegance and sophistication for me.
READ: Designer Tanya Carlson On Creating A Bespoke Wedding Dress
The Suit
Luke: I went for a Working Style three-piece, royal blue suit with a baby-blue lining, made to my specifications. I had the wedding date stitched into the lining, which was a nice touch.
My tie was ivory to keep it ceremonial and my shoes were chestnut brown. My dad also gifted me his favourite watch on the wedding day. It was a very emotional moment between us.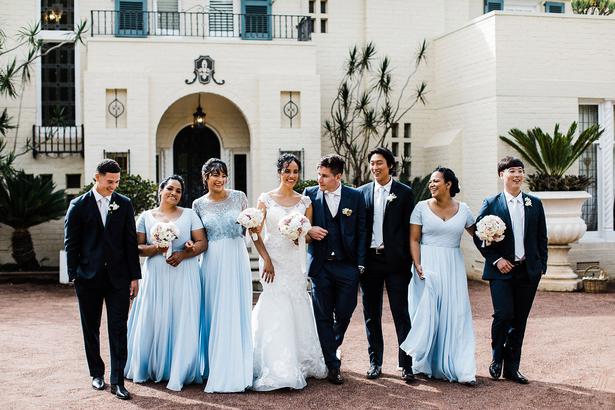 The Entertainment
Luke: From the bridal party's entrance to the reception, to Lini's Tongan dance to Luke's mako dance, to the bridesmaids' hip-hop mash-up and surprise performance of Your Man by Lini's cousin Brycey, there was no limit to the fun.
All of the speeches on the night were significantly entertaining in their own right. We also had a live band to carry us through to midnight — they were fantastic.
READ: 5 Of The Latest Floral Trends for Weddings
The Flowers
Our wedding planner Alex Biggs from Dawsons Catering described Vida Flores as artists, and we can safely say this is a very accurate statement. The floral arrangements were very pretty with soft colours — it was exactly what we'd hoped for.
We didn't want anything too bold to take away from the beautiful nature itself but to complement and blend with the venue. Davina and her team did such a wonderful job.
The Photos
A photographer was one of the last things we sorted and we were a frantic mess trying to find one. We thought Jonny Scott would be taken but luckily for us he had a cancellation. We could not have locked him down soon enough.
READ: How To Look Good In Wedding Photos
Jonny is so comfortable to be around and really natural in his style. On the day, Jonny maintained a great balance of instructing but also letting us do what we wanted. Jonny was fantastic ­— the photos he took for us were stellar, they perfectly captured the essence of the day and are so bright and vibrant.
The Surprises
Lini: I think the biggest surprise to anyone was Luke's mako dance — Luke killed it. Not only was he oiled and dressed with the traditional Tongan gear, he danced like a true Tongan warrior!
Luke: Lini's cousin's cover of Your Man by Josh Turner was a huge surprise but a very welcome one. He has an amazing voice and the crowd went berserk.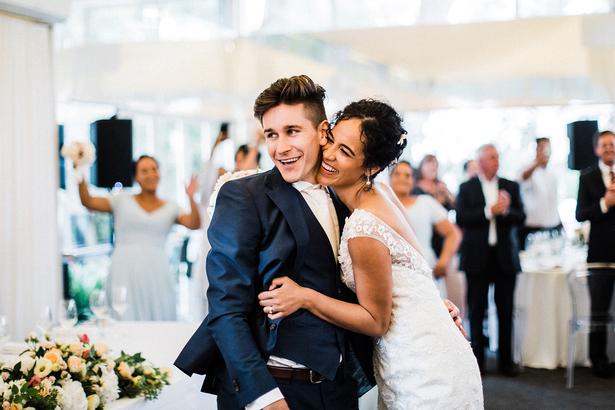 The Big Day
The day was phenomenal. We were celebrities for the day and you never want it to end. It is so surreal to see all of the people you love in one place. From the moment we woke to the moment we fell asleep, the excitement never dissipated.
We are so grateful and blessed for the amazing wedding we were able to enjoy and we will forever remember it. There was so much love and joy across the whole day.
Share this: