Real Weddings: Helen Yeung & Manny Cruz At The Riverhead Historic Tavern
Helen and Manny whisked away to Kumeu for their intimate big day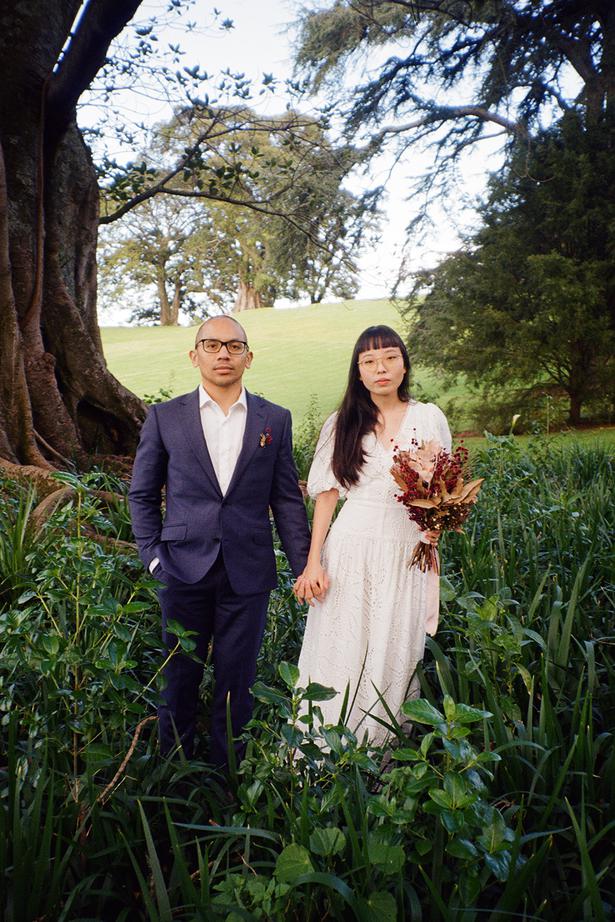 Friday Oct. 15, 2021
The Vision
Simple and cosy. We envisioned a small celebration with my parents and some close friends, and some celebratory events to follow.
The Challenges
We weren't in lockdown or on any Covid alert levels during our wedding, but we were unable to include both sides of our family from Guam and Hong Kong.
It would've been amazing to have more family involved but we couldn't as a result of closed borders and flight restrictions.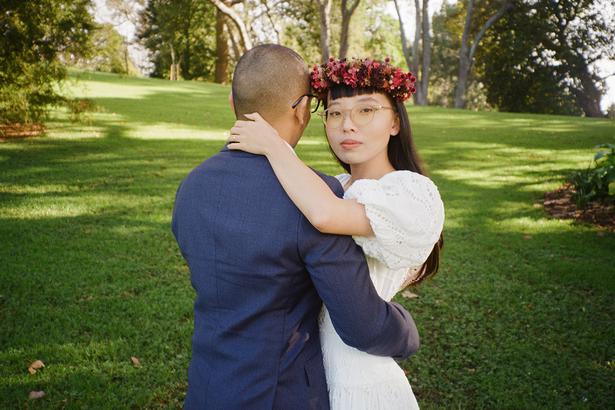 The Ceremony
It was at The Riverhead historic tavern in Kumeu. We chose it because our celebrant was in the area, but it ended up being really wonderful for photos, food and the ceremony.
As my partner and I are both non-religious, the ceremony itself was short but peaceful and intimate.
READ: Real Weddings: Leisha Jones & Malcolm Campbell In Hunua Falls
The Reception
We had lunch with my friends and parents after the ceremony. But we also had dinner at North Shore 100 Seafood Restaurant with my extended family and family friends a few days later.
We wanted to make sure we celebrated some traditional customs as per my family's Hong Kong-Chinese background, which included a tea ceremony the day before the dinner, and during the dinner I wore a red dress along with gold dragon and phoenix bangles passed on from both my grandparents (which my mother also wore on her wedding day).
It was great to be surrounded by family and people I grew up around, our hearts were full after receiving blessings from everyone dear to me.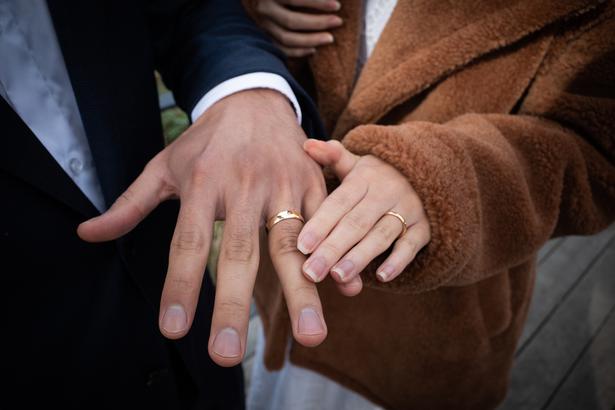 The Planning
My partner and I planned everything a few weeks before the ceremony. We took time and were deliberate with our choices — from the clothing, celebrant and locations, to what kind of food and photoshoot we wanted to have. The process was definitely part of the experience and a bit stressful at times since we did everything by ourselves.
The Dress
My dress is from an Australian brand called Torannce and coincidentally called the "Tie the Knot" dress. We went browsing at wedding boutiques weeks before the ceremony, but I found that most dresses were overpriced and didn't want to spend thousands to rent or buy something I'd wear for a few hours.
I was looking for something timeless, detailed and not over-the-top. I ended up browsing boutique stores online and found the perfect dress there for $200. I honestly love the lace cut-outs for the dress, along with the puffy sleeves and big bow at the back. My partner also found it nostalgic, as it reminded him of what women wore in Guam in the 1930s.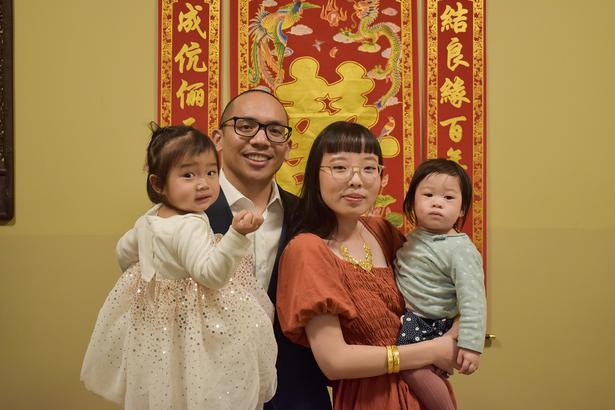 The Suit
My partner wore a tailored dark blue suit from Barkers, along with the 1461 brown leather Doc Martens, and a floral lapel pin to match my bouquet. He didn't end up wearing a tie because we wanted to keep it relaxed.
The Flowers
Our florist was Charlotte from A Little Bit Floral. We chose dried flowers for our bouquet because we wanted something long-lasting, and also loved the aesthetic of dried flowers and plants.
We got one large bouquet with pink and beige hues, along with a matching flower crown and lapel for my partner. I was really happy with how all of it turned out, everything looked vibrant and beautiful in the photos.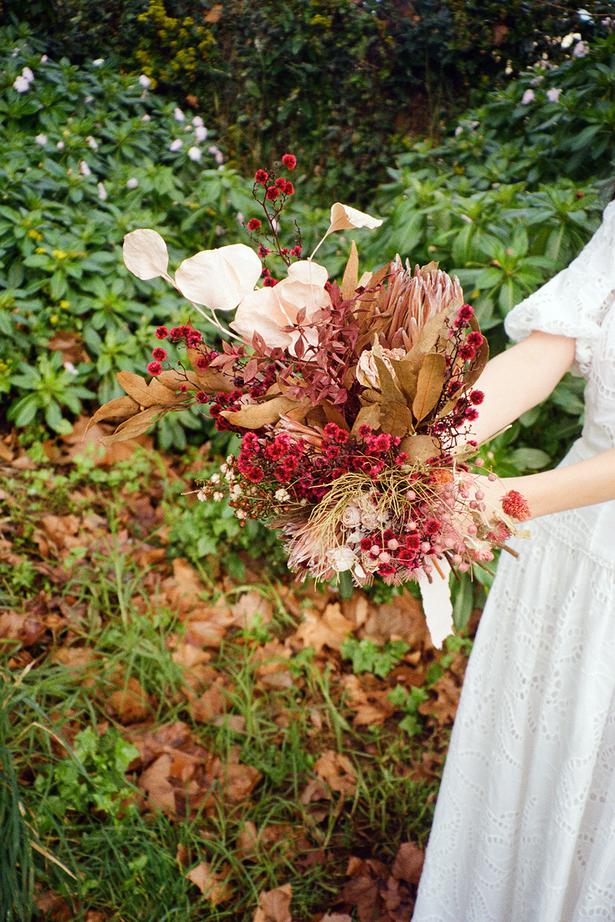 The Photos
Our photographer was Aasha-Samara, a personal long-time online friend of mine. At first we looked into some traditional wedding photographers, but then decided we wanted to have our photoshoot as a more intimate event with someone we trusted.
Neither of us liked the idea of being in front of the camera or in a staged shoot, but we felt incredibly comfortable with Aasha, and are long-time fans of her photography style, which is all shot on 35mm film.
The photos turned out subtle, genuine and reflective of Manny and I as a couple. We especially loved the shots of us standing amidst nature. Besides Aasha, though, we'd like to give a special shoutout to my friends Abigail and Kim (also an extremely talented photographer) who took photos of us at our ceremony and family dinner.
READ: How To Look Good In Wedding Photos
The Advice
Make sure everything you do is what you actually want, not because there's expectations of how a wedding should be. For myself especially, coming from an East Asian background, a lot of the cultural beliefs around marriage are still gendered and patriarchal.
It was important to ensure that the things we planned, including the stylistic choices and makeup in particular, aligned with my beliefs and made me feel 100 per cent comfortable.
Helen is a researcher and PhD candidate at AUT, and Manny is an assistant professor of journalism and media
Share this: