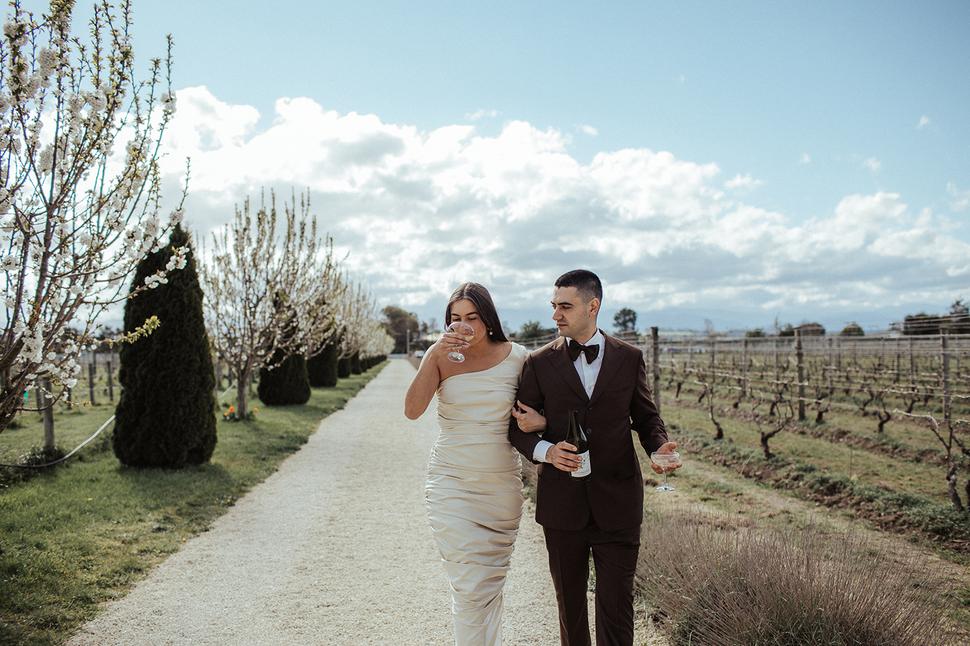 Real Weddings: Keelan Bowkett-Assaf & Elie Assaf At Cambridge Road Vineyard
Keelan and Elie share how they tied the knot at a sweeping Martinborough winery
Thursday April 22, 2021
The Vision
Keelan: To have a wedding that celebrated the good food, wine and people we are surrounded by.
The Ceremony
We were lucky enough to have our wedding ceremony in September 2020 among the vines at Cambridge Road Vineyard in Martinborough. Lance from Cambridge Road Vineyard is a dear friend and one of our favourite wine producers in New Zealand.
READ: Chef Elie Assaf's New Cookbook Pens The Experience Of Traditional Lebanese Dining
Elie had told him our plan and he helped make it happen. It was special to be able to bring our loved ones to Cambridge Road Vineyard, to enjoy the wine we love so much. It was the perfect venue, and we are so grateful to Lance and his team.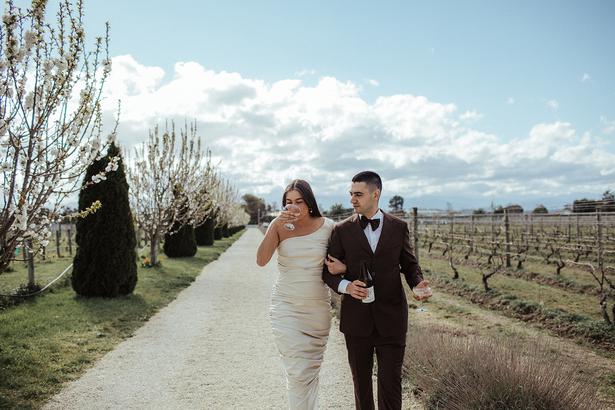 The Reception
The reception was also at Cambridge Road Vineyard. At one point a dance party erupted among the wine barrels thanks to our live band, Lisa Tomlins and Chocolate Box. It was the best nightclub I have ever been to.
The Food
Obviously, as Elie is a chef, food was very important. Elie basically catered the wedding himself. I often joke our wedding day was actually Elie's food and wine festival that we got married at.
Elie and his groomsmen woke up at 4am to light the fire for the Asado (an Argentinian-style barbecue) which his brother, Zahi, had built the day before.
READ: An Expert Guide To Wedding Cakes With Bluebells Cakery's Karla Goodwin
It was where we slow cooked three lambs, 16 chickens and 10 snapper for our wedding feast later in the night. We started the afternoon with Lebanese pastries on arrival, all made by Elie's mother, Yola.
After our wedding ceremony we opened a deli bar, with a selection of our favourite charcuterie, bread and cheese. Our friends, Nick and Emma, from Bar Celeste, had also put together the most beautiful raw bar, with fresh oysters, prawns and ota ika.
Lastly, the meat was pulled from the fire and served with a Lebanese mezze, all made by Elie's incredible family. It took a village! And I am so grateful for that village.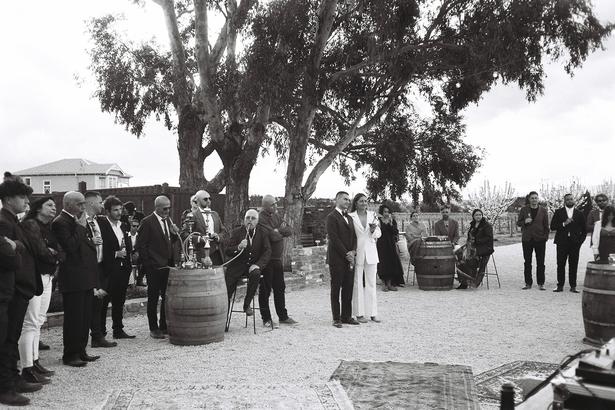 The Planning
Elie and I planned everything together. We had a small budget, and I am so proud of what we pulled off, but we couldn't have done any of it without the help of our wonderful friends and family.
The Rings
The incredible Maeve from Hera Saabi made our wedding rings. She effortlessly created two rings that perfectly represented both of us.
Elie's ring is especially meaningful as we took inspiration from my dad's wedding ring; he passed away when I was young.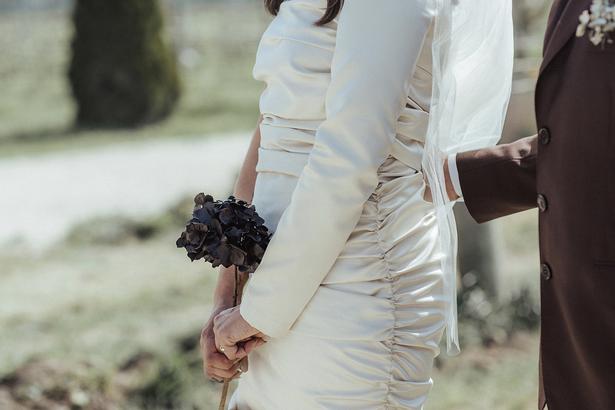 The Dress
I had the help of some very talented friends. Wynn Hamlyn helped me create the wedding dress of my dreams and a party suit to match.
Jessica Grubisa made my beautiful veil. I am very lucky to have these two style icons in my life!
The Suit
Wynn Hamlyn also made Elie's brown wedding suit. He actually had two Wynn suits, one brown and one navy, but he didn't get to change into his navy party suit.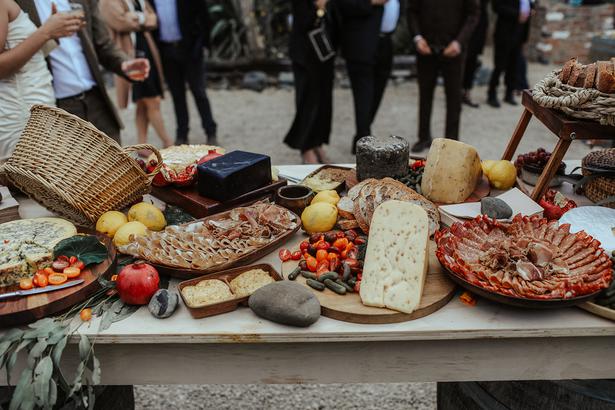 Flowers
I went very simple. I had dried hydrangeas, painted brown and navy by Floriade, in Wellington. My bridesmaids and I carried one stem each down the aisle.
The Photos
Yvonne Liew took our wedding ceremony photos, she is a friend of Elie's and I was happy to have someone that one of us knew.
To be honest I wasn't crazy about having a photographer on the day, I hate photos. But I am glad we went with one in the end, Yvonne was fantastic. Later in the day we had friends capturing all the party antics on film.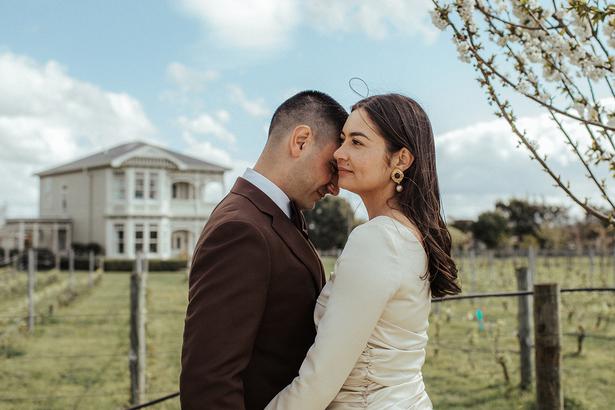 The Challenges
I think two weeks before our wedding date, we were all in lockdown in Auckland.
Luckily we were back to level one by the time we had to travel out of Auckland, and Martinborough had no level restrictions.
READ: Real Weddings: Isabella Caselberg & Gus Dobson At A Family Friends' Home
However, those weeks leading up to our wedding day were pretty stressful as we obviously didn't want to put anyone in danger.
We had always decided on having a wedding with less than 100 people and I am so glad we were lucky enough to go ahead with our day.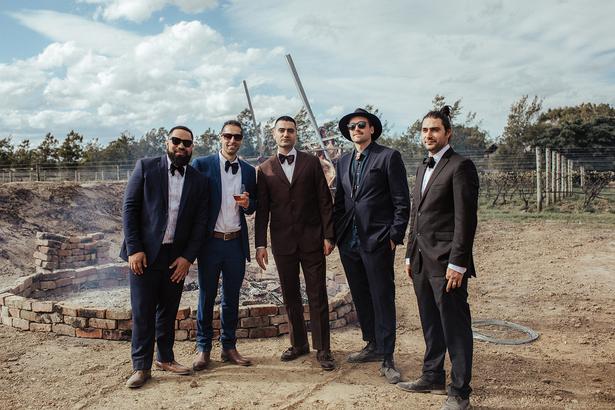 The Experience
Honestly, it went in a flash. We still can't get over how quickly that day went. Sometimes we wish we could do it all over again.
Best Moment
Definitely the party after our ceremony, when Elie's family pulled out the durbakke (traditional Lebanese drums) and shisha.
The Advice
Don't cater your own wedding!
– Keelan is a wardrobe stylist for TV and film, and Elie is head chef at Williams Eatery.
Share this: