Real Weddings: Kevin & Cameron Mitchell-Sisler At Rippon Vineyard
Kevin and Cameron share their special day that overlooked the Southern Alps
Friday April 23, 2021
The Vision
Kevin: Simple, modern, classic, with a connection to the beautiful Southern Alps. We tried to make a formal black tie theme align with a summer wedding in Wanaka.
We wanted the venue to speak for itself as it has exceptional views and everything NZ has to offer, the beautiful lake among the Southern Alps all overlooking the iconic Rippon Vineyard.
Personal Touches & Traditions
We tried to make it personal by involving a lot of our family, wedding party and friends. Everything about the wedding was egalitarian (given it was a same sex wedding — there are no standard norms).
We had a mix of men and women in our groomsparties — we spent a lot of time debating who was going to walk down the aisle first, but in the end everyone walked down individually and Cam and I walked alongside our parents to Stand By Me from Florence + the Machine.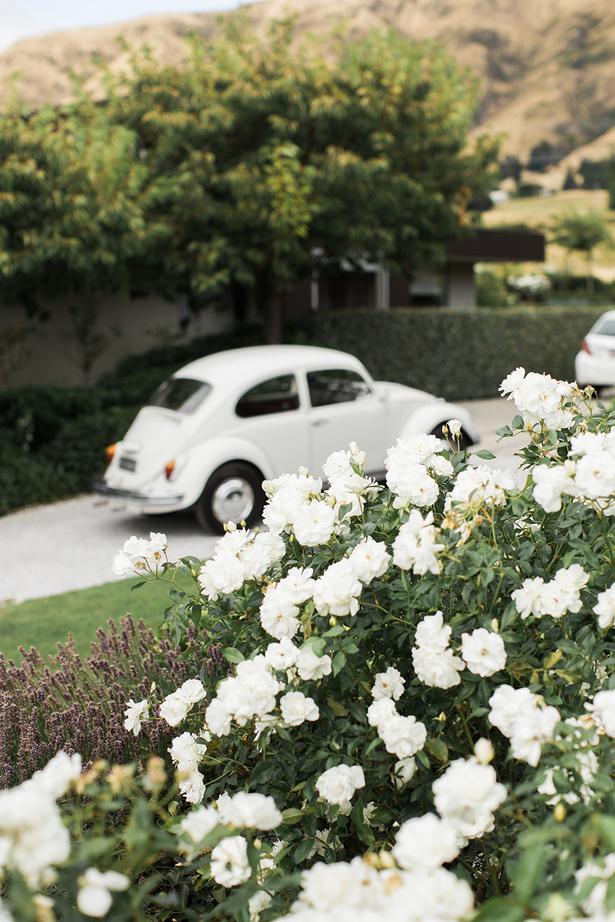 The Location
Wanaka is a special place for Cam and I, it is our home away from home — and Cam's family is from the area. There are many special trips and memories of Wanaka that have formed a lot of Cam and I's relationship. Specifically Rippon.
READ: Real Weddings: Isabella Caselberg & Gus Dobson At A Family Friends' Home
Before arriving in New Zealand I had seen images of this beautiful scene and always wanted to visit; looking back seven years later I can't believe I got married at the exact spot I used to dream about visiting, let alone call this country home.
Over the years Cam and I would stop in after a hike or a bike ride to have a wine and take in the incredible views. We love the Rippon story and their overall ethos as a biodynamic family-run winery.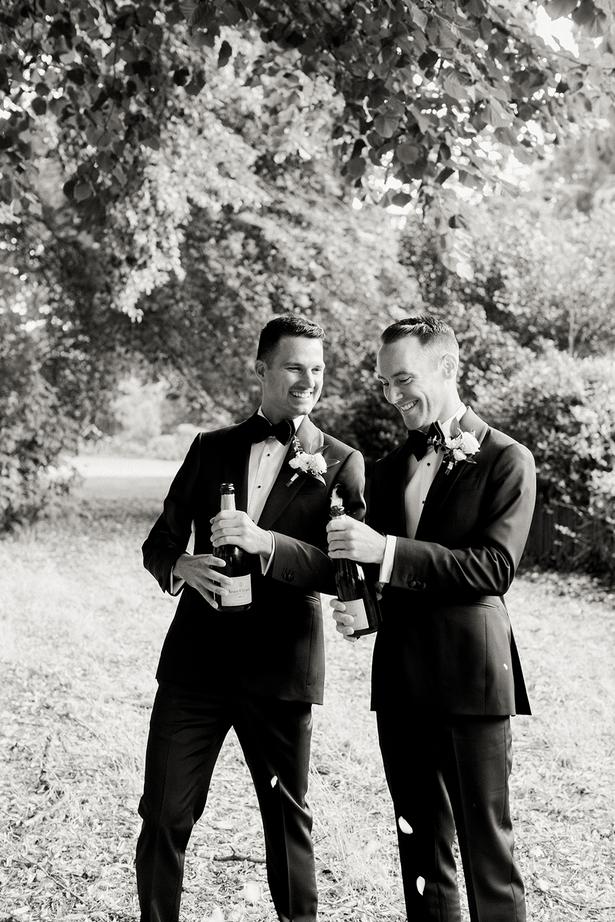 The Reception
It was in a beautiful marquee overlooking the vineyard and lake. The clear sides allowed guests to see the breathtaking view. Running down the tables was Cam's original artwork which was a print of the surrounding mountains (the print was used on the stationary and invites too), and which offset the crisp white tablecloths.
To create a wedding memory we chose local George & Edi boutique candles in Fig for the centre of the tables, which were gifted to guests the following day. There was a mix of short and tall candles in black candle holders, giving a romantic vibe below incredible tall floral arrangements.
To create another space for guests to mingle we had a lounge with rugs, velvet sofas, armchairs, ottomans and marble modern tables covered in candles and florals. This allowed a space for guests to relax, away from the music of the party.
Once dinner and speeches ended, guests moved into Rippon Hall where we had installed fairy lights in the tall arched ceiling. There was a balcony overlooking the dance floor that Cam and I could escape to while the dancing and good laughs continued.
The Rings
I was referred to a jeweller on Karangahape Rd described by a colleague as "the most humble Kiwi-bloke". Given we didn't have to buy any diamonds — Cam and I wanted something simple and bold — we went with platinum. Graham Shirley created a modern, bold, square cut that looks minimal on both of us.
Suits & Accessories
We both had custom tuxedos made by Working Style. Initially we wanted to have different tuxedos, but ended up getting similar cuts, fabric with shawl lapels and silk bow ties — my favourite part was the personal monogram on the inside with our new initials.
Entertainment
We had a three-piece band from Auckland that played jazz, reggae and classics throughout the ceremony, canapes and dinner, followed by our close friends and the party go-to — Jupiter Project — who set the tone for the party into the wee hours of the night — playing a mix of classics, our favourites and modern-day dance hits.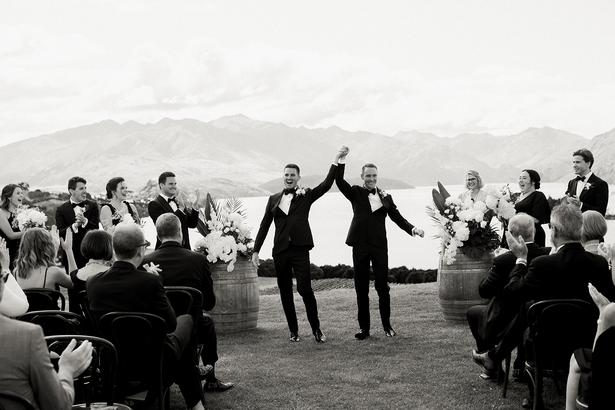 The Flowers
The Green Room was incredible and exceeded our expectations. For the ceremony, we had four big arrangements on wine barrels. The florals were a mix of beautiful white orchids, white roses, hydrangea, gypsophila and dahlia. We repurposed as many as we could, reusing the ceremony florals in the reception and the day after.
READ: Wedding Ideas For Planning Your Big Day
The reception had big bold floral installations throughout the marquee, which were white with hanging greenery for a full dramatic effect. At the head table we put the groomswomen's bouquets in vases.
The Photos
Anna Kidman has always been a close friend; we hit it off from the beginning and always joked about her shooting our wedding one day. She has this way of capturing the moments so effortlessly, she is so smart and calm with her approach that it puts anyone at ease.
As you can see throughout the photos, she captures the essence and personality of everyone — you feel as if you were there and the photos tell a story. She is one of the most talented photographers I have ever met. It made it so much easier that she was a close friend, as Cam and I felt very comfortable.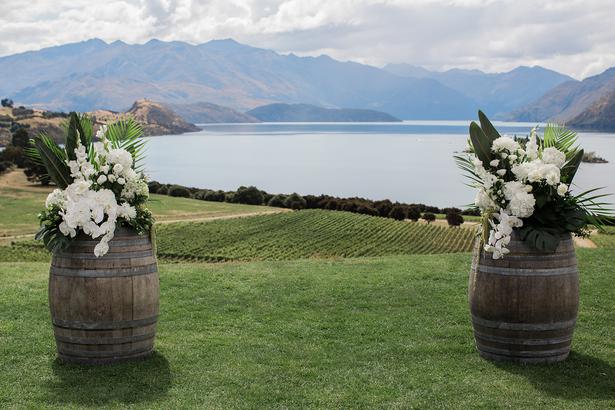 The Planning
Given I work in events, I took the lead in planning my own wedding. We had a lot of support to bring it all to life, but I did most of the planning and orchestrating of every detail. Towards the later stages we hired a stylist, Fantail Weddings, to pull everything together and add a bit of our personality — things like the candles, Cam's artwork and the lounge area.
The Experience
I thought I was going to be really anxious worrying about everything, but we had the most incredible suppliers who went above and beyond for Cam and I, so I relaxed and had fun with my wedding party throughout the day. Once the wedding started, I still felt like we had plenty of time with our guests to celebrate and be present with each other.
At one point Cam and I left the dance floor to have a glass of pinot noir together and looked down at the dance floor to get a moment alone — it was so great to see everyone having the time of their lives.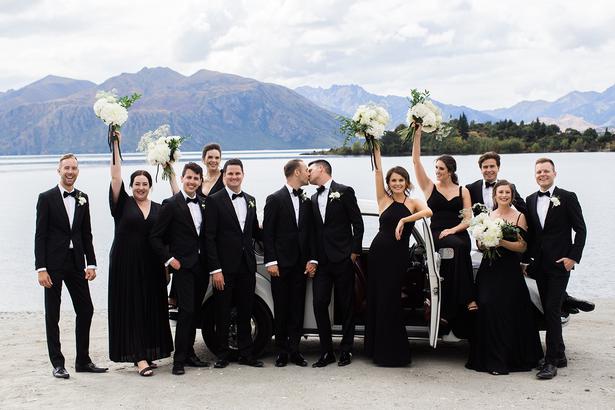 Best Moment
My favourite memory was the first look. We decided to take photos with our wedding party before the wedding so we didn't have to leave — we wanted to spend as much time with everyone as possible.
Cam had put on one of our favourite songs by Vance Joy and we orchestrated a mini ceremony where I walked up behind him while our wedding party watched — quite an intimate emotional moment to kick everything off — and have a bit of privacy before we did our vows at the actual wedding.
Tips from a Pro
Enjoy the planning, do it in stages — it can be quite overwhelming at times but it's all worth it. Also, do what works for you— in the end Cam and I ended up going back to the basics — good food, good music and an incredible view.
Also, print your thank you cards before your wedding — trust me, once married you will procrastinate.
– Kevin is head of comms at Darkhorse, and Cameron is a property specialist for Auckland Transport.
Share this: