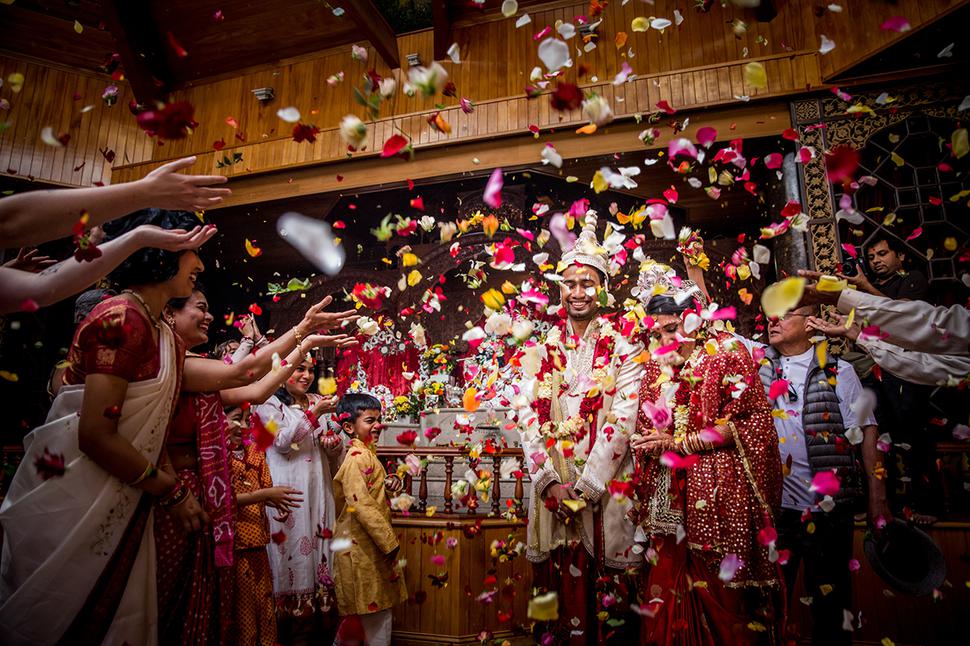 Real Weddings: Neha and Raj Maiti
This real couple wanted to celebrate their heritage and love on their wedding day
Wednesday March 30, 2016
THE PROPOSAL
Raj had planned a beautiful and an incredibly brave proposal. We were hosting a dinner party at home for my sister's exciting new job, and we had invited all our closest family friends. The house was full of laughter and the noise of little feet running around. After dinner we played a few rounds of charades and 'who am I?', and it got very loud and super competitive. My sister then got up to say a few words of appreciation to our friends who have been like a family. She then invited Raj to say a few words, which perplexed me a little bit - but I thought it was really nice of him to get up there and say something. I leaned in to listen to what he had to say. He then called me up to stand next to him. Still confused, I got up and started walking towards him, when I saw him pull out a rose. I thought, 'a rose for my sister? That's an unusual good-luck-on-your-new-journey gift!'. Even more confused at this point, I saw him slowly kneel, and that's when it struck me! It's not just a leaving party, IT'S A PROPOSAL! It was later that I find out that my sister and now husband had planned it right from the start.
ENGAGEMENT RINGS
My precious engagement ring is a gold ring with a solitaire in the centre set with two smaller diamonds on both sides from Pascoes in Christchurch.
PRE-WEDDING EVENTS
We had two pre wedding events - a Henna night and 'Haldi' ceremony. The Henna night is when all the women in the house, along with the bride, get their hands tattooed with natural henna dye in an intricate pattern. This process can take up to four hours depending on the intricacy of the pattern.
In the Indian culture Haldi, or turmeric paste mixed with sandalwood, is considered auspicious and the beginning of the wedding festivities. Haldi has antibacterial properties that helps clear the complexion and gives a bride that lovely glow.
THE APPROACH
Raj and I come from different parts of India: I come from Mumbai (a Western state) and Raj is from Kolkata, previously known as Calcutta (an Eastern state). Very unique in our cultures, languages and food, we knew right from the start that we wanted to celebrate both of our heritages in the grandeur they are meant to be celebrated. For the Bengali wedding, we opted for everything traditional. Most things used were hand-picked by family or myself and brought to New Zealand from India. Being a Christian by faith, we also had the ceremony in St Matthew-in-the-City. The theme for all was floral, which comprised of bright coloured flowers and also some pale flowers to contrast what we wore.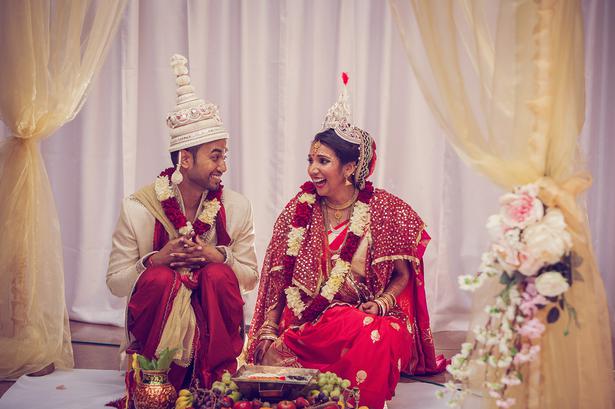 LOCATION
The Hare Krishna Temple in Kumeu, set on a hill overlooking the river, provided a lovely open and green setting for a traditional wedding. With high glass ceiling and wood panelled walls, the indoors were just as great as the outdoors. The Christian wedding at St Matthew-in-the-City, and with its high vaulted ceilings and the beautiful pillars, it's where I'd always dreamed of getting married.
Finding our reception venue was the hardest. We needed a place that could accommodate over 300 guests comfortably and help with setup and decoration. After lot of research, Mahatma Gandhi Centre in Eden Terrace had the perfect solution with its central location. Priya, as our event manager, went an extra mile to ensure everything was well organised.
DRESS AND SUIT
I wore a contemporary bridal gown in a mermaid silhouette, with delicate French lace. This was custom made for me by the same dress-maker that made my mother's gown when she got married 27 years ago! I also wore a red Banarasi silk sari embroidered with gold thread, which I purchased from a boutique designer store in Mumbai. Raj wore a bespoke dark blue suit from Tailor Made Suits in Albany. His shoes were by Julius Marlow and his socks were very funky and colourful from Happy Socks.
BRIDAL PARTY
We wanted all the groomsmen to have a unique look while still complementing the whole bridal party, so they all wore white shirts and black pants with different designs of black ties and Happy Socks to add some funk. Their buttonholes were pink, fuchsia and purple to match the bridesmaids' dresses. My bridesmaids wore different shades of pink; this created a lovely ombre effect. For the temple, the guys wore traditional white cotton kurtas with maroon scarves and the bridesmaids wore white sarees with a red border.
HAIR AND MAKEUP
Hair and makeup was done by Tiara and Zara. They created three completely different looks with two hairstyles on a tight time frame, from the morning temple ceremony followed by church ceremony, and with a grand ending reception. We started at 5am and they stayed with me until 6pm.
THE FLOWERS
A mixed rustic bouquet of berry textures, colours in different sized blooms with yellow craspedias, peonies and wild berries. We also had a special bouquet for our wedding car which looked absolutely stunning on the day. The buttonholes for the groomsmen were arranged to match the colours of bridesmaids' gowns. These were artistically put together by Dee from Vidabela.
TABLE SETTINGS
We had organised a buffet dinner for more than 300 guests from Ajadz Indian Cuisine in Ellerslie, which left our guests licking their fingers. The tables and chairs were provided and set up by our hosts. I wanted the centrepieces to be elegant, so I chose a tall vase with yellow flowers that had seed lights around the vase. Beryl from Covers Decorations made 38 of these, and we got very good feedback from our guests.
THE CAKE
Our cake had damask stencilling in white over fondant in pearl finish topped with bright hued flowers, made beautifully by Paula Jane Cakes. Of the three tiers, we took one with us to India after the wedding, so family and close friends could have a slice of the wedding cake all the way from New Zealand.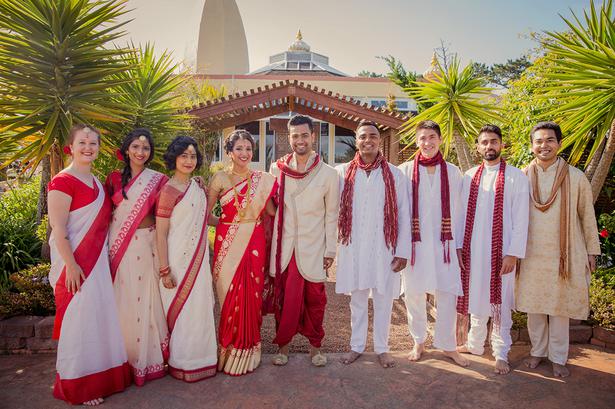 ENTERTAINMENT
• With the help of family and friends we created our own photo booth using a gorgeous floral backdrop provided by Covers Decorations.
• We wanted to create an elegant and classy ambience in the hall. Neil from HDEV's experience in theme lighting really transformed the place; we were able to mood lighting at any point of the evening.
• Both of us being dance lovers, we wanted to boogie with our guests. Our DJ, also HDEV, did a fantastic job of getting the crowd on the dance floor despite being an alcohol free event.
• To entertain the little ones and tempt the adults, we had a big 1.2m tall Chocolate Fountain provided by the Chocolate Fountain Company!
PHOTOGRAPHY
We wanted someone who could seize our precious moments from the day and also who could commit to spending the whole day with us. Our video was captured perfectly by Vency from Zenia Creations, who put a lot of time and effort in catching the candid moments. Photography was done by Naren Bedekar of Creative Eye. They stayed with us throughout the day from 9am till 11pm and coordinated very well with each other and our families.
SPECIAL MEMORY
All our guests at the church burst into laughter when Raj fainted after our first 'I do' kiss. For a moment I was shocked to see him fall, but then when I saw his cheeky smile as his groomsmen lifted him back up, I knew I was pranked!
HONEYMOON
Our honeymoon was in the Krabi province of Thailand, and we stayed at Maleedee Bay resort. We spent our time island hopping and enjoying the amazing white sandy beaches, scootering, eating papaya salad and having Thai massages by the beach at sunset.
TOP TIP
Make sure you smile throughout the event, laugh and enjoy every moment! And if you can, steal a moment alone for the two of you to cherish the day. It makes it extra special.
Share this: