Real Weddings: Sophie Burton Hishon & Tom Hishon In Queenstown
A breathtakingly picturesque ceremony in Queenstown was the order of the day for Sophie and Tom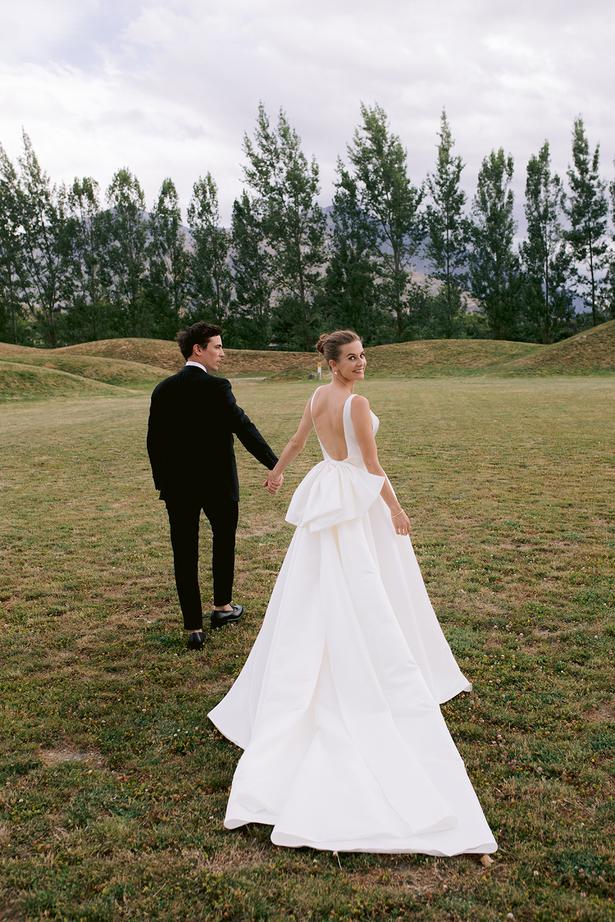 Friday April 12, 2019
The Proposal
Sophie: Tom proposed to me on the side of a river near the Huka Falls in the middle of winter. It was our fourth anniversary, we'd just driven from Martinborough to Taupō after visiting our soon-to-be new puppy.
I was distracted by the puppy, and not at all expecting what came next. We spent the night at Huka Lodge, which was the perfect way to float in the post-proposal love bubble.
READ: Model Georgia Pratt's Dreamy Matakana Wedding To Artist Nicolas Holiber
The Vision
We agreed early on that if our friends and family were having the best time, then we would have the best time. We like to play host in everyday life, so this was the ultimate extension of that.
A festive, intimate vibe with a special focus on the details is how we hoped the day would play out — and it did! We didn't mind if things weren't perfect, we wanted our guests to feel welcome, looked after and to have lots of fun.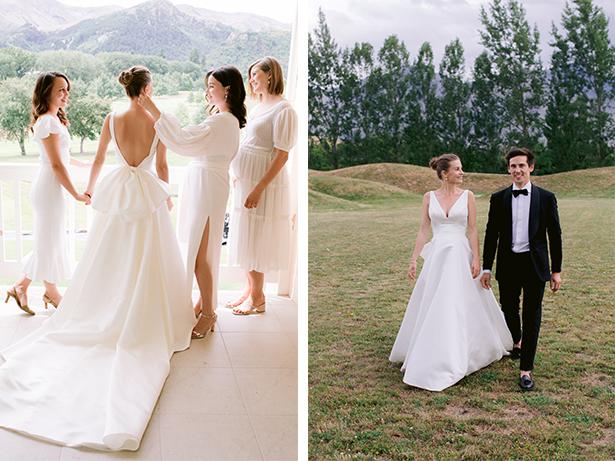 The Ceremony
The ceremony was held on a private property in Speargrass Flat, Queenstown. It was expansive but also felt private, surrounded by tall trees and mountains.
The owners had put so much love and energy into landscaping. As guests walked into the property from the tree-lined road, there were small lakes dotted about, and lots of rolling hills.
The Reception
Our dinner party was at Sherwood Queenstown. We know the team well, and love their approach to food. Plus, they know how to put on a great party.
Sherwood was also where lots of guests chose to stay over the weekend. I had always envisioned hosting a party where no one had to drive home at the end of the night, and could instead traipse back to their room. We followed the night up with a very casual buffet brunch the next day in their sunny courtyard.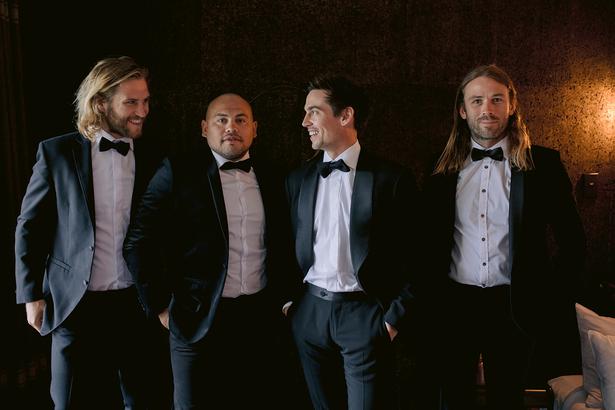 The Dress & Suit
My dress was designed by Monique Lhuillier. I found it while in Sydney visiting friends, and it was the first dress I tried on at Helen Rodrigues. I love how it has a strong silhouette; the back is long with a beautiful loose bow as the bustle, the A-line front is kept very simple. It was a bigger, poufier dress than I imagined wearing, but ended up being perfect.
READ: Wedding Hairstylist Brooke Mann Shares Her Bridal Hair Tips
I wore my bridesmaid Emily's veil, my mother's gold bangle and some vintage teardrop gold earrings. Later in the night, I changed into a bright-purple floral Mahsa dress and kept my silver heels on to dance in.
Tom wore a custom suit from E. von Dadelszen, and a pair of Church's Pembrey leather loafers.
The Entertainment
At the ceremony, a cellist and pianist duo sang the girls and I down the aisle to a classical rendition of Gypsy by Fleetwood Mac, followed up with Raspberry Beret by Prince.
Instead of traditional readings, we asked a few guests to share their marriage advice with us, which was so beautiful. Some were practical, others heartfelt and some were hilarious.
At the dinner party, there were lots of incredible speeches. We were blown away by the speeches, our friends and family really came into their own.
READ: How To Choose The Right Celebrant For Your Wedding
After dinner we moved from the tent into Sherwood's main restaurant, where a DJ and trumpet player were set up. Everyone got silly: there were frequent mic steals with friends deciding to become part of the entertainment, impromptu ballroom dancing and we were eventually nudged out of there in the early hours.
I had insisted that we set up a tequila and mezcal table. Despite lots of well-meaning family trying to encourage me to drop it, this decision turned out to be a great one — young and old bonded at this small table, and it set the scene for good times later on.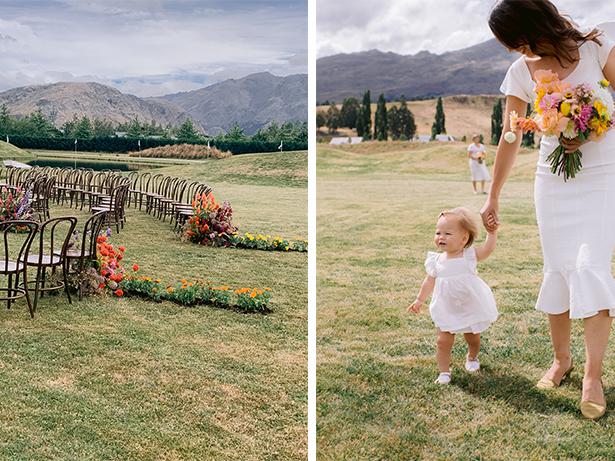 The Flowers
Sophie Wolanski from Muck Floral was our florist, and also a guest at our wedding with her husband, Rob. We asked for a riot of bold colour at the ceremony, and that she just do her thing. At the dinner, dahlias, which are one of my favourite flowers, were the focus. The whole effect was absolutely stunning, she's very talented.
The Photos
Asking Anna Kidman to be our photographer was a very easy decision. She is a romantic at heart, and has an incredible eye. I'm camera shy, so it was important I felt comfortable when it was photo time. We wanted candid shots of us with our friends and family.
There were a few hilarious moments during the speeches; Anna managed to capture the exact moment my dad did a double fist pump in his seat in response to something outrageous Tom said in his speech. So happy that we have this moment, and many other moments like it, forever.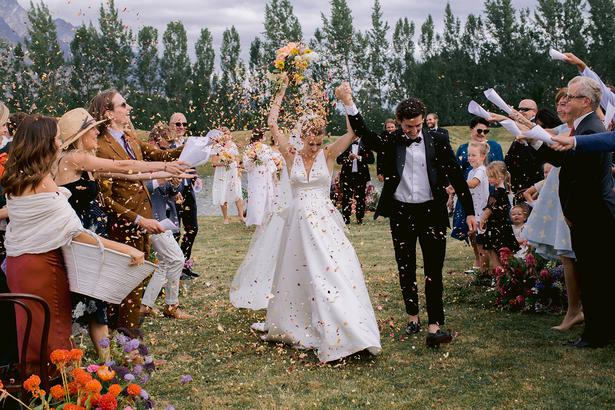 Special Moments
There were so many. At the ceremony, our youngest flower girl, Layla, tottered about in front of us while we said our vows, looking completely adorable and doing a fab job of stealing the show. At Sherwood, our good friend George Mason surprised us by delivering a karakia before dinner, which was very beautiful and set the scene for the food that followed.
GALLERY: Beautiful And Unique Engagement Rings
The Food
I was adamant that Tom [head chef and owner of Orphans Kitchen] not feel tempted to chip in to help with food prep. We chose Sherwood because we love and respect their approach and knew we could sit back and they would take care of us.
We served guests wild venison, panzanella salads, roasted beets and new season potatoes with lots of produce directly from Sherwood's organic garden.
For dessert, we had 10 layered almond sponge cakes (one for every table) topped with berries and fresh cream. There was rhubarb rose water marshmallow, plus the most outrageous molten brownie-like truffles and cheese.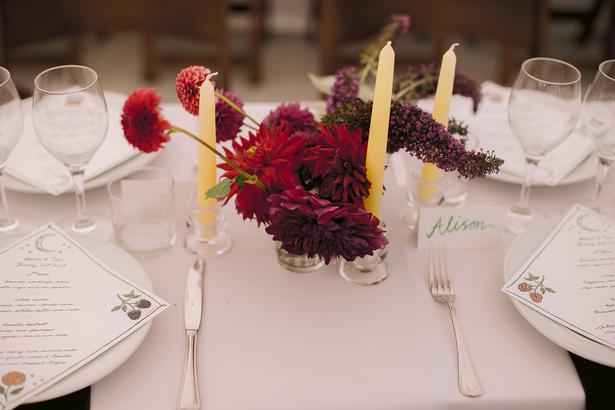 The Advice
There was no question that we were going to be very hands on in the planning of our wedding, however, Tom and I were so happy we decided to use a wedding planner to assist with vendors and on-the-day logistics.
It just makes everything easier. Especially if you decide to get married away from home. Erin Coldham from Wonder Events was incredible, she went above and beyond for us.
The Experience
I felt calm in the lead-up and on the day, which was surprising as lots of people told us that this wouldn't be the case. Tom and I both focused on trying to stay present and stayed together over the day and night as much as possible.
I feel so happy to be able to say that we enjoyed every part of our wedding. It was magic.
Share this: