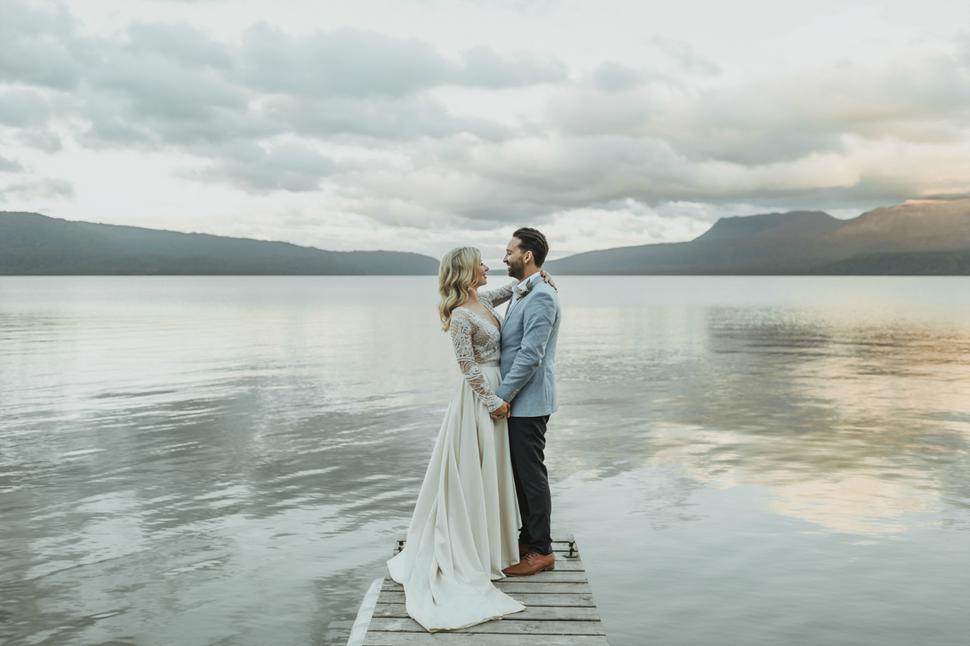 Real Weddings: Steph & Matt Lockwood
A small clearing on the edge of Lake Tarawera proved to be the perfect spot for Steph and Matt's incredible wedding
Saturday Sept. 15, 2018
THE PROPOSAL
Steph: It certainly took me by surprise! We have a pet bunny, Peanut — the apple of our eye — who was instrumental to the proceedings. Walking in, to Matt down on one knee, holding Peanut, who was holding the ring, is something I'll never forget. Matt had organised the most amazing surprise engagement party to top the day off — it was so special celebrating the day with our nearest and dearest.
READ: Adorable Real-Life Proposal Stories
THE VISION
We were inspired by Splore, a festival where we have made some of our most precious memories together, and we decided early on that we wanted our beautiful tipis (owned by Matt's wedding hire business, Gypsy & Co Events) as the centrepiece. A day full of fun, surrounded by those we loved, with a gorgeous view to soak in as we danced the night away — we were so lucky for it to all come together as we had imagined.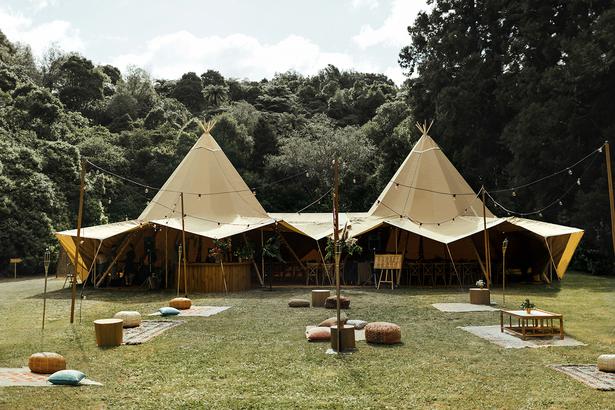 THE LOCATION
Our ceremony and reception were both held in the most beautiful clearing right on the edge of Lake Tarawera. Guests arrived via a short walk edged by native bush and a breathtaking lake view. It was thanks to a tip-off from a local barista during a weekend road trip that we took a drive down to see the spot. We chose it because it's quite simply one of the most extraordinary little places we've ever been. It just felt so right.
READ: Five of the Latest Floral Trends for Weddings
THE RECEPTION
Our reception took place underneath two beautiful tipis, which were the perfect backdrop and created the most incredible atmosphere. They really were the talking point of the day!
As well as the tipis, we were lucky to have access to lots of outdoor furniture and accessories, plus the most incredible fire pits to keep things toasty as the night rolled on!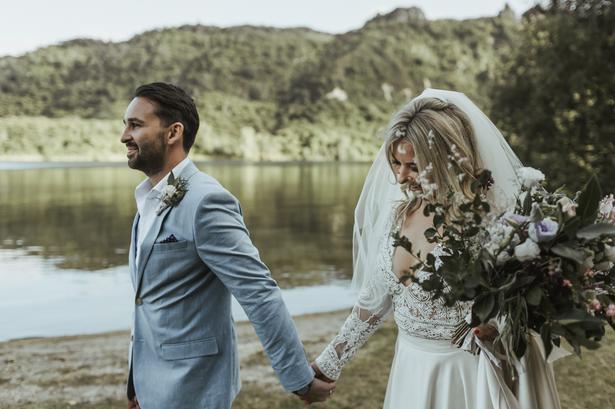 THE RINGS
Steph's rings were beautifully designed by Charmaine from Grae, who was such a dream to work with. Her engagement ring is a delicate platinum band featuring clusters of different sized and shaped diamonds and a gorgeous milgrain edge. Her wedding band features a full rainbow spectrum of sapphires interspersed again by diamonds in various sizes and shapes. Matt's is a classic platinum band.
READ: The Do's and Dont's for a Wedding
THE DRESS AND SUITS
Steph: I designed my "dress', which was inspired by a J'aton Couture gown I coveted years before. It was actually a two-piece, featuring a heavily beaded long-sleeved bodice and a full, luxurious skirt, one of the best features of which were the pockets! I changed into a beaded mini-skirt (to match my bodice) later in the evening. My bridesmaids looked stunning in long silk lavender dresses by Rat & Boa.
Matt: My groomsmen and I wore pale linen jackets with mis-matching midnight blue pants. The outfits came from River Island and Barkers.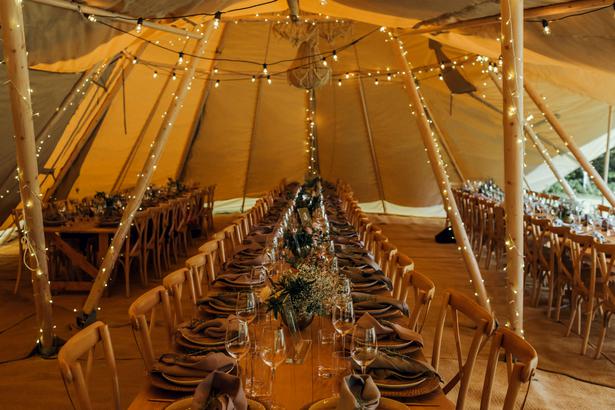 ENTERTAINMENT
Steph: The girls and I were sung down the aisle by a vocalist singing Wild Horses. We had a live duo performing throughout our post-ceremony drinks, and the most incredible live band, The Pickups, after dinner. They were one of the best features of the day; our guests are still talking about how amazing they were!
THE FLOWERS
Shaye from On My Hand did all of the florals and styling. She is a creative powerhouse with the most amazing vision and innovative use of flora. The arrangements were wild and botanical featuring lots of herbs as a nod to my love of natural medicine.
THE PHOTOS
Kirsty Peta Stone is such a treasure — there wouldn't be a lovelier photographer around. She worked so hard for us on the day and we so appreciated having her to spend the day with.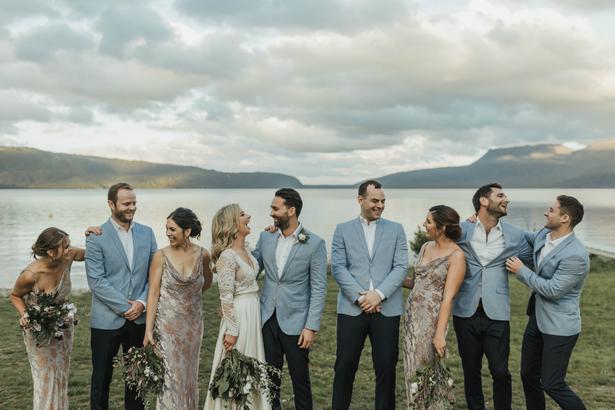 PARTIES
It felt like one celebration after the next for a while there! Steph's hens was rainbow-themed and involved all of her girlfriends at the Pride Parade. Matt's stag was the same day, but he can't remember most of his.      
THE DAY
It was a hell of a ride! There isn't anything that can quite prepare you for your wedding day, it really is like nothing else. To spend a day with everyone you love in the world is quite phenomenal.
READ: How To Look Good In Wedding Photos
FUNNY MOMENTS
Because there was a bit of a walk from the car to the ceremony, we had hired a golf buggy to get Steph and the girls down the track nice and easily. Waiting in the carpark for their "chariot" to arrive, they were told the buggy's battery was flat — thanks to a few groomsmen and a few doughnuts performed earlier in the clearing! A beautifully serene bushwalk in 13-centimetre heels was quite a way to start the day!
THE FOOD
No Biggie Food catered our day and were a delight to work with. We had canapes, a grazing table and sharing platters as we wanted the food to create atmosphere and connection between our guests. No Biggie even tailored our menu to feature our favourite foods — sashimi for Steph and fried chicken for Matt — which was a real treat!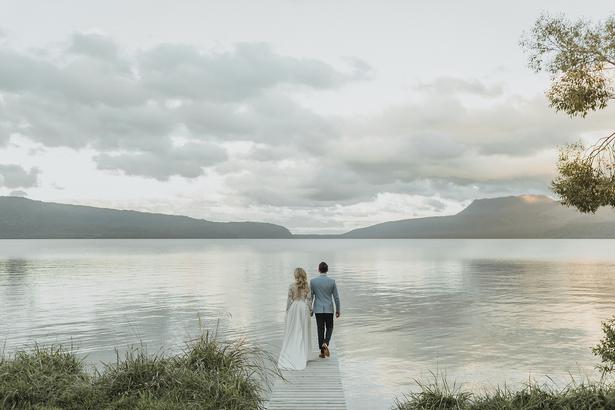 THE HONEYMOON
We are actually just about to leave for our honeymoon in a couple of weeks! We have a few weeks in India planned, which has been at the top of our bucket list for a number of years now.
LESSONS LEARNED
If we had our time again, we would have started our day a little earlier. There is so much to pack in, so many people to see, songs to be danced to — a couple of extra hours in the sunshine with your friends and family has got to be a good thing.
Share this: