Real Weddings: Tamara and Rob Cunningham
The couple share how their search for the unexpected made their wedding day all the more special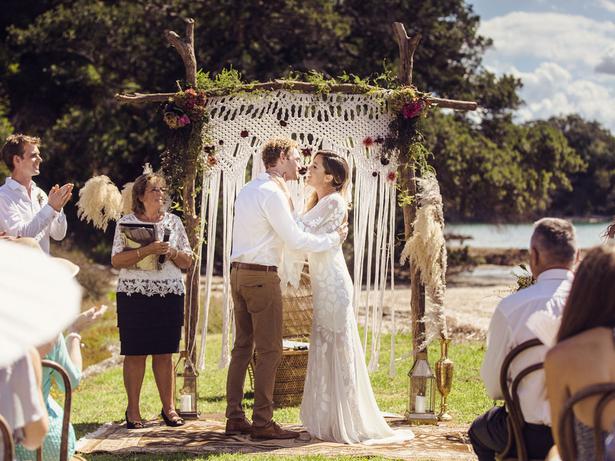 Friday Sept. 30, 2016
DESTINATION
We celebrated on Waiheke Island, where I grew up. We didn't want to have our wedding at a well-known wedding venue on Waiheke as we wanted a later curfew and more of a relaxed, at-home feel. So I emailed a few rental houses I liked to see if they would do weddings and eventually we found the most picturesque spot that tied in with my family history. We wanted this venue as it had the best sunsets and was quite secluded. I also wanted it to represent to Rob's family and friends where I grew up, so having it waterside on Waiheke was perfect.
APPROACH
I really wanted to do the planning and styling for our wedding ourselves, as a lot of my job entails event planning and decoration sourcing. So when we found out our venue had designated us a wedding planner, we initially thought, "why would we ever need a wedding planner?" Little did we know this was the biggest blessing in disguise, I also don't know what I was thinking trying to plan a wedding while living overseas. We really wanted our wedding to be about dancing, friends and family connecting and having a good time.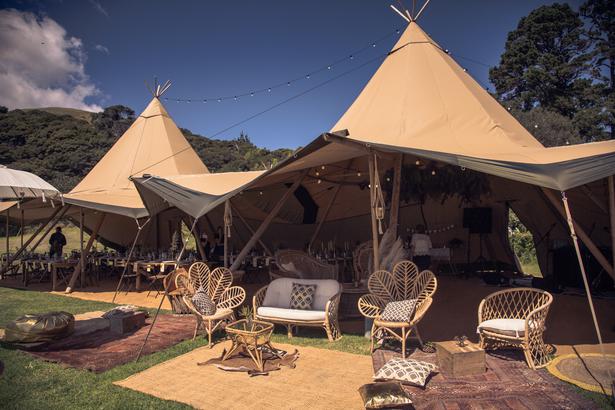 Because we were both from opposite sides of the world most of our family and friends would be meeting for the first time, we had a couple of gatherings a few days prior to our wedding for everyone to meet and get to know each other rather than having this on the day of our wedding. We wanted a super relaxed atmosphere and lots of good music. Sophia Hoadley from My Waiheke was our wedding planner and transformed our ideas so well. She had just been to Bali and India and had the most incredible furniture and pieces to hire, I couldn't have imagined getting to where we got without her styling and experience.
DRESS AND SUIT
Rob is an easy-going guy so he found his whole outfit from Zara in about 20 minutes and his shoes were from Dunes. I can never make my mind up but I knew I wanted something different with a bohemian feel to it. I had visited Grace Loves Lace and a couple of other boho wedding stores, but had no luck in finding anything that felt right. Then I saw Rue De Seine had a new collection called Nomadic Love and my mum and I went for a fitting. In my second fitting I took the courage to try on the gown, which I ended up choosing. It was quite different in style and I thought I would be too hot in the summer wearing it, but the detail and way it felt was incomparable, so we bought it. It's definitely something I hope to hand down one day.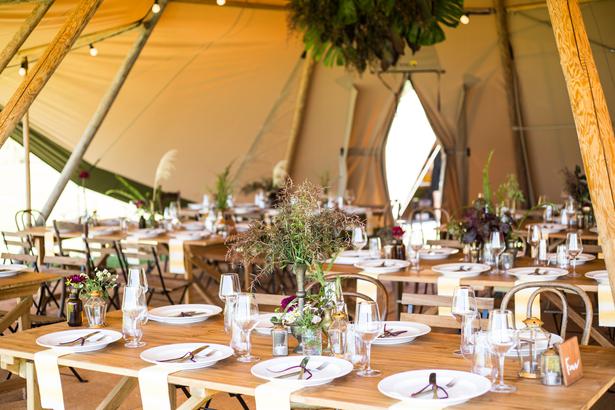 FLOWERS
We had a good friend of my mother, Vicki from Wildflower on Waiheke, supply our flowers. We wanted to keep as much of our suppliers local to support the network and businesses on the Island. We liked the idea of a "handpicked, from the forest" kind of look with some burgundy tones and my favourite toi toi bush in the mix.
Our bouquets were amazing but the inside of our tent with the hanging arrangements stole the show.
BRIDAL PARTY
We didn't want the stress of having to find outfits for our bridal party so we left this up to them with a colour scheme of white for the girls and beige chinos and white shirts for the boys. One of my bridesmaids is an amazing seamstress and ended up making my bridesmaids dresses; we went barefoot with shell anklets.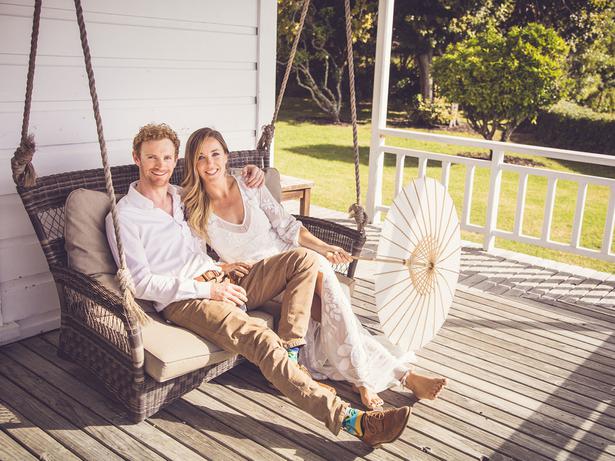 TABLE SETTINGS
As we were going for a boho-style wedding we didn't want too much on the tables. Sophia is really great at making the smallest of decorations have a huge impact. We had brass candles and motifs along with different flower vases. We didn't do favours but wanted to have the settings a bit personalised, so Sophia dip-dyed cotton napkins in canary yellow and white for us, making each one unique.
TOP TIP
The best advice I was given was to make sure to take some time during our day to reflect on what had happened so far as the time flies by so quickly. It's important to take moments to really soak it all in. I'm so glad we did this!
Share this: