Real Weddings: Tandi Lazarus & Marcus Watson At The Convent Hotel, Grey Lynn
For the operations manager at Wynn Hamlyn and the artist-designer, their families were the pillars of their special day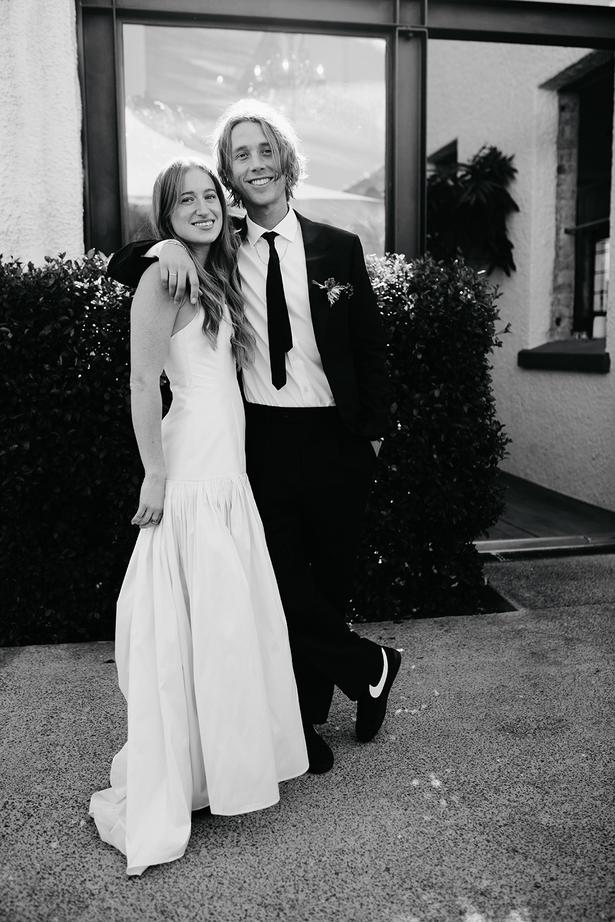 Tuesday Oct. 12, 2021
The Journey
Luckily our wedding took place during a window where there were no Covid-related restrictions, on May 2, 2021. The borders had just opened with Australia, so friends booked flights and it was very special to have them attend.
The Vision
This changed a million times. A few things we were set on were having it in Auckland, so it was easily accessible for guests, and we wanted it to be as small as possible (which is harder than one thinks!).
It was important to us to make sure the wedding felt authentic and we did this by predominantly working with friends in different industries who knew us and understood the energy.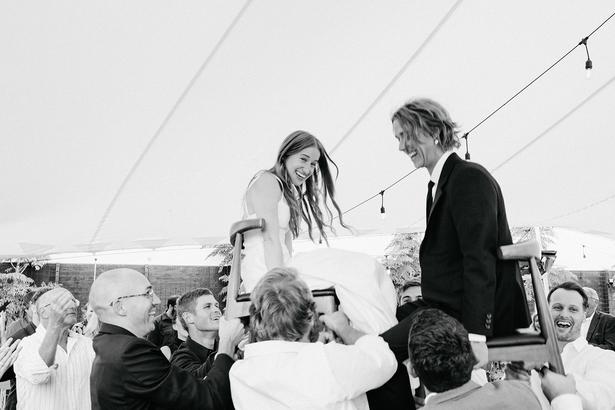 The Ceremony
Kriston, Marcus' friend, played the guitar as I walked down the aisle with my brother, which was a very calming way to start. We were fortunate to have a close friend of ours, Katie, get her celebrancy licence and wed us.
As Marcus and I both grew up with her, she was able to curate a short ceremony telling stories and including memories that felt genuine and personal. I'm Jewish, so we incorporated traditions that felt important, which was very special to me and my family. A highlight was the seven blessings that were read out by significant people in our lives.
READ: Real Weddings: Isabella Caselberg & Gus Dobson At A Family Friends' Home
The Location
We were married at The Convent Hotel in Grey Lynn. Our friend Hayden, who is the head chef at Ada, offered us this opportunity and we couldn't say no. It was a dream to be honest — the heritage architecture is beautiful and no one had been married there before. It definitely didn't feel like we were in central Auckland.
We hired out the hotel over the weekend and most of the guests stayed the night with us on the eve of the wedding, which was super-fun.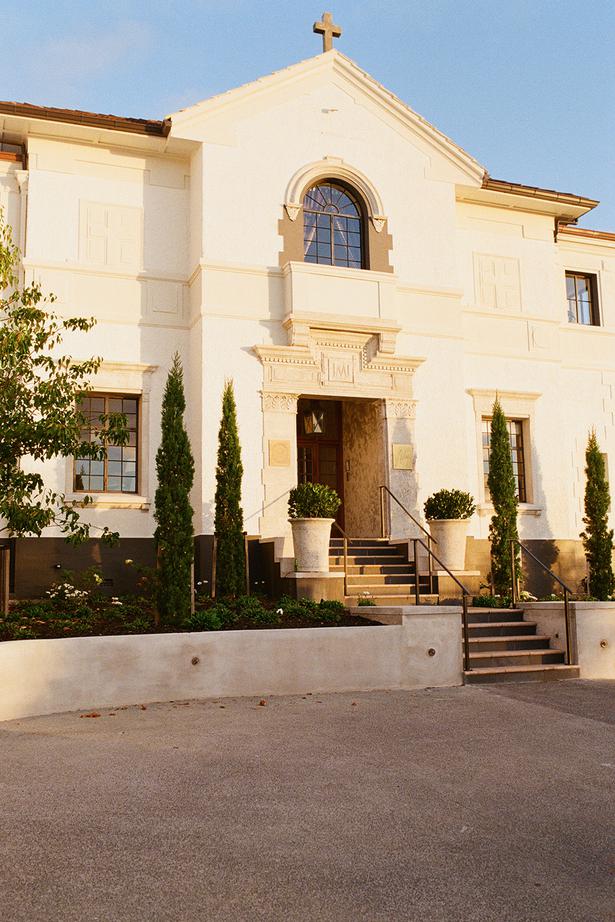 The Planning
Leading up to the wedding we did everything ourselves. I'm not sure I would recommend that to people, but it was a great way to make sure everything went as we had dreamed. A week out we got an event planner, Emily Bramfitt, to help see out the day, which was a blessing.
The Rings
Maeve Woodhouse, from Hera Saabi, custom-made our rings. This was probably the most fun part. The process was stress-free and beautiful. Marcus' has different coloured gems and mine is a simple gold fahlband ring that she had custom-shaped for me.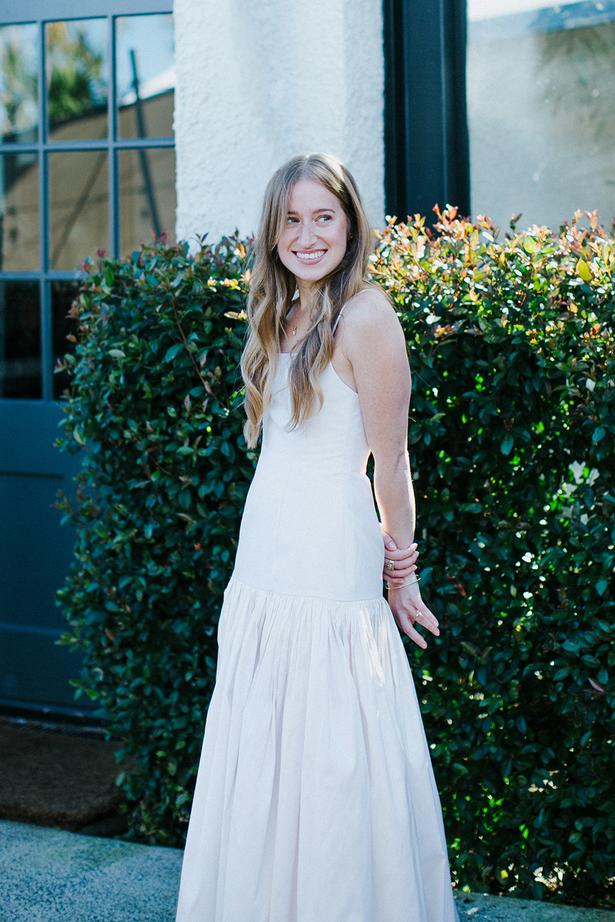 Dress & Suit
Wynn Crawshaw, of Wynn Hamlyn, made both of our outfits. I gave him a mood board with 1000 different contradicting dress ideas. He managed to untangle them and make something beautiful while still making me feel like myself. Marcus wanted a classic black suit and Nike sneakers.
READ: Real Weddings: Anna Choi & Patrick Daley At Mantells, Mt Eden
The Flowers
Isadia did an amazing job with the flowers. The brief was colourful, wild and in season and we let them do the rest. I think when you choose people who are great at their job, it's best to let them be creative.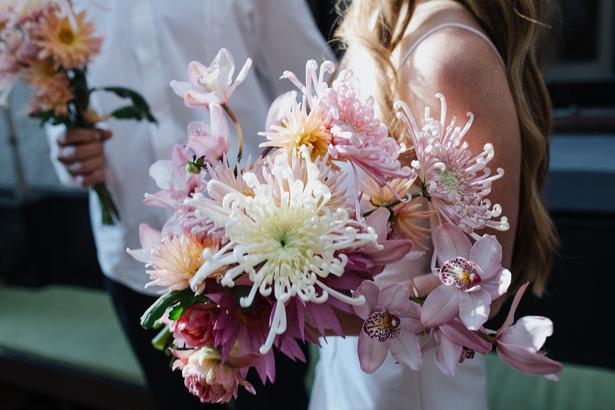 The Photos
We really wanted film to capture our day as well as digital to make sure we had documentation of every moment. Keryn Sweeney did digital/film and our friend Ruby Gregory caught special moments of film throughout.
The Experience
The day exceeded all expectations — we were surrounded by all of our favourite people, beautiful natural wine, good food and great music by Bontempo, so it was hard not to have the best day.
Our families were the pillars of the day and blew our minds as well as everyone else's with speeches, videos and performances scattered throughout the night. I've never seen so many emotions — constant laughs and tears!
Share this: