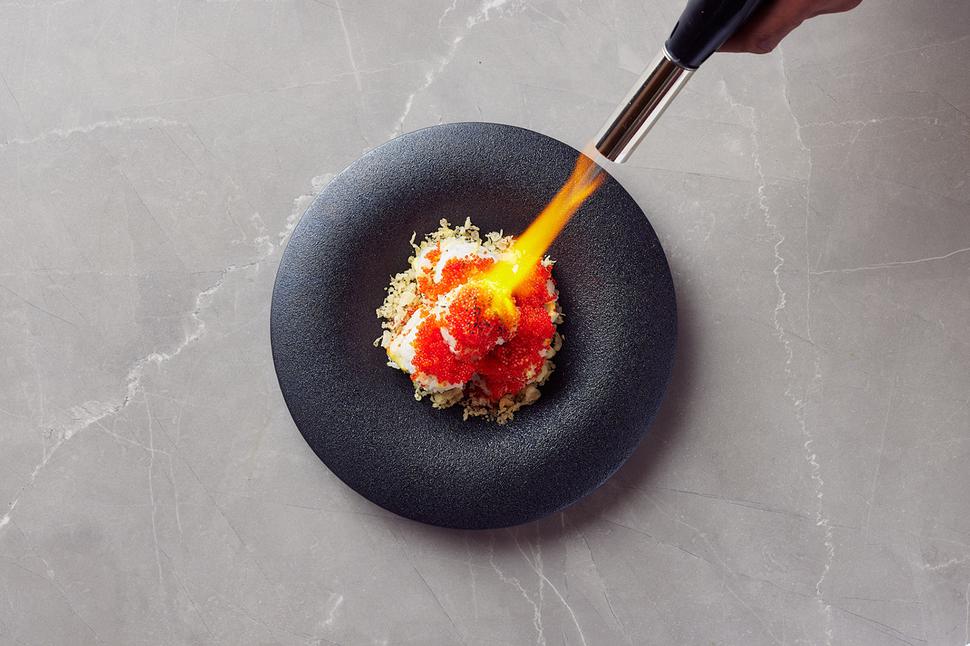 Relax In A Gin Garden, Visit A Film Festival & More Fun Things For The Weekend
Savour some cinema, peruse a few jewels and perk up your plants with these goings-on
Friday Nov. 27, 2020
Enjoy fine fare at Azabu's gin garden
Gourmands and Azabu enthusiasts alike can rejoice in the Ponsonby powerhouse's newly opened Mission Bay outpost, offering their much-loved Japanese-Peruvian fare (plus some exciting new dishes) alongside a pop-up gin garden in collaboration with Roku Gin.
Azabu Mission Bay, 44 Tamaki Drive, Mission Bay.
Check out Karl Maughan's new paintings
A new suite of Karl Maughan's indelible garden-scapes, featuring sunflowers, is on display at Gow Langsford Gallery. The exhibition coincides with the release of a dedicated monograph, published by Auckland University Press, on the renowned New Zealand painter. Saturday, 10am to 4pm. Ends December 19. Corner Kitchener St and Wellesley St, Auckland.
Go on a wine tasting tour through the capital
Charged with the onwards vim of a traditional pub crawl, this Urban Wine Walk will have you wending your way through some of Wellington's best bars and restaurants. 
The wine tasting tour is self-guided and works in many ways like a choose-your-own-adventure gamebook: simply begin at one of the event's 11 participating venues, then pick your next.
Saturday November 28. Tickets are available through Eventbrite. Collect your wristband, tasting glass and vouchers from Whistling Sister, 100 Taranaki St, Te Aro, prior to starting the tour.
Fit in a film festival
Experience a slice of Japanese culture with Academy Cinemas' free weekend-long Japanese film festival that includes sci-fi drama A Beautiful Star, comedy Not Quite Dead Yet and the stop-motion animation of Takeshi Yashiro. Bookings required via their website. Academy Cinemas, 44 Lorne St, Auckland.
Check out Ruby Jones' new art project
Located at Allpress Studio, illustrator Ruby Jones' new exhibition 'Thanks From Iso', in partnership with Accor Hotels, features a collection of works created by people during their stay in managed isolation facilities.
Meet Ruby as she undertakes a two-week residency at the studio, creating new artwork each day inspired by the works of returning Kiwis. Open weekdays from 7am to 2.30pm, and on weekends from 11am to 2pm. Ends December 7. Allpress Studio, 8 Drake St, Freemans Bay.
Shop for jewellery
Snap up a few exquisite jewellery pieces at Jasmin Sparrow's Ponsonby showroom, which is now open weekends in the lead up to Christmas. This weekend only, the brand will be showcasing a preview of their new collection, with the opportunity for showroom attendees to pre-order. A select number of pieces will also be available for purchase on these two days, so get in quick.
Saturday November 28, from 9.30am to 4pm, and Sunday November 29, from 11am to 4pm. Jasmin Sparrow Showroom, 264A Ponsonby Road, Ponsonby, Auckland.
Learn about indigenous pottery
Te Uru Waitākere Contemporary Gallery will welcome 'NUku', an expansive collection of indigenous ceramics, into its fold of exhibitions on Saturday November 28.
Head along to the floor talk on Sunday November 29 at 12pm for a free 45-minute tour guided by exhibitors Wi Taepa, Yvonne Tana, Alix Ashworth and Maria Brockhill, and curator Carla Ruka. Ends February 28. Te Uru Waitākere Contemporary Gallery, 420 Titirangi Road, Titirangi.
Visit a plant market
Continue, or begin, your leafy love affair with Mt Smart Stadium's first Lilyworld Plant Market, a mega market of indoor and outdoor plants, as well as everything your verdure requires from a line-up of local vendors.
Saturday November 28, 10am to 3pm. Entry is free. Mt Smart Stadium, 2 Beasley Avenue, Penrose.
See Penny Sage's summer pop-up
Divine womenswear label Penny Sage has paired up with Jiho Store, Klay and Walk In The Park for a seasonal two-day pop-up.
Saturday November 28, from 10am to 4pm, and Sunday November 29, from 10am to 2pm. Penny Sage Studio, 6A Kirk St, Grey Lynn, Auckland.
Attend the Moana Fresh x Papa Clothing launch
Moana Fresh and Papa Clothing are launching their much-anticipated studio-meets-store on Saturday and Sunday, 10am to 4pm.
Join the occasion and peruse a curated selection of art, accessories, garments and more. Papa Clothing, 64 Rosebank Rd, Avondale, Auckland.
Share this: