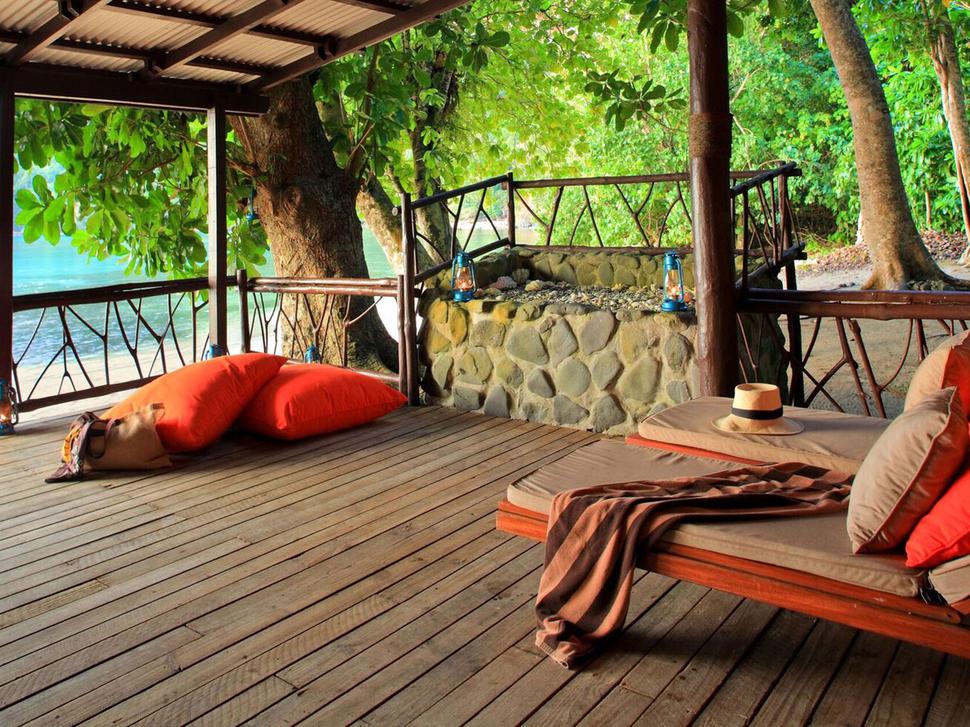 18 Romantic Things to Do in Fiji
Magical experiences to tick off in Fiji on your next romantic getaway, be it a honeymoon, anniversary, or simply an excuse for a break
Friday April 1, 2016
1. Fly to the far-north island of Taveuni where the leaves are already flourishing on the trees stripped during Cyclone Winston. The locals' spirit is more resilient and welcoming than ever, and the laid-back resorts on the small islands off Taveuni make the trip worthwhile. The flight offers birds-eye views of coral reefs, waterfalls and jungle-clad craters, and alighting at the tiny open-air Matei Airport is an experience in itself.
2. Book the two-level penthouse at Nanuku Auberge Resort to stage the ultimate romantic surprise. Staff will help you plan your proposal, birthday dinner or even private wedding ceremony to perfection, complete with rose petals in the bath and Champagne by the bed. Downstairs you will find your personal chef and singer, and on the deck a beautifully set table, overlooking a private infinity pool and almost 360- degree vista of beautiful islands, palm trees and sandy bays.
3. For a couple who surf (or want to learn), head to the Tropicsurf shack at Qamea Resort and Spa, where teacher Sammy Crooke will transport you to an isolated reef break to experience surfing at its best. It's an invigorating wake-up call, and perfect for those who like a little luxury with their waves — or whose partners would prefer to lounge by the pool than risk wiping out.
READ: Everything to Know About a Fiji Wedding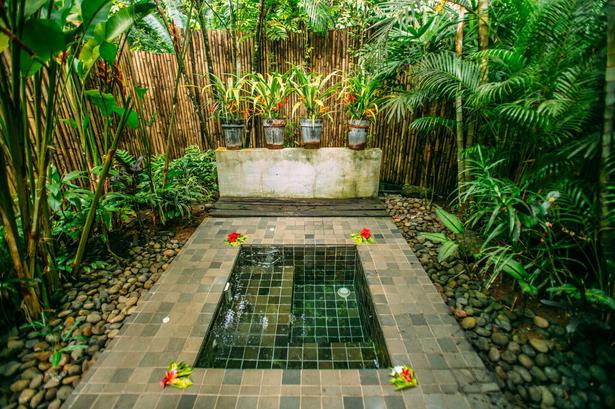 4. Indulge in the Cleopatra bath ritual at the Intercontinental Fiji Golf Resort and Spa. Your outdoor tub with room for two will be filled with coconut milk by attending staff members, and the only hint as to the decadent soak that awaits will be the path of rose petals leading towards your balcony door.
5. For a treat with a local flavour, stop at one of the many roadside barbecues or "drive-thrus" where just $5 will get you a box of sausages, chops, salads and more. The perfect picnic to transport to a nearby beach.
6. Learn a new skill with your partner. A traditional Fijian cooking class will verse you in such delicacies as barbecue prawns, kokoda — raw fish cooked in lemon juice and served with coconut milk — and curry. You can also experience a lovo, the Fijian take on a hangi.
7. For a secluded honeymoon, head to Matangi Private Island Resort, where you can flit between your treehouse and a hanging bed by the pool. If you're feeling more active, take a trip to nearby Horseshoe Bay to snorkel with the sharks, or meet the adorable animal residents. Matangi's owners have rescued birds, fruit bats and pigs, and have 12 dogs of their own.
READ: Real Weddings: Alexia and Peter Carras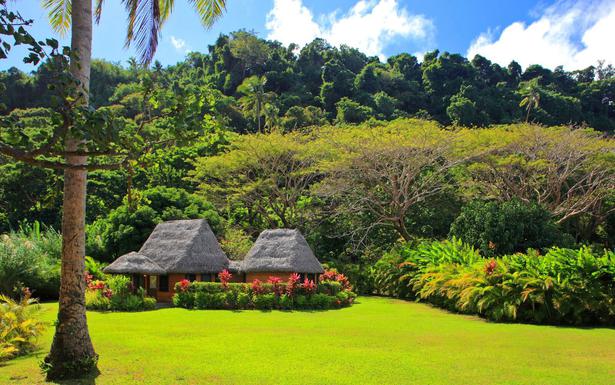 8. Experience the ultimate honeymoon or pre-wedding pamper session at Shangri-La's Fijian Resort and Spa. The Dusk till Dawn package will see you relaxing in a private therapy room, complete with your own bed so you can drift off to sleep after your massage, skin polish and soak. Dinner and breakfast will be served in your room — where there is a view of the ocean and no wi-fi to distract you — and upon waking, your final facial treatment awaits.
9. Choose the most beautiful private location for your wedding ceremony or renewal of vows. From the tiny paradise of Royal Davui Island Resort, you can catch a boat to an even smaller sandspit, which is revealed each day at low tide. There you'll find deck chairs, a flower-strewn aisle, a picnic hamper and more. Say your vows in the company of the resort's larger-than-life celebrant, and be left in peace to relax, snorkel and celebrate.
10. Take part in a local kava ceremony, where you will be lulled by the romance of the Fijian language and the effects of this traditional drink. Many resorts offer a chance to experience this local custom.
11. Sleep in a dream-inducing canopy bed at a boutique resort such as Qamea or Nanuku. With a pillowy soft mattress enveloped in gauzy curtains, you'll never want to wake up.
READ: How to Look Good in Wedding Photos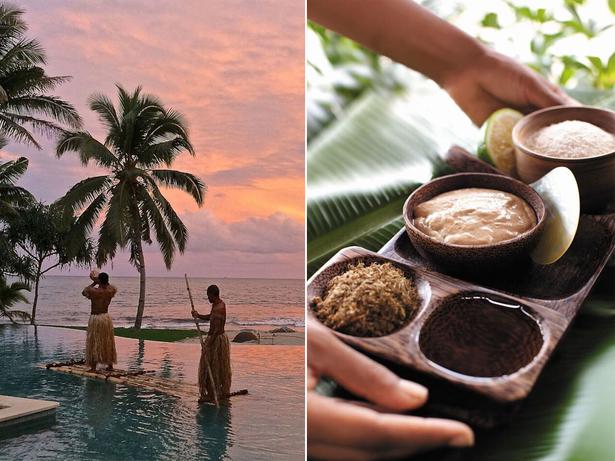 12. Make the most of the Sofitel Fiji's new Waitui Beach Club, a resort within a resort. The luxurious adults-only zone features a lagoon pool, swim-up bar and butlers to serve lunch to your lounger. Better still, when the sun goes down the band starts to play, and you can swim, dance and sip cocktails into the night.
13. Be serenaded by the beautiful Fijian voices. Many resorts welcome and farewell you with song — the traditional farewell Isa Lei brings many to tears — and there are a number of other opportunities to enjoy the musical nation. You can listen to a village choir, take in a traditional show or watch a ukulele player while you dine. Or, just listen as you explore — many Fijians sing as they work, relax and play.
14. Book a private dining bure for a special celebration, and enjoy a delicious seafood platter or tropical fruit plate while admiring the sunset. Royal Davui Resort and Matangi Private Island Resort have two of the most idyllic locations. Staff will decorate the bure with tropical leaves and flowers, creating a beautiful setting for a wedding, birthday or honeymoon feast.
READ: Where to Honeymoon in 2016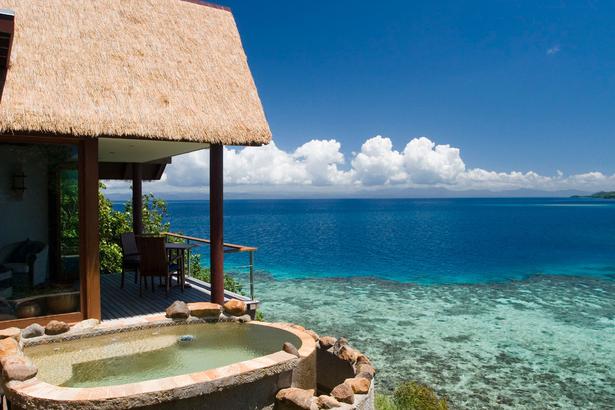 15. Romance doesn't always mean candles, massages and sunsets. Why not escape the beach and explore Fiji's interior with Talanoa Treks? The sustainably-minded company works in partnership with local communities and offers visitors the chance to see waterfalls, local villages and inland peaks.
16. Climb aboard a tall sailing ship. Captain Cook Cruises offers day trips around the Yasawa Islands, or you can book a ship for exclusive charter. They also run multi-day itineraries on larger vessels, providing the chance to sleep, swim and snorkel on demand.
17. Enjoy an outdoor shower. Surrounded by lush flowers and palms, you can gaze at the sky as you breathe in the scent of the tropics, and massage Pure Fiji shampoo into your hair.
18. Try a spot of sunrise yoga. Several resorts offer morning classes by the beach, and after you've spent a few days sleeping in, you'll be itching to stretch your legs. If it gets too hot, reward yourself with a swim.

• Fiona Ralph flew to Fiji courtesy of Tourism Fiji.
Share this:
More Culture & Travel / Going Places