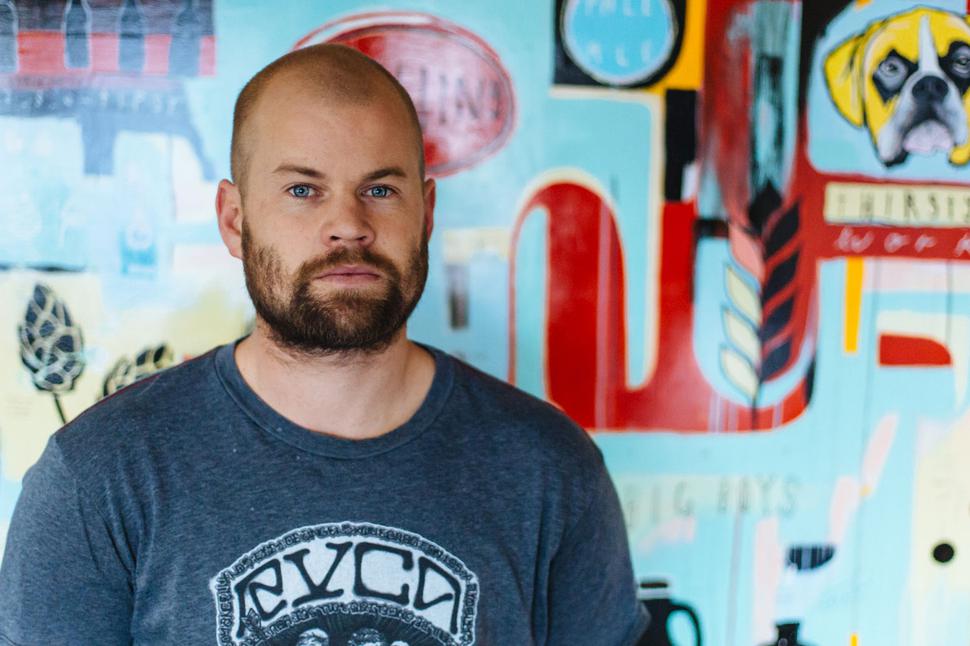 An Interesting Man: Sam Mathers
Artist Sam Mathers discovered his love of painting when he was two
Friday July 10, 2015
A year spent in Hackney, London, working for a removal company influenced artist Sam Mathers so profoundly that it made him realise all he wanted to do was make art.
"I was lucky enough to move artworks by Picasso, Warhol and Monet. I also got to look through Picasso's sketchbook with around 100 drawings and notes he kept. Then I would watch the works get auctioned off at Sotheby's [auction house], it was inspiring to see how much money the artwork would sell for. After returning back to Raglan all I wanted to do was paint."
Sam's work is very graphic with bright contrasting colours, humorous images and text mixed together to create a story. His current exhibition, on in Wellington, is called A Few Stray Bottle Caps and features his cat, Louie Boy, in two paintings, craft beer and yellow-fin tuna steaks seared with sesame seeds. An exhibition he had last year was based around friesian cows and his first exhibition was about living in London and travelling through Europe.
"My work is quite light-hearted, not too serious. I try to have as much fun as possible. Whatever I am thinking about at the time usually comes through in the work."
His first memories of painting were when he was 2 years old: "I got into a painter's van and used his paint to paint his van then I remember painting our wooden garage doors shortly after," he muses.
He can't think of a better place to grow up than the small beachside town of Raglan where he was raised.
"It's like you're on holiday every day. I just couldn't wait to get home from school so I could go surfing. It was a quiet little town then. You would know everyone in the line-up — no tourists and not many people from out of town. We would have perfect waves all to ourselves."
The beach played a big influence on Sam's early art. At school he would paint waves, old surf cars and landscapes, and then he moved on to painting churches.
"All the different places I have lived over the years have influenced my art."
Today, everything inspires his work, from surroundings, friends, travelling and pets. "Being surrounded by positive people definitely rubs off on you and your work. I generally paint about things I come in contact with in my life, things I have experienced."
Fashion trends also influence his work. He likes to know what people are wearing and what colours are in. "Sometimes I find great combinations of colours in garments, which I then use in my art."
And, listening to the lyrics in music is also a big inspiration: he can often be found dancing to jazz music or upbeat music in the late evenings with a paint brush in hand.
"Most recently Paul Simon, Bob Dylan, Leonard Cohen and Charles Bradley and Peter Sarstedt and Rodriguez take my mind away to an inspiring place."
Sam incorporates many different mediums to help bring his artwork to life, he will use whatever he can find in his work, including many layers of paint, paint drips, and mark making.
"Acrylic, watercolour, oil paint, oil pastels, crayons, pencils, ink pens, everything really. I use a clear paint lacquer resin-type clearcoat on top of everything. This binds everything together. It seals the deal pretty much."
An average day looks like ... I have been getting up and drinking lemon water, then avocado on ciabatta bread. Shower then drive from my St Marys Bay apartment at 7.30am to my Otahuhu art studio. I usually do all my admin stuff in the morning. By lunchtime I will have started painting. I find I get more into my artwork around 5 o'clock so I usually work until 7pm or later to avoid the terrible traffic back into the city.
Grooming routine ... I have a clipper; I keep it on number 1 at all times. It works perfect for my head and face. I don't need a hairdresser; I like to cut my own hair. It gets used once a month for my head and maybe twice a month for my face as I usually have a bit of a beard.

Favourite bars, restaurants and cafes ... Swashbucklers is a great summer bar especially in the evening when you get to feed the stingrays. The Cav is my new local: it has good beer and a nice warm friendly vibe. Harry Bar on Ponsonby Rd is also a good bar to have a few drinks at, small with a nice setting and friendly staff. Favourite restaurant is the Blue Breeze Inn — the pork buns are delicious. Also Chop Chop has good noodles and a tasty range of whiskies.
My personal style is ... relaxed, casual, a little grungy with the odd quirky item of clothing.

In my spare time ... I surf whenever I can especially when the waves get good. Play the odd game of tennis; like to go fishing, diving with a spear gun, floundering with a spear; hunting and gathering in the ocean.
Aside from art ... I like going to music festivals, watching my favourite musicians perform live. Surfing is my favourite hobby. I quite like spending a week in the winter months snowboarding.
I listen to music like ... Donnie and Joe Emerson Devendra Banhart, Charles Bradley, Marty Robbins, Roy Orbison, James Brown, Conor Oberst, Marlon Williams, so much more. Just whatever my mood is in will decide the genre of music.
The best book I've read ... would be Marching Powder. I read it in 2010, maybe not "inspiring" but extremely captivating. I couldn't put the book down. I read it in one week, usually an average book would take me six months to read. I don't read lots — I tend to analyse magazines or the book's layout with my unconscious mind before I fully commit to reading it.
Favourite places for travel ... Mexico. I love the food, the beer, the climate and the surf. Tonga also — the people are really friendly and the food and waves again. Indonesia — Everything there is so easy and carefree. The food and surf are hard to beat and you can live it up there with very little money. Lagos in Spain has the most amazing lagoons: crystal-clear warm water and great food.
Favourite artists ... would be Warhol, Cy Twombly, Basquiat, Keith Haring and Julian Schnabel.
See more of Sam's art here.
Share this: