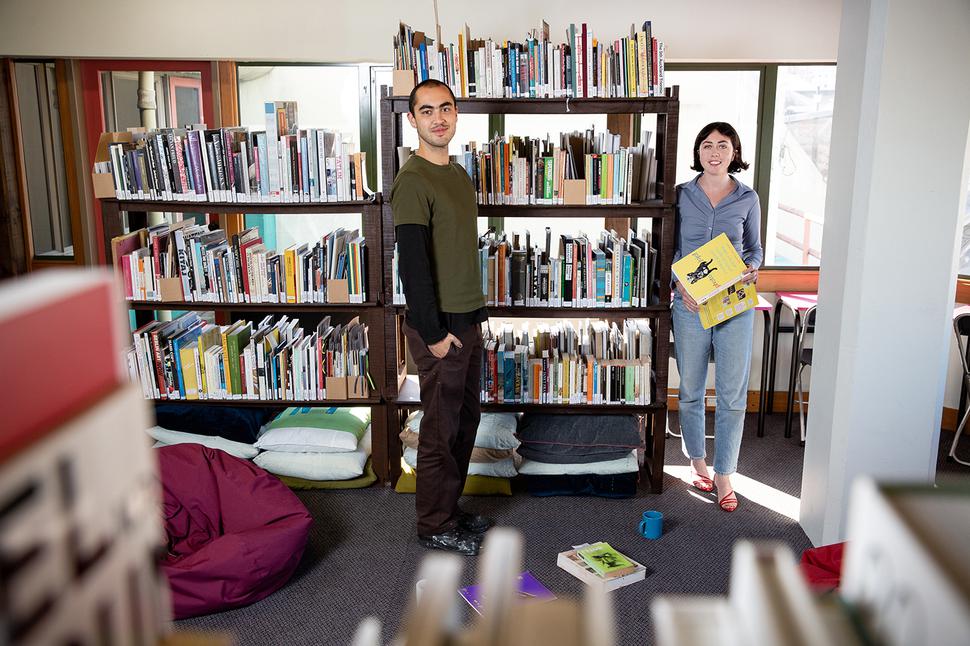 Samoa House Library Is Breathing New Life Into The Art Of Print
Ronan Lee and Bridget Riggir-Cuddy are part of the community behind the K Rd Space, established in response to the planned closure of Elam's Fine Arts Library
Sunday May 5, 2019
Karangahape Rd is full of surprises; you never know what you might find. If you walk up to the second floor of the Samoa House building, entered at street level via automatic doors between the pharmacy and the kebab shop, you find a space for reading, learning and critical discussion.
Light-filled with slanting wooden ceilings, beanbags, bookshelves and a panoramic view of one of Auckland's most idiosyncratic streets, Samoa House Library welcomes you with quiet warmth.
When the University of Auckland announced last year it would be shutting down and relocating three of its specialist libraries, including the Elam Fine Arts Library, many students were unhappy with the decision.
READ: Sculptor Francis Upritchard Says She's Way Past Following Rules
Bridget Riggir-Cuddy and Ronan Lee are among many for whom the reconfiguration of Elam's Library has personal significance. Bridget, currently in a curatorial role at McCahon House Trust, studied art history at the University of Auckland and worked in the Elam Library, while artist Ronan is doing his Masters at Elam this year.
"We were a community of people who had some sort of stake in the library," says Bridget. "I worked there and studied there, and it was a space that had personally given me a lot of development."
For many, she says, the restructure represents larger changes going on; in the university, to education and how the arts are treated generally in society. "They're not valued, they're not understood."
It was after protesting these changes that Bridget and Ronan, along with nine other volunteers, decided to turn their frustration into something more positive. They found the space in the old Samoan consulate building and six weeks later, on September 22, 2018, Samoa House Library opened its doors.
The library is unique in that all its books are donated by the public, by other institutions countrywide and by members of the arts community. It's also unique because the books are organised not by title, but by donor. The aim is to represent the tangible value of books, both to individuals and the fine arts community.
But, one could argue, is the consolidation and prioritisation of these texts such a bad thing? As we head towards an increasingly digitised world, why keep them around?
That was the university's way of framing the move, says Ronan, but to his community it doesn't compute. "I can't speak for other creative disciplines, but for art, even just looking at an artist's monograph and seeing proper pictures of artwork is better than looking at them on the internet as your only option. Books are objects, they have sentimental significance."
READ: Artist Seraphine Pick On Her Latest Solo Exhibition
Bridget adds: "Also, fine art students tend to browse." She points out that one of the key downsides of digitisation and many books going to off-campus storage where they need to be specifically requested is that it rules out the opportunity for chance encounters.
Framing your research in unexpected ways is incredibly important, she says, and if it becomes too algorithmic, everyone's looking at the same popular texts. Being stuck in a loop-feed bubble doesn't bode well — this much we know from social media.
The selection of books at Samoa House Library is diverse. While there are plenty of art books and catalogues, there are also works of fiction and texts that cover a wide variety of topics from nature to travel, comics and philosophy.
As well as housing their collection of donated books, SHL has been running an education programme of weekly discussion groups called Curriculum. Artists and writers are invited to select and talk about a text that is meaningful to them, highlighting again the importance of physical books and also providing a safe space for critical discussion and thought.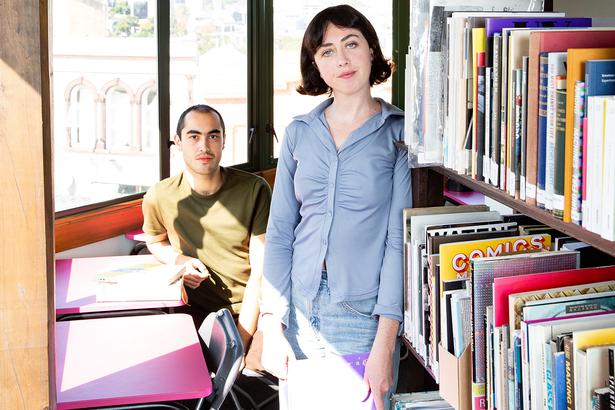 On top of managing the library space and Curriculum, next on the agenda for the Samoa House Library team is a booth at Auckland Art Fair this week, where they'll be recreating their Karangahape Rd space down at The Cloud, complete with beanbags.
They've collaborated with Ngātahi, a group of nine Auckland-based non-profit galleries, to create a reading room and functional library, fostering what they say is a site of critical reflection and discussion within the commercial context of the Art Fair.
Bridget and Ronan both agree that human connection plays a large part in why spaces like Samoa House Library matter. As we live in an increasingly digitised world, being able to pick up a book that has been passed from someone else's hands for you to engage with and learn from is increasingly valuable.
So, next time you find yourself on Karangahape Road, why not head up to the second floor of the Samoa House building? You never know what you might find.
Samoa House Library, Level 2, 283 Karangahape Rd
Tuesday to Thursday: 11am-8pm
Friday & Saturday: 11am-6pm
Share this: