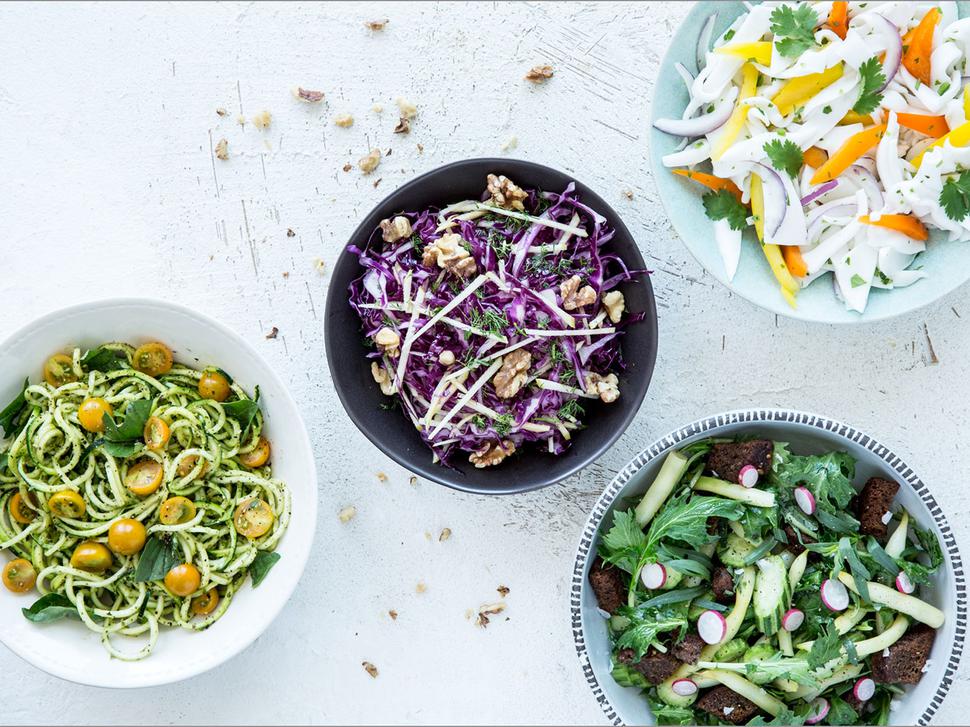 Why San Francisco is a Foodie's Paradise
Jesse Mulligan scouts out the most wholesome and progressive hotspots in San Francisco
Thursday Dec. 17, 2015
I don't usually eat particularly green on holiday. At home we're all kale smoothie this and nut milk that, but when you're travelling it's easier to relax your standards a little. In fact, it's very difficult to eat wholesomely and sustainably when you're in a city you don't know.
In San Francisco, my wife and I decided to make the effort. A famously progressive city, the Bay Area is home to some of our favourite food writers — Heidi Swanson from the amazing 101 Cookbooks blog and Michael Pollan, author of In Defense of Food, which changed the way I think about eating. We arrived in SF armed with the goop list of favourite local eateries, and our usual tactics of taking recommendations from the best chefs we met. Here are some of the incredible discoveries we made:
Bar Tartine is years ahead of any restaurant I've been to in the world. Chef Nick Balla and his wife, Cortney Burns, take the phrase "from scratch" to new and almost inconceivably time-consuming levels, receiving an oversupply of farm crops during the on-season and painstakingly pickling, fermenting, dehydrating and powdering them for use later in the year. Each dish tastes like Nick's been preparing it for months — because he has — while the drinks are also a spectacular adventure into new types of sweet, sour and spice. Unmissable.
There is plenty else nearby in the Mission District, including sister Tartine Bakery and Pizzeria Delfina, whose broccoli rabe pizza was named one of SF's best vegetarian dishes. For DIY delicious, pick up grocery supplies at the organic market that sounds like a cheap appliance store: Bi-Rite, where you can get a sandwich to go or, like us, buy the bread, tomatoes, cheese and olive oil to do it yourself in the hotel room.
While you're in the area, visit the unmissable Al's Place, recently named America's best new restaurant by Bon Apetit. Al's is a leader among an informal group of restaurants which treat meat not as the central focus, but not as a banned substance either.
The menu reads so good you can almost taste the words — "pear curry, black lime-cod, persimmon and blistered squash" is one dish — with a range of interesting meat "sides" if you want them and a limited quantity of leftover cuts (I nabbed the last "fish neck and stomach"). This place is hot right now and booked out for months, but they take plenty of walk-ups, so arrive well ahead of the 5.30pm opening time to secure a table.
Mo Clancy is changing the way San Franciscans eat lunch with her hugely popular Seed + Salt, near the water in the Marina. Vegan, gluten- and processed sugar-free, the cafe is notable for the good stuff it puts into its food as much as the ingredients it leaves out.
Most importantly, it all tastes incredible — a keen foodie, Clancy spent a year with her chef developing the recipes before opening, and it's obvious. A Tex-Mex standard, Taco Salad, comes with walnut chorizo, cashew cream and a sprouted corn tortilla — familiar ingredients, extracted for maximum umami flavour, and beautifully presented for eat-in or takeaway. If Auckland offered this for lunch I wouldn't eat anywhere else.
Commonwealth is another progressive Mission restaurant where, if you order the $75 tasting menu, $10 is donated on your behalf to local charities. The room is smart and the food is literally perfect, with layers of ingredients orchestrated carefully in the open kitchen: clams dressed in chicken fat with charred leek vinaigrette, pistachio crumble and yuzu bubbles is one example; an arrangement where no one ingredient dominates but each forms part of a spectacular whole.
If you're in detox mode try Samovar in The Castro, where they serve boutique tea blends sommelier-matched to appropriate dishes. We had the Moorish mint green tea with Moroccan tasting plate, and took a bag of loose leaf home with us as a keepsake.
We stayed at Good Hotel in the city, a hotel built around sustainable materials and principles (with free WiFi and bike hire), and ideal if you're looking for a budget option to leave you more money for dinner.
Most of the above restaurants are within spitting distance, but at some stage you should catch the N tram and spend a day out near the coast. A couple of stops before you hit the beach is Outerlands, a charming brunch spot that somehow feels like a log cabin.
The organic, locally sourced food is familiar but refined, and at about $10 a dish is a welcome relief from central city prices. Afterwards, you can get a New Zealand-quality flat white (or, delightfully, a coconut and straw) from Trouble Coffee Co and, if the weather's good, spend the rest of the morning exploring Golden Gate Park and the beautiful Pacific Coast by foot.

• Jesse Mulligan stayed at thegoodhotel.com. For more information, visit sanfrancisco.travel
Share this:
More Culture & Travel / Going Places