Scott Towers of Fat Freddy's Drop Shares His Food Tour of the Bay
Scott Towers, aka Chopper Reeds, of Fat Freddy's Drop seeks out the best food in his new home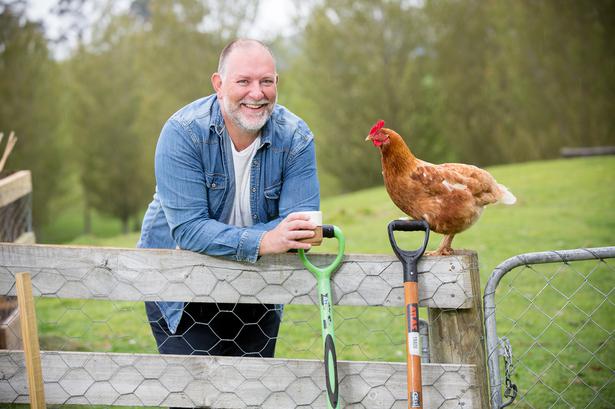 Wednesday Oct. 18, 2017
Last year, my wife and I decided to move from Auckland with our 10-year old son to Hawke's Bay. After 20 years of big cities, we felt a change of lifestyle and environment might be the right kind of adventure for us all to take together.
Our new digs — a 1920s farmhouse — came with a couple of paddocks attached, which are now providing both headaches (trees falling on water tanks, sheep escaping through aging fences, culverts flooding) and potential opportunities. All these grapes, olives and fruit trees I see dotting the landscape can't be too hard to grow, can they? Can they?
Luckily, resourcefulness is one of my better traits, thanks to my mum and dad, and our live-off-the-land upbringing. I've also been greatly inspired by my food experiences while on tour with the band across Europe, South Africa and Asia. So far, I've built a wood-fired pizza oven and parrilla (an Argentinian charcoal grill) from the remnants of an old brick dog kennel; raised garden beds, a small orchard and a citrus grove. Next up — if I can convince my wife — is converting an old tin shed into a meat curing operation.
Of course, no hungry man is a food island, or something like that … so I have also spent time "researching" as many foodie treasures as I can here. Lots are already well documented, including the iconic Hawke's Bay Farmers' Market and acclaimed restaurants like Bistronomy, Malo, Elephant Hill and Pacifica. My happiest discoveries though, have been a little more humble. So let me run you through those.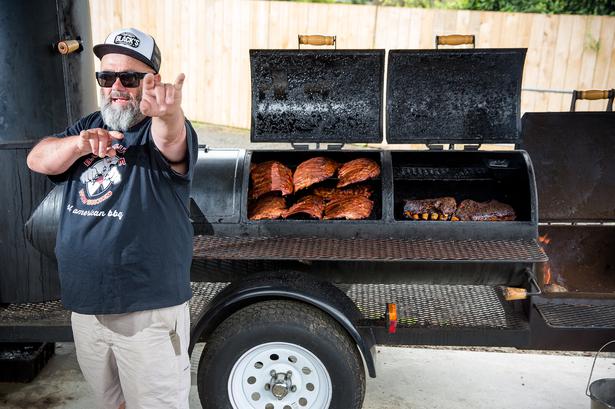 MEATY TREATS
Bareknuckle BBQ was established 12 months ago on the outskirts of Hastings by fellow Auckland refugees Jimmy Macken and wife Tam. After two decades running restaurants and cafes, they now serve American-style "road food" (think ribs, fried chicken and chilli) alongside traditional Texas barbecue.
The best things on offer are the slow-cooked meats — beef shortrib, and brisket in particular; secondary cuts whose rich flavour is unlocked by low-and-slow cooking in the huge offset smoker that takes pride of place in the Bareknuckle Yard. You won't find a starched tablecloth or snooty waiter anywhere. In fact the use of cutlery is actively discouraged — this place is fast and loose and raucous.
Ask Jimmy about his time as in-house caterer for the Chippendales — he can spin a good yarn or two. If cooking your own cuts is more your thing, there is excellent meat everywhere.
In Havelock North village you'll find Gourmeats, where butcher Dave Thompson has started selling to the public after three years of providing quality protein to local restaurants. He'll gladly explain why you should buy beef from Canterbury, but lamb from Hawke's Bay and has all the interesting cuts I like too — pigs' cheeks, skirt steak, lamb necks — at reasonable prices. Dave will happily age your lump of meat in his purpose-built chiller for a few weeks if you ask him — which you should.
Pop next door once you've chosen your favourite cut and let local "juice hawker" John "Mac" Macpherson from Advintage find a good bottle to match your meal and budget — he's been cutting sharp deals on great wines for nearly 20 years.
For a treat, head to Black Barn's Kitchen Shop and procure packets of paprika-spiked chorizo made by winery Event Manager Francis DeJaeger, under the watchful eye of his Basque wife, Eneritz. Their handmade sausages are the real deal — add them to your paella or grill them whole and you may as well be in Spain.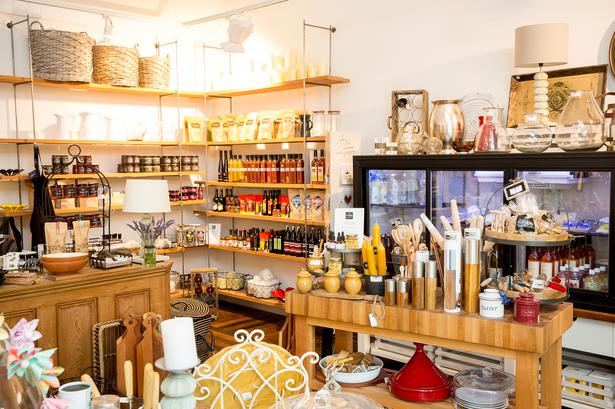 Black Barn Kitchen shop. Picture / Babiche Martens

THE WEEKEND MARKET
Hawke's Bay Farmers Market is as much a social engagement as it is a chance to shop. Most people seem to have a stall or two they gravitate towards each visit to gossip and graze. At the moment I can't go past Chef's Garden, who have amazing leafy greens and herbs I can't seem to grow at home, and Link's Organics, who provide seedlings of all the things I actually can. Most of all I love visiting Danny's Pasta. You won't get much conversation out of Danny, but you will get absolutely perfect handmade linguini and orecchiette.

READ: A Guide To Getting Around Hawke's Bay Wine Country

BAKING & BREADS
I can cook, but I'm definitely no baker — all that measuring and precision doesn't sit well with my creative (read: impatient and impetuous) nature — luckily I needn't bother because exceptional bakers abound.

French baker Moise Cerson owns and operates Yabon, providing most of the bread and pastries you find in stores, cafes and restaurants around Hawke's Bay. His secret weapon — while not exactly traditional French fare — is his tangy mince and mozzarella pie. It's become a bit of a lunchtime addiction for me. He makes great brioche-style burger buns to order, which are always in our freezer.

When not scoffing pies, I'm quite partial to a cheese scone. The best I've found are from Bridge Pa Golf Course (cheese with a dash of paprika, slathered in butter) and Albion Canteen in Napier, who have added copious amounts of bacon to theirs.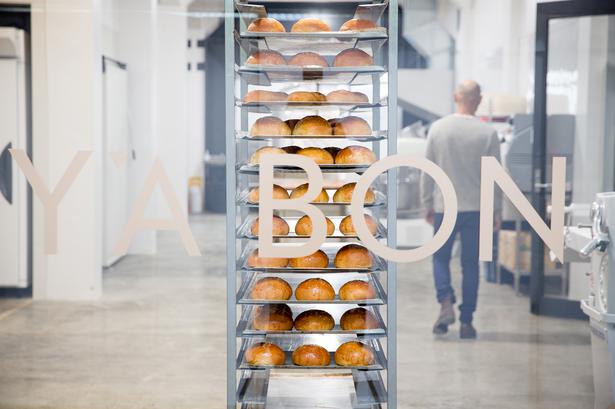 Yabon bakery. Picture / Babiche Martens

BEERS AND CHEERS
I don't often venture out for a drink, but there are a couple of places that might change that. I'd love to be able to call Monica Loves in Napier my local — it's the sort of bustling alley-way speakeasy bigger cities take for granted — but the taxi fare there and back is $180, so I tend to drive and have a solitary tipple before slipping away again.

Closer to home, in central Hastings, is Brave Brewery, whose Tiger Milk IPA is my favourite beer ever — it's a pity they only release it in limited numbers a few times a year. And a few blocks away is The Common Room, which has the best selection of beers in Hawke's Bay.

One of the nicest places for a daytime drink is Black Barn Bistro. Here you can try one of the vineyard's lovely local wines (the rosé is excellent) with a sweeping view of the Bay from the vine-covered terrace on Te Mata Peak's lower slopes.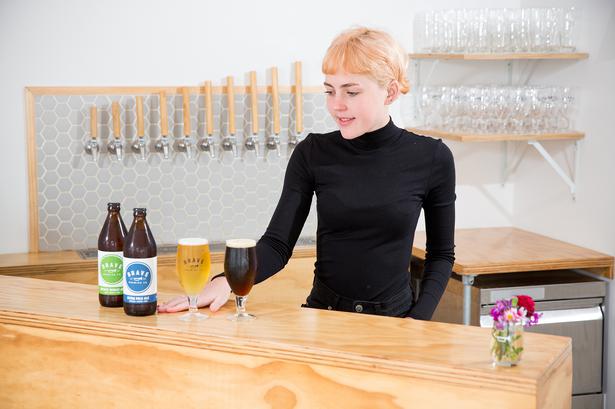 Hastings' Brave Brewery. Picture / Babiche Martens

EATING OUT
Of all the things we miss from our old Auckland life, Asian food tops the list. If there is a secret Chinatown lurking here, I'm yet to find it, and the best dumplings in town are the ones in our freezer… which we "import" from Mr Zhou's in New Lynn whenever we go back to visit. Luckily Hastings has a few Southeast Asian gems to save the day. Thai Silk serve a perfectly hot and spicy larb gai (minced chicken salad) and the beef cheek curry with tamarind is deliciously rich and tangy.

Newly opened Vietnamese restaurant, Pho Nho Trang, does a legit beef pho that is big enough to share and an excellent bahn xeo (crispy pancake), served with a mountain of fresh herbs and sprouts. We cook a lot of Asian food ourselves, and the appropriately named Asian Grocery on Heretaunga St has everything you could ever need, from wonton wrappers to pickled galangal.

Although I can (and do regularly) cook it at home, the best takeaway in Hawke's Bay (IMHO) is Alessandro's Pizza. In fact I challenge you to find better pizza anywhere in New Zealand. He slow-ferments the base for 72 hours before it is blasted in his wood-fired oven, which gives it incredible flavour and texture. On Tuesdays you can get two of his beautiful creations for about $30.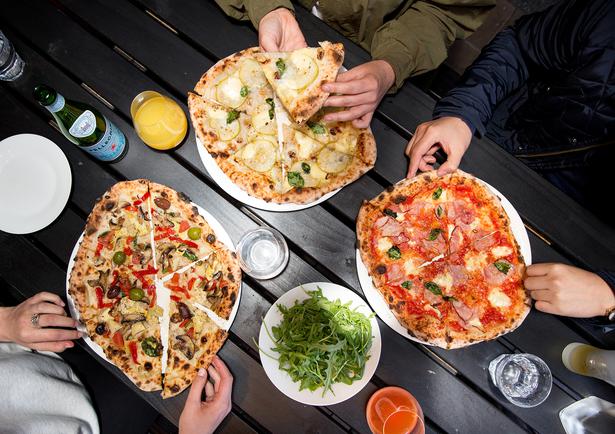 Alessandro's pizza. Picture / Babiche Martens

FIND IT, EAT IT
Yes, yes, foraging is so "now". And you don't need to try too hard here. In Tauroa Reserve, where I walk the dog, I wait for a storm to roll through then harvest the newly dislodged walnuts that litter the ground. You have to be quick though, it's obviously a popular pastime. There's also a bit of friendly competition at our son's school, where one benevolent resident of the neighbouring retirement village has let a passionfruit vine spill over the fence. Every school pick-up there's a gang of parents hopefully parting the leaves to find an edible purple treasure. On our own little patch of God's own, pheasants and quails have taken up residence. They really do look delicious and the hunter-gatherer in me wants nothing better than to catch the tasty little morsels. But, as our son recently quipped rather coolly, "You can't eat everybody now, can you?"
Share this:
More Culture & Travel / Going Places