Sculptor Francis Upritchard Says She's Way Past Following Rules
London-based Francis Upritchard talks to Ginny Fisher about her sculpture practice and what she'll be exhibiting at the Auckland Art Fair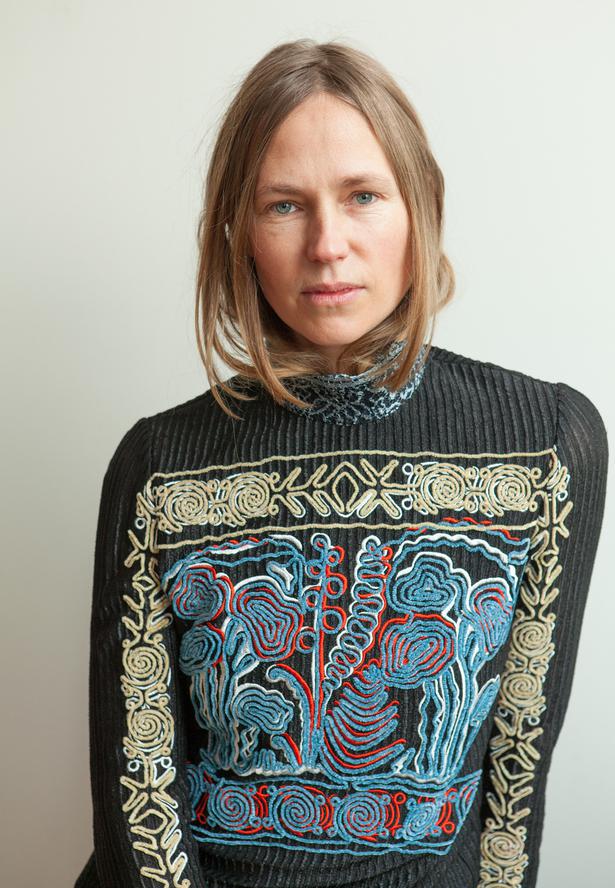 Thursday May 2, 2019
Best known for her quirky figurative sculptures with expressive bodily gestures, often painted brightly and dressed in handmade clothing, wigs and gaudy glasses, Francis Upritchard has created a never-quite-seen-before aesthetic in sculpture.
Born in 1976 in New Plymouth as one of six siblings, Francis went on to study fine art at Ilam School of Fine Arts in Christchurch, but has been based in London since 1998, where she resides with her designer husband Martino Gamper. She was the winner of the Walters Prize in 2006 and in 2009 she exhibited at the Venice Biennale along with painter Judy Millar.
Currently exhibiting at Ivan Anthony Gallery in Auckland, with her show 'Centaurs and Sea Creatures', Francis' works will appear at this year's Art Fair with the same gallery.
READ: The Sculptor Exploring The Capability Of Bronze In Her Work
You often work with steel, foil armature, modelling material, fabric and paint. What new materials are you working with now?
I was in my friend Karl Fritch's workshop in February and he helped me cast a group of works in a mix of copper and silver, which the Japanese called Shibuichi. I had never done the whole lost wax casting process before and it was hugely informative, especially with patinas. This particular alloy can have a huge range of patinas using very simple methods, which I explored with a number of small centaur sculptures.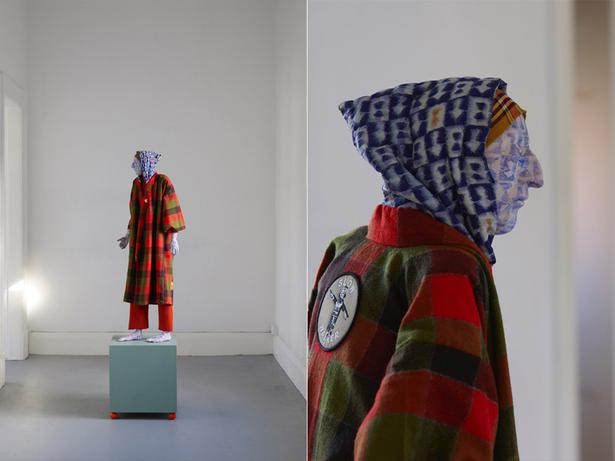 'Jessie' 2019 by Francis Upritchard. Photo / Supplied

You are a sculptor but you seem to traverse different territories — painting, craft, sewing. Do you think there are any hard-and-fast rules as to what a sculpture is, or do you make up your own rules?
I think we are way past rules in sculpture. I loved the living sculpture works by Gilbert and George from 1970. They are a fantastic example of "if you say it's sculpture then it is". They painted their hands and faces in bronze paint and sang on a pedestal. Sculpture!

You've mentioned before you had an aversion to yellow and purple, and to triangles, which is why you often painted your sculptures in these colours and patterns. Do you have any new aversions to colour?
Nowadays orange is the colour I'm wrestling with. I approached it via peach, and I can now cope with orange in small amounts. In the show I have on with Ivan Anthony at the moment, I made orange balls as feet on each plinth, and plenty of the watercolours are orange too. The ceramics are painted with a weird purple glaze, so you can see how comfortable I now am with that colour.

READ: Favourite Things: Francis Upritchard

In the past you collaborated with glass artists and other designers. Do you still work in this way or are there times when you prefer to make something completely under your own steam?
Talking of steam, the ceramics for my current show at Ivan Anthony were made at Barry Brickell's Driving Creek Railway and Pottery in Coromandel. It was super exciting to have mini trains pull our carriages of fire wood and ceramic. I was working on forms thrown and designed by Nicholas Brandon, who lives in Kaimata. Laurie Steer, Sam Ireland and Martino helped me stack and fire the kiln. I love working with other people, it makes the process much more fun and I learn so much more. I also hope through this process I can teach things to my collaborators in return. Now, back in London I will work on my own in the studio for a month or two but before long, I will invent another excuse to work with someone else.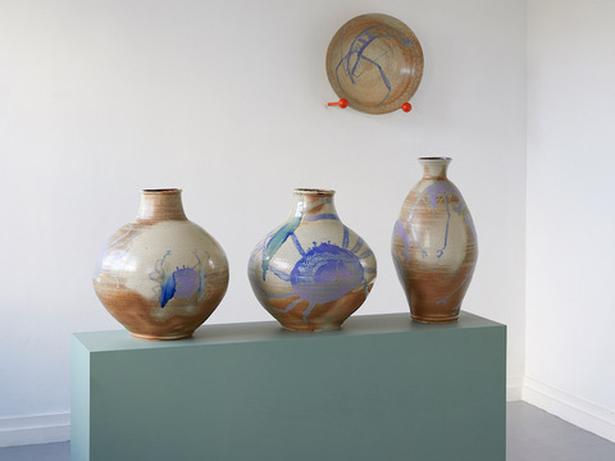 Wood-fired ceramic works: '2 Crabs and Prawn with Nicholas Brandon', '4 Crabs with Nicholas Brandon', and '5 Prawns with Nicholas Brandon' by Francis Upritchard. Photo / Supplied

You've said before that your figures are portraits of you, yet they are like husks, not dolls or people. Where do they come from? And what about the hippie characters, which seem to appear often?
My figures have eyes, just no pupil, or the eye is closed. I don't want anyone to think they can look into the sculpture's eyes as if it is a being. When I say they are portraits of me, I mean that they come from me, from my experiences. They are not representing anyone but me and what I have seen. I'm very interested in the hippie aesthetic, so that type of look recurs often.

READ: Martino Gamper: The inventive situationist

It's pretty cool how you sew the clothes for your sculptures, how long have you been sewing and where do you source your fabrics?
Mum taught me to use a sewing machine when I was 3 and I have sewn ever since. I can't follow a pattern, but I can cut something rough and fast by eye. My fabrics come from wherever I can find them. From flea markets, to offcuts from my friends at the fashion brand Peter Pilotto in London, or bespoke woven fabrics by Lynne McKay in New Plymouth.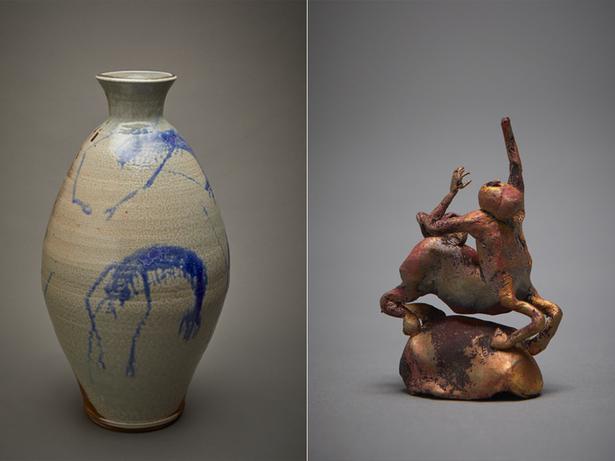 What do you love about living in London?
Access to museums, art exhibitions and live shows are just a few reasons I live in London. My favourite street market, which was also the oldest in London, called The Waste, was a great source of weird objects for my work, but sadly it isn't what it was, nor are the charity shops.
READ: Three Women Who Combine Memories With Art and Objects
How important was creative play to you as a child in relation to the work you have ended up doing?
Hugely important. I think that is when I learned to be an artist. When I see children's artistic works I'm always super impressed with their disarming ability to find the essence of art.
Share this: