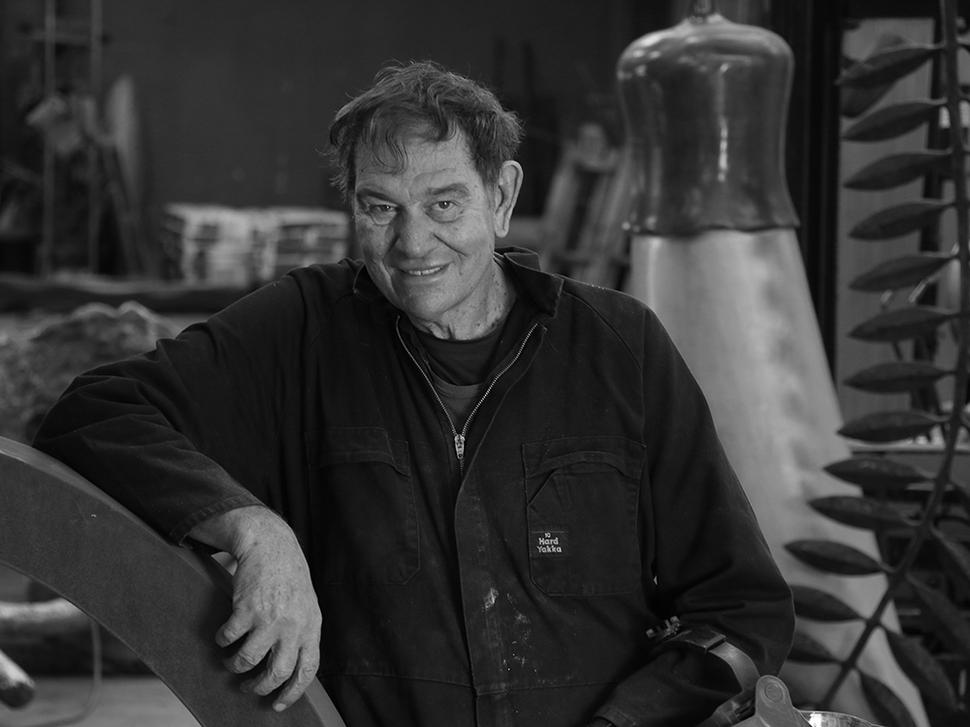 Monumental Sculptor Paul Dibble's Bronze Creations
Sculptor Paul Dibble talks on his sculpture practice and what he'll be exhibiting at the Auckland Art Fair
Thursday May 2, 2019
A phone interview with monumental sculptor Paul Dibble, who apparently stands at about 2m tall, seems most unsatisfactory. It would be far more interesting to watch him tame fire and liquify bronze while creating one of his large-scale (some are more than 4m tall) sculptures in his Palmerston North foundry. But according to Paul, sometimes you "just have to make it up". Which is what he says he does when creating one of his gargantuan bronze kowhai. Perhaps one is so heavy it collapses and shatters. Or he destroys it himself because he's unhappy with how it's turned out.
"Just the other day I chopped up a 2m-long work that I'll eventually rebuild. A lot of my work is problem-solving." 
READ: The Sculptor Exploring The Capability Of Bronze In Her Work
There's a no-nonsense, no-fuss air to Paul. He calls himself a "Kiwi boy in his bones", who looks for inspiration from this place — the land, the birds, the culture. A farmer's son from the Hauraki Plains, Paul was no stranger to making stuff, even before he studied at Elam School of Fine Arts in the 1960s.
"We built canoes, huts, sheds, cow sheds, even the odd terrible house. People just got on with it in those days."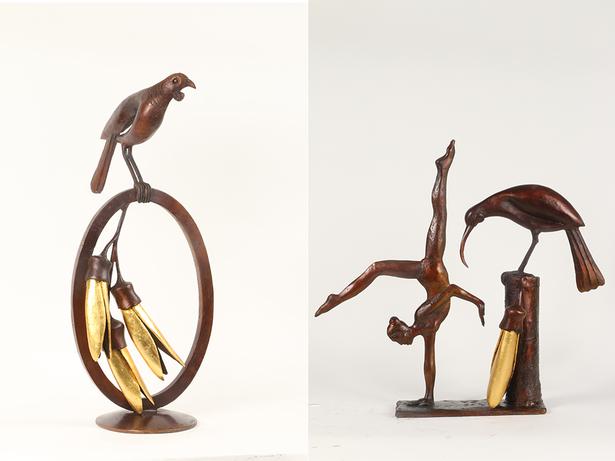 His parents, he says, were "sympathetic to art". His mother's cousin was renowned artist Garth Tapper, who was a lecturer in painting at Elam when Paul studied there. Drawn to the physical presence of the three-dimensional form, Paul took to sculpture, although at that time he never really thought about what he would end up doing after art school.
He started out making sculptures in a tin shed at the end of his garden in the 1970s and is now one of New Zealand's most celebrated and well-known sculptors, who works mostly in bronze and corten steel, which has a distinctive weathered look. He is most recognised for his work The Southern Stand (2006), the striking New Zealand War Memorial in Hyde Park, London. At this year's Auckland Art Fair, he revisits the huia and the golden kowhai.
READ: Three Women Who Combine Memories With Art and Objects
"I think the kowhai is remarkable because there's very little colour in the bush, and it's this burst of gold." 
Paul used 24-carat gold over bronze to highlight the flower. Speaking of materials, Paul goes through plenty of bronze a year, about $200,000 worth imported from Australia in the form of ingots. He prefers creating larger-scale works, but admits that comes with more risk.
"It's dangerous work. There are lots of accidents, burns and cuts. The bronze has to be heated to 1100 degrees, you certainly wouldn't want a tonne of bronze falling on you."
READ: Martino Gamper: The inventive situationist
In his foundry he is assisted by a team of industrial engineers and his wife, Fran — an expert in welding and ceramic shelling and a lecturer in biochemistry and molecular biology. At 75, Paul shows no signs of slowing down creatively.
"It's fun work. We're not held back by money now, so if I want to make something, I just make it. I write the script."
Share this:
More Culture & Travel / Features & Profiles