Where the Tropics Meets Islamic Art
We look inside Doris Duke's Shangri La, a homage to the world of Islamic art in Hawaii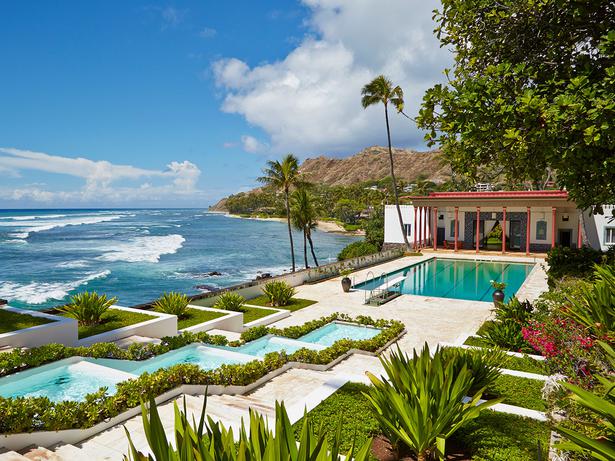 Wednesday Nov. 22, 2017
For British author James Hilton, Shangri-La was a magical, mythical place that he created as a setting for his 1933 novel Lost Horizon; for Doris Duke it was the name of the equally magical home she built on a Honolulu sea cliff overlooking the sparkling Pacific Ocean.
The American heiress and socialite was at the tail-end of a 10-month honeymoon with James Cromwell in the mid-1930s when the couple stopped in Hawaii for a fortnight.
This turned into four happy and carefree months as the pair learned to surf with Duke Kahanamoku and his brothers, and made the most of what the beautiful island group has to offer.
Doris particularly enjoyed respite from the intense press speculation that had plagued her since her wealthy father's death when she was a child.
READ: An Unforgettable Trip to Palm Springs
It had already been a life-changing trip for the 23-year-old and led to a 60-year passion for Mughal architecture and Islamic art, after a visit to Gandhi in Agra in India and a stop by the Taj Mahal.
She was reportedly entranced by the play of the light on buildings, the surface patterns, its spiritual quality and sensory and sensual appeal, and commissioned a Mughal bedroom suite to be sent back to the United States.
Once Hawaii's people and laid-back lifestyle stole Doris' heart, she embarked on the build of what was to become her Shangri La with architect Marion Sims Wyeth (who also designed US President Donald Trump's Florida getaway Mar-a-Lago).
Located behind Diamond Head in the exclusive Black Point neighbourhood, these days Doris' "winter palace" is a carefully conserved museum of Islamic art open to small groups for guided walking tours a few times a week.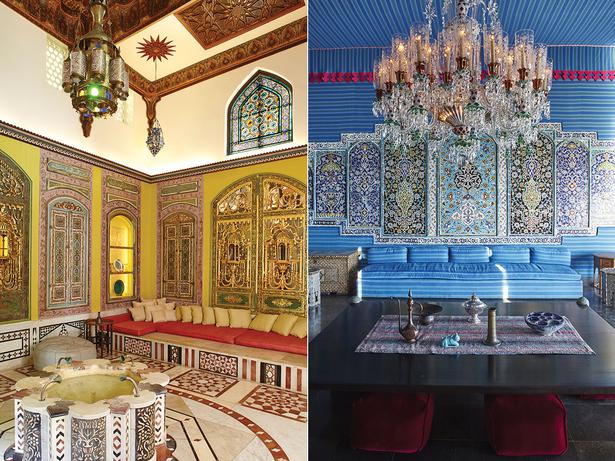 The 90-minute tours (US$25) depart from and return to the Honolulu Art Museum downtown from Wednesday to Saturday, four times a day. They cater for only 25 people and fill up fast, so make sure you book early at Shangrilahawaii.org.
Hawaiian Airlines offers a direct, nine-hour flight to Oahu three days a week on Mondays, Thursdays and Saturdays, which leaves Auckland at 12.30am and arrives in Honolulu at 11.10am the previous day, so if you were organised you could make the 1.30pm tour straight off the plane. If you travel on the airline's luxurious new lie-flat seats in its Business Class premium cabin and get some sleep, you'll be able to hit the ground running and really maximise your holiday time.
Doris worked on Shangri La until her death in 1993 aged 80, explains our knowledgeable guide Kayleen Polichetti, and with more than 2500 pieces on site, each with its own story, the legacy this visionary philanthropist has left the Islamic art world serves as an autobiography of her travels, creativity and passions.
The home is secluded, tucked down a private driveway in amid lush tropical rainforest with an unwieldy banyan tree at the centre of its circular arrival court. To the right is the tiered Mughal Garden, based on Shalimar Gardens in Lahore, Pakistan, complete with fountains, ornate garden beds, cypress and citrus trees, and marble carved screens and steps so white and bright that they hurt to look at in the blazing Hawaiian sunshine.
READ: A Celebration of Dick Frizzell's Iconic Tiki
The house's exterior is plain, with two stone camels acting as guards, but a copper filigree medallion on the 19th-century Egyptian front door is a clue to the treasures you'll find inside. And indeed, once you step through that door, you're transported to another world.
Every unique room and outdoor space is a work of art as the tropics meet Islam in a clean modernist setting. The detailing is exquisite, from the hand-carved and painted ornate ceilings to the precious tiles, many of which date back hundreds and hundreds of years.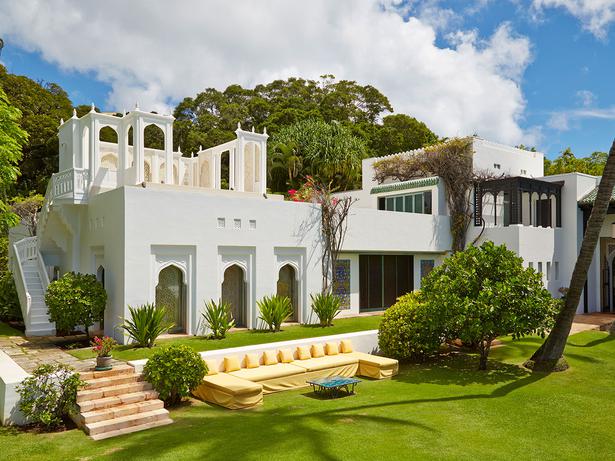 Myriad cultures are represented, from Persia/Iran and Syria to Morocco, Spain, Turkey and India.
Doris' own quarters were very private, with their own courtyard and waterfall (there is a main open-air courtyard in the centre of the house), and are much lighter than the dark foyer and wood-panelled Damascus Room (which was bought in its entirety and retrofitted to the space) we view first.
Her Mughal Suite is a triumph — its dressing room is completely mirrored with a curved roof like a temple, and its bathroom features a sunken marble bath, beautiful ornate taps and a fountain. Thirteen different coloured lampshades hang from the ceiling.
READ: Yotam Ottolenghi's Colourful Journey
The spaces are closed off with Islamic-style carved doors which can all cleverly slide to close; the North African and Spanish living room has a retractable glass panel that sinks at the touch of a button so the views out to the back of Diamond Head, the property's manicured lawns, and, of course, the crashing ocean are unimpeded. Remarkable technology for the era.
Another impressive feature is the Olympic-sized saltwater swimming pool and diving board in front of the guesthouse — it had two boards at one time, with the latter operated by a hydraulic lift which lifted 9m in the air.
The pool itself has a hydraulic tank powered by an engine that empties it once a week, then refills it from the ocean once it has been cleaned.
I wish I had been able to see the first incarnation of the dining room when it had three built-in tropical fish tanks and was decorated with tiki, carved dolphins and Doris' shell collection.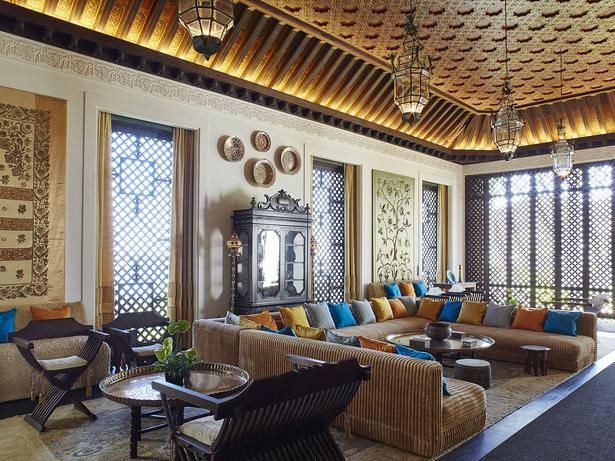 When she created the Doris Duke Foundation in 1960 to further the understanding of Islamic art and culture, she decided the Hawaiian room was not the right fit, so transformed it into a Middle Eastern-style tent with a completely canvas interior and a low table where you sit on ottomans.
Doris wanted the home to be opened to the public and everything is accessible. With the exception of some of her jewellery collection from Pakistan and India (including a couple of beautiful daggers, one made of jade with gold and gemstones in its handle) and a few other precious items, very little is behind glass.
GALLERY: FIngers Jewellery on Show at Auckland Museum
As we wander around this extraordinary property, I can't help but think how thrilled Doris would be at how its treasures have been preserved, and how opening Shangri La up to the public has ensured greater awareness and education about Islamic culture.
"She was really ahead of her time in the kinds of things she collected," Kayleen says, "because she was very interested in the decorative arts.
She had a blank cheque — she could have bought Picassos, Monets, Jackson Pollocks. She chose Islamic art and design because it was her passion. It was what she loved."
• Shandelle Battersby travelled courtesy of Hawaiian Airlines, Hawaii Tourism and Outrigger Hotels and Resorts.
WIN WITH VIVA: A Trip For Two To Hawaii
We have two return tickets from Auckland to Honolulu with Hawaiian Airlines, plus two Strata Lounge Auckland Airport passes at Auckland International Airport, and four nights' accommodation at Outrigger Reef Waikiki Beach Resort on Oahu. Enter on our competitions page. 
Share this:
More Culture & Travel / Going Places