What Makes You Smile?
5 people share what's making them smile right now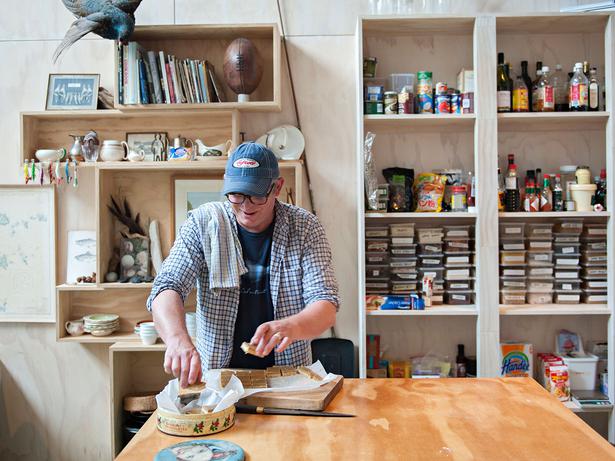 Wednesday Nov. 9, 2016
AL BROWN
Chef, restaurateur and author
"I'm a proud New Zealander and I'm proud to tell stories about the country through its food. Food doesn't have to be perfect; it's people and place that create the memory and those are the special ingredients that make it taste so good. A recipe is like a culinary love letter — you keep passing it on. Someone will take my recipe and add something to it and then it will become their recipe and then they will hopefully pass it on. My mum's ginger crunch will be passed on and who knows, in a couple of years' time, it might be being made in Canada or wherever; there's something inherently wonderful about that.
• Extracted from Made With Love (Published by PQ Blackwell, $49.95).
READ Al Brown's Mum's Ginger Crunch Recipe
STACEY MORRISON
Drive host with The Hits and presenter of Whanau Living on Maori TV
"A chubby cheek with soft 4-year-old skin
A candle-lit bath to soak myself in
Laughing fits that make my tummy hurt
Online shopping score of the perfect skirt
Brand new stationery, full of promise
Date night out with my Maori adonis
So many simple things that give me joy
Linked-arm walking with my little boy
Sakura blossoms turning up in spring
Roadtrips home when the backseat sings
Being home on our whanau marae
Proud haka kids make my heart sigh
Swimming after dinner in summertime
The clink of ice inside a vodka and lime
Crashing waves with tingling foam
Finding it, after I thought I lost my phone
Dancefloor sessions that leave feet aching
The irreplaceable smell of home baking
Friends you don't see for ages and yet
You catch up again, you're still in step
Art and music that touches the soul
Concerts that unite young and old
The smell of my child's freshly washed hair
Still be able to breathe at the top of the stairs
Travelling adventures pushing out the comfort zone
The lifted-heart feeling when flying back home
Being part of a movement for a cause we believe in
Kiwis being happy for Valerie's rich brother Steven."
READ Happy Fashion to Make You Smile
JAMES DOBSON
Fashion designer Jimmy D
"The thing that is increasingly bringing me joy (and don't get me wrong, fashion still brings me immense joy — seeing a collection manifest from drawings to reality and seeing my customers wearing my clothes with pride brings A LOT of joy) is … and this is potentially going to sound really naff … is growing and nurturing stuff.
Since moving into my new studio with living upstairs, my boyfriend and I have started filling our window planter boxes, slowly turning our wooden-floored space into the kind of botanically lush abode I have pinned on my Pinterest board (lol) and have a sourdough starter that's been going strong for about four months now.
There's an immense pleasure to nurturing and seeing things (hopefully) flourish — cooking and being able to grab fresh herbs from your window sill feels kind of self sufficient. And baking your own bread with a natural starter that you have created from simply flour and water feels like some kind of alchemy or magic. There's a slowness to it that is a nice balance to the relentless pace of the fashion world.
It's nice being able to live in the city and still to be able to grow and tend to things like our suburban counterparts. When you think about the kind of scary state we're facing environmentally, it would be nice if more inner-city dwellers were able to become more green — why don't more apartment blocks have roof-top gardens? Why are there not more inner-city community gardens? In the meantime we're making small steps towards our own goal to be more green. We're even talking about getting beehives, 'cos helping the bees and having our own honey would be pretty f***ing joyful too!"
CONSTANCE HALL
Australian blogger and author
"The village fills me with happiness. Moving parenthood from a place where we are alone and behind closed doors to a place where we are together to conquer the trials and tribulations with each other is a game changer for me. I love nothing more than grabbing a beer and last night's leftovers and heading to a park with a bunch of local mums and getting through the headache that is dinnertime together. The journey [of parenthood] was never designed to be embarked upon alone, women are women's greatest asset."
• Constance Hall is in NZ to promote her book Like a Queen. See her speak tonight in Auckland, Friday in Christchurch and Wellington on Saturday. For tickets visit womenscollective.co.nz
KRISTINA CAVIT
Mindfulness coach and director of The Kindness Institute
"What's bringing me joy in these troubled times? A good night's sleep and some gratitude. There's a lot to worry about in the world — why the Kardashians are famous, who's going to be the next leader of the Free World, why we don't care about refugees — so I've been taking the time each night to pause and get specific instead about what I'm grateful for. It might be the small things — my dog, or the big things — my health, but just ending the day with some gratitude means I've been waking up happier and with more energy and excitement for the day ahead.
Taking time out to be grateful might sound ridiculously simple, but science tells us that gratitude has positive effects on our mood, happiness, health and even the longevity of our marriages. Studies have shown that depression is directly related to gratitude — the more grateful we are, the less likely we are to be depressed. No wonder gratitude, in my world, is becoming a superpower.
Whenever I'm worrying about the future, I do my best to stop and see if I can enjoy the present moment. I listen to the sounds around me, feel the sun or wind on my skin, and notice the rise and fall of my belly as I breathe. Taking just one full deep breath can calm my entire body and mind. And my worries seem to dissolve a lot more quickly. As the Dalai Lama said, 'If every 8-year-old in the world is taught meditation, we will eliminate violence from the world within one generation'. Now that thought brings me a lot of joy."
Share this: