Forget Boho, It's All About Soho
London Fashion Week has swapped Somerset House for a grimy car park in the heart of the West End. Ellie Pithers asks why the fashion pack is going for a gritty, urban look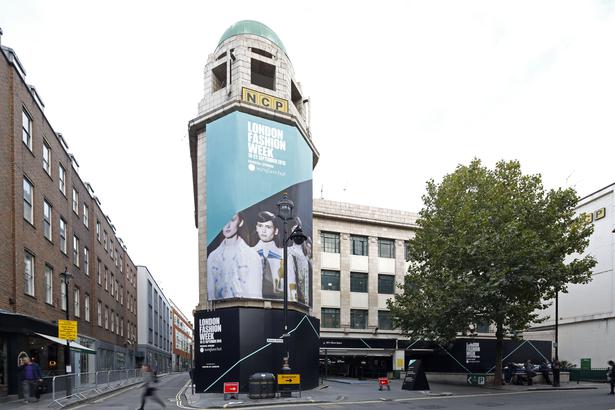 Monday Sept. 21, 2015
Some feathers will be ruffled this weekend, as London Fashion Week begins. Somerset House, the grand neoclassical pile where the British Fashion Council-sponsored show tent is usually pitched, is no longer LFW's locus. Instead, the designer-clad fash pack will be herded into a draughty, grubby NCP car park in Soho's Brewer Street to watch the spring/summer 2016 shows.
"It's been jet-washed for about a week!" insists Caroline Rush, chief executive of the BFC, with just a hint of anxiety, when I ask how fashion's glossiest editors will take to the new gritty urban setting. "The first lick of paint is down and it's looking really good," she says, firmly. The move from courtyard to car park was Rush's decision. "Somerset House is absolutely beautiful, but we were looking for a venue that would be more connected to the West End and right in the heartbeat of London. As you walk round Soho you feel a lot of excitement and energy. It's really good for an international audience to witness that, and to understand the creative inspiration that we get from this incredible city."
Of course, the district has always had impeccable fashion credentials. Whip-sharp tailoring - the kind the Rolling Stones and The Who ran round in - found a home in Carnaby St in the Sixties; meanwhile, Saint Martin's School of Art bled talent from its Charing Cross Rd location in the Seventies, talent that kept on coming when it merged with the Central School of Art and Design in 1989. Jonathan Saunders, one of a handful of young British designers this year celebrating the 10th anniversary of their businesses, remembers his time there as a masters student being suitably diverting.
"I got the bus down from Glasgow - it cost me a pound for the ticket - and I was opened up to this Soho gang of interesting people," he recalls. "We all drank in the Coach and Horses pub on the corner. It was such a haven for people who wanted to be individual, a group of kids who were extremely excited about creating new things."
Soho is certainly enjoying a renaissance of sorts, however gorgeously seedy pockets of it may still appear. Once a murky mix of strip clubs, drinking dens and gay bars, it is now home to innovative, independent restaurants, advertising agencies and tech start-ups. Some business analysts say Soho is now the most creative square mile in the world: creative industry turnover in the locale is over pounds 7 billion. Rather than the grit in the Vaseline, suddenly Soho is starting to look quite the olive in the martini.
Which explains why so many young designers are making Soho their home. Hannah Weiland, founder of the wildly successful faux fur brand Shrimps - loved by Alexa Chung, Lily Allen and Poppy Delevingne - operates out of Newburgh St. "I find the creative bustle really inspiring," she declares. "It's the only place in London that reminds me of New York - it's always exciting. I have many fond memories of trying to get into [nightclub] Madame Jojo's aged 14."
Lowell Delaney, one half of the designer brand Trager Delaney, which is based in nearby Marshall St, also finds Soho's energy infectious: "I feel very passionate about working in an area whose aesthetic is a distillation of the best bits of British style - experimentation, rebellion, the constant mix of high and low."
Delaney and her design partner, Kim Trager, are set to open a shop on the corner of Brewer and Lexington Streets. "We're very conscious that the skills of Soho's tailors and seamstresses are being lost. We want to bring all that craftsmanship back."
Meanwhile, the area's rich history has provided ample inspiration for Samantha McCoach, the 28-year-old designer behind Le Kilt, a kilt brand stocked at Dover Street Market and Harvey Nichols. "Le Kilt is named after a club night that was held once a week on Greek Street in the Eighties as part of the Blitz club scene," says McCoach, whose granny was a kilt-maker in Edinburgh's Royal Mile. "I came across it in a book called We Can Be Heroes, which is about club culture in the Eighties. Le Kilt is all about taking traditional elements and turning them on their head a little. Soho seemed the perfect place to launch the brand."
With the buzz come the bucks. Figures published by Mintel last week showed 2015 will be a bumper year for the British fashion industry, with predicted womenswear sales of pounds 27 billion, up 4 per cent on 2014. It is hard to overstate the biannual London Fashion Week's influence on those figures: this week, the BFC estimates pounds 100 million worth of orders will be placed, as 5,000 buyers, journalists, bloggers and photographers witness 52 catwalk shows and 26 presentations.
It isn't just fashion that is reviving the district's fortunes - the art world is, too. Marian Goodman, one of New York's most respected and influential dealers, opened her first gallery in London just off Soho's Golden Square last October. Pace, also of New York, has an outpost on Lexington St, and Sadie Coles and Frith Street Gallery both hover near Golden Square. Victoria Williams, co-director of Camden's Cob Gallery with the playwright Polly Stenham, has recently taken on the role of art director at Blacks members' club on Dean St and organises collaborations with emerging artists there. Then there's India Rose James, granddaughter of Soho's notorious porn baron Paul Raymond, who presides over the Soho Revue Gallery and owns most of the district.
New-look Soho does have its detractors. The Save Soho campaign, backed by Benedict Cumberbatch and Stephen Fry, argues that Soho Estates wants to demolish the characterful old and ring in the faceless new, with a building project called Walker's Court and an ushering-in of chain restaurants.
When gentrification means landmark venues close, it is cause for concern. But let's hope LFW's new hub in a Twenties art deco car park can show how you can be your creative best and make money, too.
- The Sunday Telegraph
Share this:
More Culture & Travel / Going Places