Spice Girls' Emma Bunton on Girl Power, Body Image and Turning 40
Emma Bunton, aka Baby Spice addresses rumours of a Spice Girls 20th anniversary reunion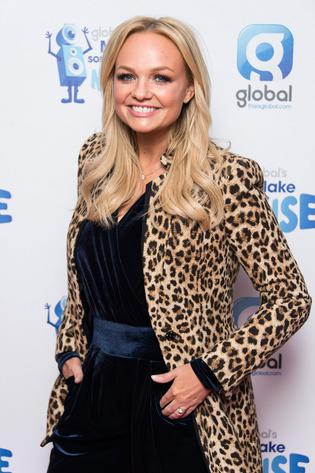 It was hardly a JFK moment, but if, like me, you remember what you were doing when you first heard a Spice Girls track, it may be hard to believe two decades have elapsed since the girl group released their debut single, Wannabe, in the dying days of John Major's premiership. Together with Oasis, Blur and Blair, they heralded a new dawn for Britain - selling millions of records while they were at it - before embarking on what turned out to be a lengthy hiatus just four years later. There was a brief reunion in 2007-08, but the question now is: how, if at all, will they mark their 20th anniversary this summer?
Sitting opposite me in a London hotel bar in Leicester Square, just across from where she co-hosts the breakfast show on Heart FM with Jamie Theakston, Emma Bunton - formerly known as "Baby Spice" - makes no secret of her hope that the "girls" (now all in their forties) will get their act together.
"We adore each other. There's so much we've been through. I would love to do something," she says. "I think we'd all quite like to do something, but it really is figuring it out. We all have such different lives. Mel B [Melanie Brown, formerly Scary Spice] lives in America. We've all got different managers." Not to mention the fact they are all mothers now and their busy schedules include commitments such as school plays, which makes finding time for a reunion even harder.
It's natural to wonder, too, if any jealousy simmers beneath the surface. Victoria Beckham's star has risen exponentially since the group broke up, with her marriage to footballer David, the couple's children and her fashion line keeping the profile of the erstwhile Posh Spice higher than those of any of her former bandmates. Bunton insists she is delighted for her, though.
READ: How Kate Middleton Got Her French Style
"When a friend does that well, it's incredible. She's just hilarious and I know exactly what she's thinking just by looking at her," she says. "I see pictures and I go, 'I know what she's thinking about!' I'm very lucky because I know the fun, sarcastic, brilliant other side to her as well." The fact that Beckham invited Bunton to choose a dress for her 40th birthday in January would appear to support the picture she paints of their friendship.
When "Baby" joined the band in 1994, she was almost young enough to be in a school play herself. Now she has two children of her own - Beau, eight, and Tate, four - with her fiance, the singer Jade Jones, to whom she has been engaged since 2011. Although she could pass for 30, her woollen shawl, floral Kooples shirt and the glasses that frame her face give her the look of an elder stateswoman of pop.
"Wouldn't that be amazing?" she agrees when I suggest a one-off gig at Wembley Stadium. "Fingers crossed. That's something we'd really love to do." While we talk, a phone rings in her bag. It's Geri Halliwell, formerly known as Ginger Spice. Bunton ignores it. "I'll speak to her after and tell her you suggested it," she says of the concert idea.
Meanwhile, there is her new early evening live television show to focus on. In BBC Two's Too Much TV, she pairs up with Rufus Hound, Sara Cox or Aled Jones, reviewing and previewing what's on the box. Her years of experience as a radio host come in handy here, but the programme has reportedly suffered disappointing audience figures.
Still, Bunton is pleased to be forming a female double act with Cox. The phrase "Girl Power" - which she defines as "supporting one another in everything you do" - was famously central to the Spice Girls' brand and is something she continues to draw on. "For me, it started with seeing my mum going back to college at 40, starting karate at 40. She just kept growing and I've really fed off that," she says. "I want to grow as much as she did and still is. She was my first role model. Jade is brilliant, it's just we [girls] have had to push a bit harder. As girls we've pushed things forward."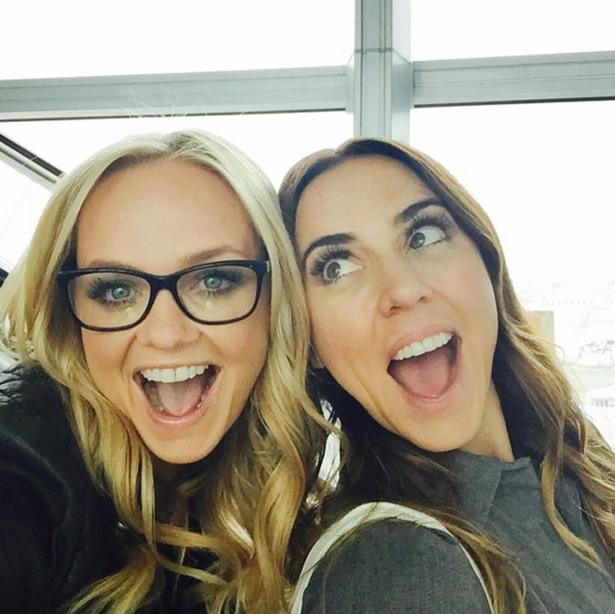 READ: Victoria Beckham On How to Stay Stylish
Bunton was born and raised as a Catholic with her younger brother in Finchley, north London. Her parents worked hard to provide for their children but separated when she was about 11, which she struggled with. ("I don't like change too much," she says.) Until her father, a former milkman, recently moved to Ireland, she would visit him every Sunday. Privately educated at the Sylvia Young Theatre School in London, she was granted a scholarship when her parents could no longer afford the fees.
Though not one to dwell on failure, even she began to question herself when the rejections kept coming. "You'd think, 'I'm just not good enough'," she says. It wasn't until she auditioned to become the fifth member of the Spice Girls that her big break arrived. She was asked there and then to move in with the others in Maidenhead - and the rest is Nineties pop history.
Part of the Spice Girls' selling point was their girl-next-door image. While it could not be said that sex was removed from the equation - the Union Flag dress Halliwell performed in at the 1997 Brit Awards left little to the imagination, and many of Brown's leopard-print outfits were an exercise in cleavage-display - sex appeal was not the main draw. Yet even if looks weren't the focus (wasn't it all supposed to be about fun, girl power and attitude?), Bunton hasn't always felt secure about her body image.
"Obviously [body shape] is such a big thing in this industry," she says. "I'm 5ft 1in, so I feel that sometimes being curvaceous is harder to carry off because I'm so short. But I'm comfortable. I've always been that kind of way. In the industry it is becoming a bit more difficult because everybody is so slight. I don't know how they do it."
When she first joined the group she felt relaxed enough about her appearance, but went through "probably a very short stage when everything hit and there were pictures everywhere and you think, 'Do I look OK?'?" Having children helped stop her worrying about this. "It's something I just don't take on board as much because I can't," she says. "But you're being pictured every day or papped, so obviously there's that pressure of hoping to look half decent in pics."
Reflecting on how motherhood has transformed her, she says: "I used to be very self-absorbed, I'm sure, worrying about what I was going to wear or whether my roots were done. I've changed as a person."
So what about that long engagement? Will she ever get around to tying the knot? She and Jade will need their heads knocking together before they do, she says. "If we do, we'll definitely elope."
She remains ambitious. She has a small part in the forthcoming Absolutely Fabulous movie and would like to sing and act more, as well as branch out into comedy (she has been involved in Comedy Central's Drunk History).
Pop culture doesn't cast out the over-forties these days, so there is no reason to think she won't stick around. Nobody, after all, puts Baby in a corner.
— The Daily Telegraph·
Share this: