How to Survive Splore 2016
Heading to Splore festival this weekend? Here's how to do it right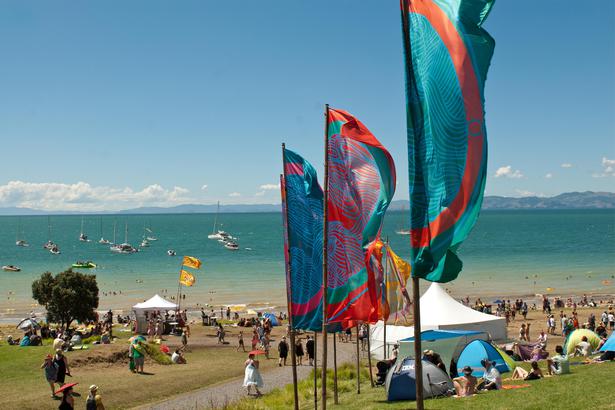 Thursday Feb. 18, 2016
1. Don't get burnt
Keep your skin safe from the sun, stock up on cool sunhats for the weekend - and don't forget your sunblock!
2. Hit the hair bar
Camping, swims in the sea and a whole lot of humidity is never favourable when you're trying to keep your hair on point, so be sure to hit up Eithne Curran's DIY Hair Bar. The Eithne Curran beauty team will be armed with botanical-based New Zealand-made shampoo, conditioner and dryers at the showers, plus everything else you need to keep your hair looking flawless for a small cost.
3. Educate yourself
Check out the schedule then familiarise yourself with as many acts as you can beforehand. It's so much easier to sing along loud if you actually know the words.
4. Fuel up
No one likes moving and grooving on an empty belly, so be sure to eat plenty from the plethora of vendors and food trucks conveniently located onsite at Splore. You will be able to eat your way through Waiheke's Dragon Fired Pizza, Bird on a Wire, Organic Mechanic plus other offerings from vendors serving up Jamaican, Brazilian, Mexican and Vietnamese.
5. Keep your wristband topped up
Top up your wristband (you'll get this on arrival) with as much money as you think you'll need, plus a little extra. This way you can keep your cards and cash hidden away somewhere safe, plus have easy access to the bars and food vendors located around the site. The hardy bands can survive several swims plus any dancing, running and singing (plus you can get refunds at any time).
6. Pace yourself
Don't be that friend who peaks too soon. Keep hydrated (with water, not wine!) throughout the day, and if all else fails, try a trusty hangover cure - because even if there is no proof, it's better than nothing.
— Splore 2016, Tapapakanga Park, Auckland, 19-21 February. Visit splore.net for event and ticket details.
Share this: