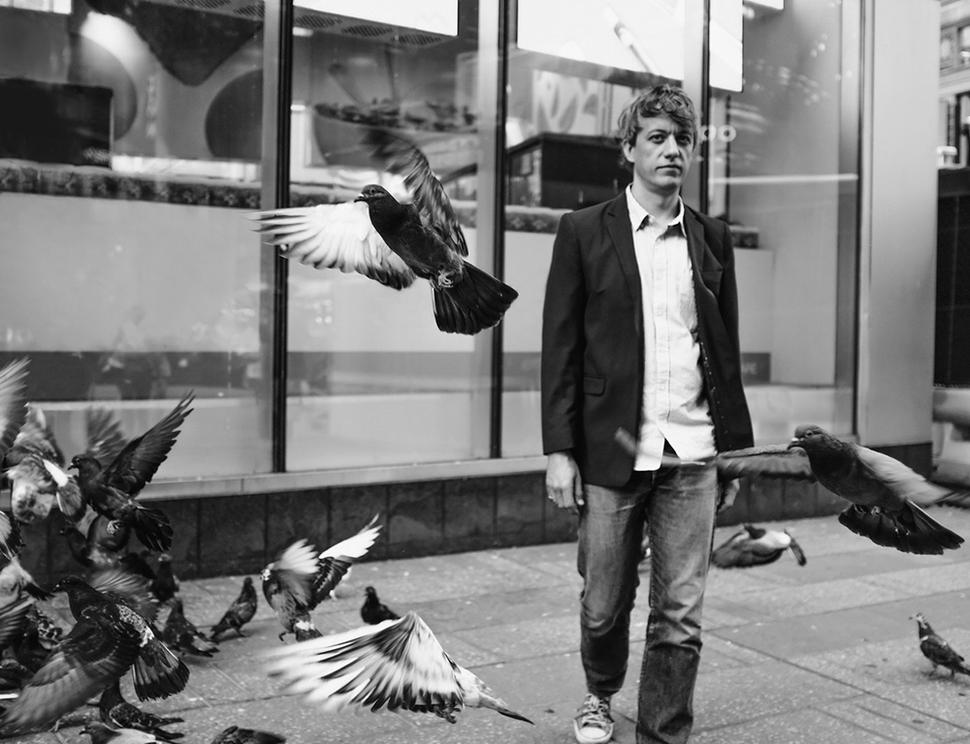 Steve Gunn Steps Into The Limelight On His New Album
Guitar slinger Gunn's intimate new album, 'The Unseen In Between', is a narrative breakthrough
Monday Nov. 4, 2019
With mind blasting guitar skills and an ear for mystery, Steve Gunn has long been a right-hand man for those in the know.
As well as his solo folk-rock releases, he's recorded and played with Britfolk legends Michael Chapman and Mike Cooper, who are also close friends, and is equally prolific in the American indie scene having played in his old school friend Kurt Vile's Violators.
Gunn is, as Rolling Stone put it, "an artist's artist" — despite positive reviews and a growing reputation in Europe he's yet to leap fully into singer, songwriter, and frontman. With his fourth solo album, though, the Brooklyn-based musician could be about to change that.
Usually absorbed by outsider characters and the landscapes around him, The Unseen In Between, an album of intimate reflections and meditative guitar patterns, tells Gunn's own stories.
READ: Inside A Music Industry Couple's Charming Waiheke Island Home
"I was always very guarded and very protective of myself — even just posting photos of myself I always felt a little strange," says softly-spoken Gunn over the phone.
He's been on tour in San Francisco with grunge-rock pioneers Dinosaur Jr. ahead of his six New Zealand solo shows starting this week in Auckland.
"Now I realise I have this platform to be more personal and introspected. I also felt like I had something to say with this one."
His label, the indie venerable Matador, encouraged Gunn to take upwards of a year to craft the album, done mostly in isolation and on acoustic guitar.
READ: Favourite Things: Filmmaker Julia Parnell
But it hasn't been all easy. The "deeply personal" arrangements process events in his life at the time. His father died of cancer two weeks after he released 2016's Eyes on the Lines, an experience that brought them closer together.
"I was on tour when my father passed away and I was thinking a lot about him, his story, and where I came from," he says. "I was also really ragged being on the road and not feeling like I had a home. I needed to ground myself. These songs help me to do that and gave me a purpose to reflect on the past few years. It was cathartic.
"With difficult experiences, it's also easy to forget that everyone around you is going through similar things, sharing alot of pain, fear, depression... all the things that can weigh you down. I wanted to speak specifically from my own experience but also not be telling just a confessional story. It's still character-based but is also extremely personal."
One of the most affecting tracks is 'Stonehurst Cowboy', a tribute to Gunn's late Vietnam-veteran father, and the far West Philadelphia neighbourhood of Stonehurst where he grew up.
"He had this nickname as a kid, Stonehurst Cowboy, and he was always talking about how he was the toughest guy in the neighbourhood. It was this running joke we would tease him about," says Gunn. 
As with 'Stonehurst' Gunn recorded the entirety of Unseen with long-time producer James Elkington and jazz drummer T.J. Mainani in Brooklyn's Strange Weather Studio.
The album also benefited from the experience of Bob Dylan's long-tenured bassist Tony Garnier, offering up his vast musical knowledge and a slew of anecdotes.
"We're all Dylan nerds, so we would just sit and listen to his stories. We'd be like little schoolboys," he laughs. "After day one, we all became fast friends."
"His whole thing — to me — was just about being yourself and doing your own thing. Just to go in there and sing your song, it's your song. Don't worry about anything else. He really figured me out and was so encouraging."
READ: Rising Star Teeks' Heartfelt Debut Album 
With the band behind him, Gunn ensured the songs were ready before approaching the studio.
"In the past, I've been in a rush to finish things and cramming it all in," he says.
"I wanted to be able to go in there and sing well and play, at the same time as amazing musicians to help move it along. It sounds kind of silly to say that because that's how you make a record but it's always been one of the things that has stressed me out. You're under a microscope in the studio and time passes quickly."
"We were all in the room together treating as more performative this time," he continues. "I didn't do separate vocal takes and it felt very present with the music. For me at least I think that's very palpable when you can hear a band listening to each other and feeling their way around the music."
Gunn continues to work on his songwriting and vocal confidence, which he says is an ongoing process.
"I came into songwriting in a weird, reverse trajectory," he says. "I was into complicated guitar playing and I'm kind of self-taught, so I've been figuring out how to become a songwriter… it didn't come naturally.
"I think I've come a long way even just from previous albums."
READ: Five Local Music Acts On Their Dream Show & Top Festival Tips
Born and raised outside Philadelphia, Gunn studied art history at Temple University before moving to New York and landing a job at a major art gallery. Art philosophies inform his songwriting, which tends to lean towards abstraction.
Unseen's road-weary tune 'Vagabond' is inspired by Gunn's favourite Agnes Varda film of the same name and paints vivid portraits of wandering vagrants with bright harmonies from Espers' Meg Baird. The lessons he learned from Walter De Maria, an early bandmate of Lou Reed who later became an influential sculptor, and whose 1997 instillation of 400 stainless steel poles, meanwhile, appear in 'Lightning Field'.
"I'm not a visual artist," he says, "but I think art and artists have informed me over time and taught me how to look at things; how to experience spaces, colours, shapes, and sounds."
A frequent traveller, Gunn has a close connection to New Zealand. He opened for The Chills — a band listened to incessantly in his teens — in shows around the country last year.
"As a teen, I got super into all the Flying Nun bands and the scene in Dunedin," he says. "My teenage self would never have believed I would tour with The Chills one day in New Zealand — it was so thrilling."
READ: Jordan Rakei Has A Message For The Future On His New Album
He's currently plugging Dunedin folk artist Maxine Funke since stumbling upon her latest album, Silk, via American label Feeding Tube Records.
"She's from New Zealand!" he says. "I have friends who own the American label and they put me onto it. I've been listening to it on my travels. It's so delicate with her melodic singing and the lyrics are beautiful."
Tiny Ruins' Hollie Fullbrook joins him for two shows on the Australian leg of the tour.
Gunn is working on new music: "Constantly, I'm always working. I can't stop or I just stare at a wall and feel lost."
•  Steve Gunn will perform at The Tuning Fork Wednesday November 6. For tickets, visit Ticketmaster.co.nz. For tickets to shows elsewhere around the country, November 7-13, visit Banishedmusic.com/tickets
Share this:
More Culture & Travel / Features & Profiles