Streets ahead with the Cut Collective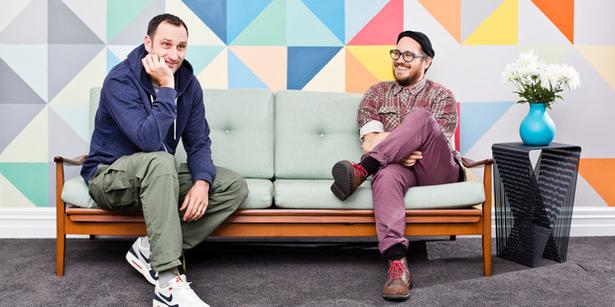 Tuesday Sept. 24, 2013
There's a certain arrogance that's integral to art born on the street. The look-at-me works on walls and fences are demanding of attention. Passers-by have no choice but to take a look.
Making the switch from a criminal and anti-social activity to artfulness is not always easy, but Ross Liew and Sparrow Phillips, two members of the Cut Collective, have managed it. As part of a team of five like-minded artists who joined forces in 2006, they now participate in major community exhibitions and bring their skills to the living rooms of the city-fringe set.
"Growing up in the 80s and 90s, we were both influenced by hip-hop culture," says Phillips. "Skateboarding and graffiti just went hand in hand."
Phillips (and, yes, Sparrow is his real first name), started getting savvy with a spray can when he was 12. "When you're that young, you feel like no one listens to you. This becomes your voice."
For both youngsters, their "hood" was Ponsonby and Grey Lynn, where they found plenty of opportunity to express themselves. Arrests for wilful damage did nothing to curb their appetite for artistic adventure. Adopting a mysterious moniker plays a prime role in the small, closely knit underground community of graffiti artists. Liew goes by the ironic alias "TrustMe", while Phillips has "Component" as his signature. It's safer than using your real name and is not, they say, for personal recognition. "When you're serious about street art, it's about ideas," explains Liew. Political and social questioning is central to the deal. "In that way, we want our art to make a positive contribution - but we don't necessarily have permission to do it."
When you're imposing an idea on people, they believe, it's respectful to talk about subjects the community is likely to be interested in. One of Phillips' well-known works was on a wall in Great North Rd. It depicted a Soviet-style official holding a paint roller at the ready to eradicate the art before him. "It said, 'if you keep the wall grey, the mind will follow'," explains Phillips. His commentary on the anti-graffiti attitude was eventually painted over.
This sort of officious mindset, however, is slowly changing. Members of Cut Collective were asked, for instance, to paint the fence around the "Sohole", a failed apartment, office and retail development on Williamson Ave.
Although it was not a lucrative project, it was an important one. "It gave us a chance to talk about the proper issues - the gentrification of this area and what I feel is its loss of identity," says Phillips.
Though the activist line still runs hot in the blood, the pair, now in their 30s, admit they've had to find a way to turn their talent into take-home pay. "We have kids and mortgages just like anyone else. Plus I'm not righteous. I'm a consumer," laughs Phillips. "I love buying shoes."
Setting up a studio in K Rd helped legitimise their art. Work started flooding in and they had to make a difficult mental leap.
"We needed to shift our focus from pleasing ourselves to making art for other people," says Liew.
Ad agencies and IT companies were the first to sign up. They commissioned Cut Collective to enliven office interiors. The team also participated in significant exhibitions, including one at the New Dowse in Wellington and another at the Auckland Art Gallery. Installation projects followed; at Silo Park and one in collaboration with architectural designer Jasper Middleton, where they created a painted sculpture for the Splore Festival.
Private clients spotted the potential. When the team were asked to decorate a wall in the living room of a refurbished Freemans Bay villa, out came the brushes, rollers, stencils and spray cans and, within the day, a vibrant rendition of Pania of the Reef had made a bold design statement. Liew: "There's no better scenario than that. The owner had a beautiful home and he was a serious art collector."
Kitchen splashbacks, fences and more walls followed, all completed in enamel spray-paint.
"It's such an amazing tool. It dries so quickly and the pigment is stable and durable, although some people do get a bit freaked out about the dust it creates and the smell," says Phillips.
Though they're happy to be part of the domestic arena, they are adamant they are not decorators. They make art, so it has to have longevity. So when they're asked to depict "dudes playing soccer", fairies or aeroplanes for kids' rooms, they gently steer their clients on a different path. Says Phillips, "All we want is the best result - ultimately, the work should elevate the value of the house."
Their latest commission came from interior designer Tomi Williams of Indigo Design. In her renovated Mt Eden villa, a repeated prism pattern adds elan to the rumpus room-cum-guest lounge. "Geometrics are the thing of the moment," says Phillips.
With more public and private commissions in the pipeline, Cut Collective is focused on a bright and busy future. "This is our generation's art and, now that we're all reaching our 30s, more of our generation has control of the budgets," explains Phillips.
They may have gained respect and recognition from certain corners of the establishment but internally, little has changed. Component and TrustMe still itch to get their hands on a can, addicted to the thrill of freedom painting.
Liew: "The thing I'd rather do, any day of the week, is paint my own wall."
Share this:
More Culture & Travel / The Latest