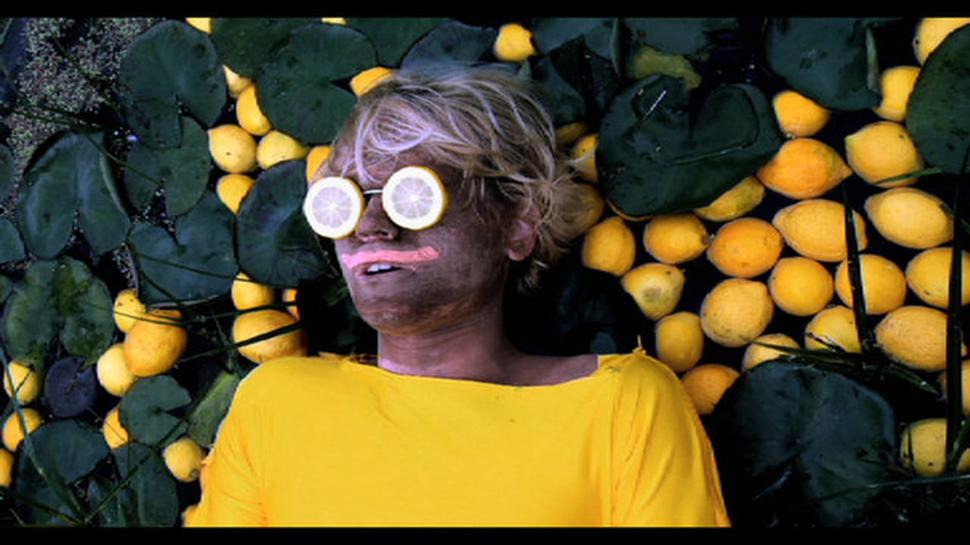 19 Classic Kiwi Songs With Style
As we observe Waitangi Day, we take a look at the stylish songs from some of our favourite New Zealand artists, providing the perfect soundtrack for this public holiday
Sunday Feb. 5, 2017
It's been said that music is the soundtrack to the times, and since the advent of MTV, accompanying music videos often document the eras they were released in.
As we observe Waitangi Day, it's an opportunity to celebrate our unique culture through our love of music - not only with lyrics and catchy tunes, but the imagery and distinctive wardrobes of some of our favourite musicians.
From Jordan Luck's chest-baring printed shirts, reinforcing his lovelorn pleas in Why Does Love Do This To Me, (directed by iconic expat Kerry Brown); the sweet optimism of Bic Runga wearing a Nom*D half dress in Something Good Will Come Our Way; and the mix of colour and Maori motifs from Moana and the Moahunters' empowering Black Pearl video, these songs not only captured our hearts and had our feet tapping, but documented the style of the times.
Why Does Love Do This To Me by The Exponents (1992) / Directed by Kerry Brown. 
Style note: Chest-baring print shirts and plenty of hip-shaking in amongst distinctive New Zealand landscapes, from thermal parks to native bush.
Loyal by Dave Dobbyn (1988) / Directed by Kerry Brown.
Style note: A young Dave dressed in an oversized printed jumper and equally woolly perm.
Poi E by Patea Maori Club (1984) / Directed by Paul Carvell
Style note: This cult classic celebrated te reo and our unique culture with the beautifully dressed Patea Maori Club in their kapa haka finery intercut with street-savvy breakdancers. READ: Poi E - The Story of Our Song
See What Love Can Do by Annie Crummer  featuring Herbs (1992) / Directed by Fred Renata.
Style note: A remake of Eric Clapton's 1985 original, Annie Crummer's version makes a statement in 90s pop star wardrobe staples - big pirate shirt and hoops, flanked by Herbs in their black skivvies, fringed leather jackets and round sunglasses. 
Trippin' by Push Push (1992) / Directed by Chris Mauger
Style note: Who can recall the days when Mikey Havoc fronted this glam metal band? Westie chic at its finest in leather vests, stonewashed jeans and stacked metal bangles. Oh and that hair.
April Sun in Cuba by Dragon (1977) 
Style note: Lead singer Marc Hunter's white trouser suit is reminiscent of John Travolta's in Saturday Night Fever (released that same year), passing on his style credentials to son Marc Moore of Stolen Girlfriends Club.
Wandering Eye by Fat Freddy's Drop (2005) / Directed by Mark Williams
Style note: The hat-loving seven-piece band based their award-winning video in the most Kiwi of institutions: the fish and chip shop, with cameo appearances from John Campbell and Ladi6.
Fast Times In Tahoe by Elemeno P (2003) 
Style note: Yuppie scum on a weekend getaway at the country club, the popular noughties band traded their usual streetwear for crisp tennis whites and polo shirts.
Dance Stamina by Pluto (2005) / Directed by Kezia Barnett
Style note: Lead singer Milan Borich, with his raspy voice and dishevelled hair, became the poster boy for the cool set, often seen at Black Luck Club at Pony Bar mid-noughties in his neat suits made popular by Hedi Slimane at Dior. 
K by The Tutts (2008) / Directed by Warren Green
Style note: What did a house party in Grey Lynn look like in 2008? Plenty of Miss Crabb, Hailwood, Cybele and what used to be known as Lonely Hearts Club. The now defunct band's raucous track was a one-hit party anthem that's stood the test of time.
Something Good by Bic Runga (2002) / Directed by Chris Graham
Style note: Bic looked like the consummate singer-song writer, ethereally strolling through a sun-kissed Cuba St Mall in Wellington wearing an iconic Nom*D half dress. READ: Nom*D Celebrates 30 Years by Stacy Gregg
Sophie by Goodshirt (2001) / Directed by Joe Lonie
Style note: An inner-city apartment in the noughties looked something like the scene in Sophie, with its bubble Apple desktop computers and ironic retro op-art prints hanging from the walls.
Apple Pie Bed by Lawrence Arabia (2009) / Directed by Luke Savage
Style note: James Milne's blue spread collar shirt, ribbon bow-tie and beige suit stood out amongst the lingerie slumber party going on around him in this video.
Not Many - The Remix by Scribe (2003)  / Directed by Chris Graham 
Style note: With cameo apperances by New Zealand hip-hop royalty David Dallas, Savage, Deceptikonz and P-Money, this stylish video's strength came through the entirely black and white dress code (Savage's Dawn Raid T-shirt a standout piece of Kiwi hip-hop fashion memorabilia), matched with the perfect amount of bravado. 
Black Pearl by Moana and the Moahunters (1990)
Style note: "Black Pearl, precious little girl, let me put you up where you belong. Black pearl pretty little girl, you've been in the background much too long." Empowering lyrics for young brown women, Moana and the Moahunters celebrated Maori culture through catchy pop tunes and brightly coloured wardrobes that celebrated their individuality. 
Pressure Man by The Feelers (1998) / Directed by Joe Lonie
Style note: A silver suit worn by frontman James Reid and the Christchurch band's penchant for spiked hairdos reinforced their on-stage rock persona, the song's dramatic climax the perfect backdrop for Kirsten Dunst's tapdance routine in the black comedy Drop Dead Gorgeous (1999).
Part of Me by Stellar* (1999) / Directed by Johnathan King
Style note: Lead singer Boh Runga's scarlet hair stood out amidst the sterile location for this pop-rock ballad. Released pre-Y2K, the video is a shining example of the era's obsession with surveillance and the end of the world.
It's Choade My Dear by Connan Mockasin ( 2011) / Directed by Sam Handley
Style note: This languid psych-pop classic is Connan at his finest, wearing gold gloves and lemon slice sunglasses, a Willy Wonka in his own beautifully twisted world. 
In The Neighbourhood by Sisters Undergorund (1994) / Directed by Kerry Brown.
Style note: South Auckland in the early 90s captured perfectly by Kerry Brown and Samoan artist Greg Semu. Singers Hassanah Iroegbu and Brenda Makamoeafi's (both clad in streetwear staples of denim jackets and matching button up shirts) ode to South Auckland came at a time when Polynesian culture was being celebrated. READ: Catching Up With Kerry Brown
Share this: