22 Books to Read This Summer
Settle in with a good book these holidays - here's what we'll be reading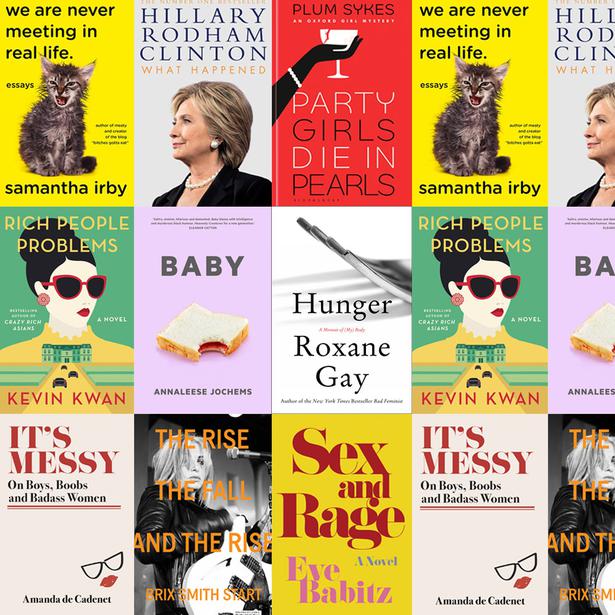 Saturday Dec. 30, 2017
We Are Never Meeting in Real Life: Essays by Samantha Irby
A selection of 20 "serio-comic" essays from the US blogger and comedian, this book is the ultimate dip in and out read for the holidays - including the opening essay written as an "application" for The Bachelor. Plus, there's a hissing cat on the cover.
Sex and Rage: A Novel by Eve Babitz
The 1979 book was reissued this year, with renewed interest in Eve Babitz's work. The writer was an icon of 1960s L.A. (she was the naked woman playing chess with Marcel Duchamp in Julian Wasser's iconic photo), and her stories became known for their love of the city. The dreamy Sex and Rage focuses on the character Jacaranda, who moves from the beaches of L.A to New York.

What Happened by Hillary Rodham Clinton
If you're still reeling from the results of last summer's US election and inauguration – and what's come since – this book will stir your emotions. The 2016 presidential candidate offers a candid take on the campaign, what went wrong, and offers her take on what comes next.
Hunger: A Memoir of (My) Body by Roxane Gay
Roxane had a fantastic year, having released two books including a short story collection, Difficult Women, and this memoir. In Hunger, she explores her relationship with her body, and the childhood trauma that led to her "eating and eating and eating so I could forget, so my body could become so big it would never be broken again".
Baby by Annaleese Jochems
An intriguing tale of two young women who escape their lives to live on a boat called Baby in the Bay of Islands, this novel by emerging writer Annaleese Jochems garnered high praise from the likes of Eleanor Catton. Written while Annaleese studied at Wellington's International Institute of Modern Letters, it moves from comedy to psychological thriller and back again.
Party Girls Die in Pearls: An Oxford Girl Mystery by Plum Sykes
The former Vogue writer, who released Bergdorf Blondes in 2004, returned this year with a murder mystery novel set in the hallowed halls of Oxford in 1985. With plenty of stylish 80s touches and whodunnit moments, you'll likely read it in one sitting.
READ: Fashion Insider Plum Sykes on Her Stylish Murder Mystery Novel
Rich People Problems by Kevin Kwan
If you loved Kevin Kwan's 2013 book Crazy Rich Asians, you'll enjoy this, the third in his series that follows the glamorous lives of wealthy Singaporean families.

It's Messy: On Boys, Boobs, and Badass Women by Amanda de Cadenet
A collection of fun and insightful essays from the founder of The Conversation, Amanda shares her own story and life lessons - from marrying as a pregnant 19-year-old to her career as a photographer in the 90s.
The Rise, The Fall, and The Rise by Brix Smith Start
The fabulous Brix Smith Start shares her story of rock 'n' roll' in the 80s, from a childhood in Hollywood to her time as lead guitarist in English post-punk band The Fall. Fashion fans may recognise her from her follow up career: the owner of cult East London boutique Start (since closed), or presenter on Gok Wan's show Fashion Fix.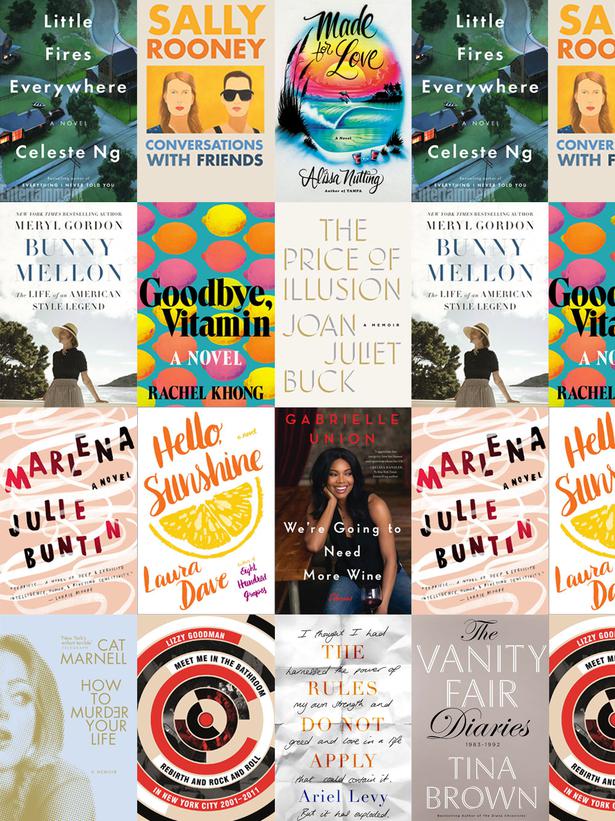 Bunny Mellon: The Life of an American Style Legend by Meryl Gordon
Exploring the life of the American socialite, this book offers an insight into the woman who has become synonymous with a bygone era of style and glamour. Bunny, whose grandfather invented Listerine, was a close friend of Jackie Kennedy – her talent for landscaping saw her asked by JFK to design the famous White House Rose Garden.

The Rules Do Not Apply by Ariel Levy
Based on her award-winning New Yorker essay Thanksgiving in Mongolia, this book from Ariel Levy expands the story of her heartbreaking and life-changing trip while pregnant. Ariel is a beautiful writer, and offers a refreshing take on the idea of thinking you can have it all.
The Price of Illusion: A Memoir by Joan Juliet Buck
The delightful memoir dovetails her childhood spent in Los Angeles and Europe; as an It girl in London during the 60s, and her glittering days as the editor of French Vogue.
READ: Legendary Ex-French Vogue Editor Shares Her Story
Meet Me in the Bathroom: Rebirth and Rock and Roll in New York City 2001-2011 by Elizabeth Goodman
Written as an oral history, this brick of a book is a perfect snapshot of New York in the early noughties, post 9/11 – the time of The Strokes, LCD Soundsystem and The Yeah Yeah Yeahs. Music journalist Elizabeth Goodman – who herself was part of the 'scene' – explores how the Internet and economy impacted the cultural moment.

The Vanity Fair Diaries: 1983 - 1992 by Tina Brown
A gossipy memoir from the former Vanity Fair editor and writer, it offers an insider take on flashy 80s New York and an era when celebrity obsession became the norm. Tina shares her daily diaries as she moves from London to "save" the magazine, meeting the likes of Princess Diana, Demi Moore, Trump and more in the process.

Hello, Sunshine: A Novel by Laura Dave
A perfect summer cover, this fun read follows food celebrity Sunshine Mackenzie as she falls from grace – and rebuilds her life in the process.

How to Murder Your Life: A Memoir by Cat Marnell
A tell-all memoir from the gifted writer and party girl, following her journey from young beauty editor at Conde Nast to prescription drug addict. Once you've read the book, read her provocative past columns for XOJane.
We're Going to Need More Wine: Stories That Are Funny, Complicated, and True by Gabrielle Union 
A book of essays about Hollywood, beauty standards and "what it means to be a modern woman", it comes after the actress wrote a well-received piece on sexual violence for the Los Angeles Times before the release of her film The Birth of a Nation.

PLUS don't miss:
Conversations with Friends: A Novel by Sally Rooney
Made for Love: A Novel by Alissa Nutting
Goodbye, Vitamin by Rachel Khong
Marlena by Julie Buntin
Little Fires Everywhere by Celeste Ng
Share this: