21 Cool Summer Beach Reads
The books we'll be reading these summer holidays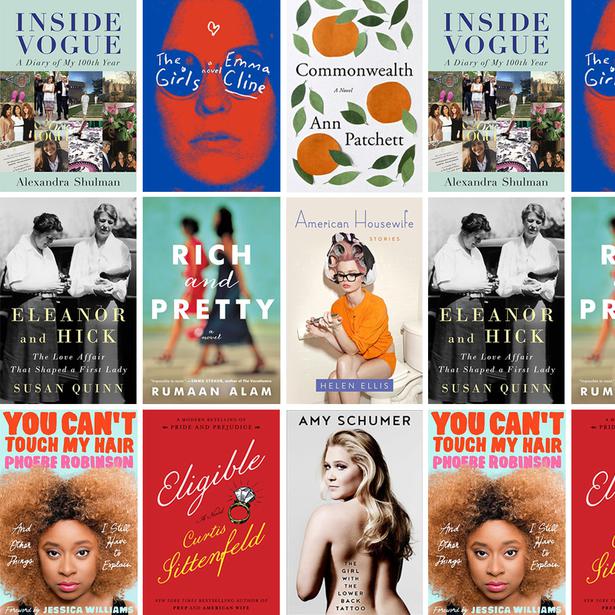 Friday Dec. 23, 2016
This is what dreams are made of: long, lazy summer afternoons spent under a tree at the beach or park, picnic and cool beverage at hand, and a great book on the go. Here's what the Viva team will be reading these holidays:

Swing Time by Zadie Smith
Many are calling Swing Time, Zadie Smith's fifth novel, her finest to date. It tells the story of two black girls who meet in a dance class in northwest London who find that although their skin colour and interests are similar, their skill level and family situations are not.

Sweetbitter by Stephanie Danler
Named as The Observer's food book of the year, Sweetbitter is about 22-year-old Tess who moves to NYC and ends up working at one of the most exclusive restaurants in the world. Cue many firsts, among them new dishes, drugs and falling in love.

The Girls by Emma Cline
Cline's thrilling debut novel is loosely based on Charles Manson and his Californian cult of the late 1960s. Her story flits between current day heroine Evie Boyd and her past when at just 14 she became entwined in the world of Russell Hadrick - the Manson of the book - and the de facto leader of his young female acolytes Suzanne.
Born to Run by Bruce Springsteen
You probably bought your dad The Boss' hefty autobiography for Christmas, so make sure you nab it off him as soon as he's done - it's so big it might even last you until Easter. Seven years in the writing, Springsteen starts from where it all began, in Freehold, New Jersey and covers his defining career moments, starting from when he saw Elvis Presley's debut on The Ed Sullivan Show in 1956.

The Girl with the Lower Back Tattoo by Amy Schumer
We're sad that one of our comedy heroes didn't bring her live show to Auckland in mid-December as planned, so we'll have to make do with her autobiography instead. A collection of essays, Schumer delves, no-holds barred, into her teenage years, family and relationships. Non-fans of her style of humour need not apply. Also check out Scrappy Little Nobody by another of our faves, Anna Kendrick (Up in the Air, Pitch Perfect).
Mount! by Jilly Cooper
Nothing says "summer beach read" quite like a Jilly Cooper novel - it actually doesn't matter when it was written because her tales of the English gentry are timeless. Cooper's latest read centres on Rupert Campbell-Black and the "cut-throat" world of flat racing, not to mention a "ravishing Zimbabwean widow called Gala". Do not disturb.
Commonwealth by Ann Patchett
Patchett has made 2016 best-of lists the world over with this tale about a stolen kiss at a the christening of Beverly and Fix Keating's daughter Franny in California. The kiss sets off a series of events that are still being felt decades later by the four parents and six children directly affected.
Eleanor and Hick by Susan Quinn
This biography is abouit Eleanor Roosevelt, the long-suffering wife of Franklin D.(the American president from 1933 until his death in 1945) who had a 30-year-plus relationship with a woman - Associated Press reporter Lorena Hickok. "Hick", as she was known, even lived at the White House for 13 years, next door to the First Lady - which was probably allowed because FDR was busy sleeping with everybody else. Anyway, the rather extraordinary couple battled together to fight for the greater good, and this sounds like a fascinating read


Rich and Pretty by Rumaan Alam
Another New York City-based read, Rich and Pretty explores how the relationship between about best friends Sarah and Lauren changes when they start living adult lives and going their separate ways. Sarah works as a charity and is planning her wedding, while singleton Lauren works in publishing and as the wedding gets closer, tensions between the two grow.
Inside Vogue: A Diary of my 100th Year by Alexandra Shulman
British Vogue Editor-in-Chief Alexandra Shulman kept a record of the magazine's 100th anniversary which she went on to craft into a great read covering highlights such as the 100th birthday issue (featuring the Duchess of Cambridge on the cover) and the star-studded Vogue 100 Gala. Dealing with all these stresses sound hard enough, but throw family life and a ever-present TV documentary crew, and things rachet up to a whole other level.
Private Citizens by Tony Tulathimutte
This comic take on millennial San Francisco takes a poke at privilege, ambition and friendship between four young college grads: idealistic Cory, internet-lurking Will, awkward Henrik, and vicious Linda. Intelligent and well-written, Private Citizens navigates the world of tech startups, protests, gentrifiers, karaoke bars, house parties, and cultish self-help seminars. If you're not one yourself, or even if you are, maybe this will give you an insight into the world of the millennial.
Settle for More by Megyn Kelly
Journalist and political commentator Megyn Kelly has done well to get this book out so quickly while she's still in people's consciousness thanks to her feud with President-elect Donald Trump. A former lawyer, Kelly - anchor of The Kelly File on the Fox News Channel - writes about her life and career, and, yep, the Trump business.

American Housewife by Helen Ellis
The cover alone makes us want to pick up this collection of 12 short stories by Helen Ellis which takes a satirical look at the dark world of domesticity and housewives behaving badly. A "pointed commentary on womanhood", American Housewives delves into the murky world of beauty pageants, book clubs and lingerie shopping. There's even a murder in the middle of some baking. Stepford Wives, eat your heart out.  
Eligible by Curtis Sittenfeld
We love The Austen Project, where great authors write modern versions of Jane Austen's books, and Eligible, the fourth in the series, gives Curtis Sittenfeld a shot at Pride and Prejudice. In this version, Jane and Elizabeth Bennet - or Liz - live in NYC: Jane teaches yoga and Liz is a magazine writer in her late 30s. They return to the family home in Cincinnati to help when their father has a health scare and here they meet new-in-town doctor Chip Bingley and his friend neurosurgeon Fitzwilliam Darcy. You know what happens next, or some approximation of it anyway.
The Underground Railroad by Colson Whitehead
Not exactly a light read, but definitely a worthwhile one, The Underground Railroad is a historical novel about Cora, a slave who plans her escape via the Underground Railroad in pre-Civil War America with a fellow slave, Caesar. As the pair makes her way north from Georgia, they face all manner of obstacles, all while Ridgeway the slave catcher is hot on their heels.
Hot Milk by Deborah Levy
In a bid to find a cure for her mother Rose's unpredictable limb paralysis, Hot Milk's narrator Sofia travels with her to Spain for treatment by Dr Gomez but his unorthodox methods result in Rose's illness becoming more inexplicable. Dealing with issues of hypochondria and a troubled mother-daughter relationship, Hot Milk also has themes of sexuality, unspoken female rage and myth and modernity.

Feminist Fight Club by Jessica Bennett
Billed as part-manual, part-manifesto, Feminist Fight Club is an often humorous career guide for the current generation of professional women. It features personal stories alongside research and statistics, and has plenty of handy advice for battling subtle sexism in the workplace. Bennett has come up with her own lexicon for the modern workplace: the Manterrupter (someone who talks over female colleagues in meetings) and the Himitator (who appropriates their ideas). Girl power!
Shrill: Notes from a Loud Woman by Lindy West
American writer Lindy West is a passionate feminist and advocate for social justice, whose work has appeared in the likes of Jezebel, The Guardian, GQ, Jezebel and Deadspin. (We recommend reading her essay on Hillary Clinton's loss for the New York Times). Shrill covers off her life so far (she's only 34), tackling some difficult topics including abortion, body image, activism and sexism, with humour and charm.
The Widow by Fiona Barton
This year's thriller du jour is about life after the death of Jean Taylor's husband Glen (death by bus) - a controlling and bullying man who was a suspect in the kidnapping of a child. Nothing was proven though, and when Glen's death revives the case, people start clamouring for answers again - only this time Jean doesn't have to play the loyal wife.
You Can't Touch My Hair and Other Things I Still Have to Explain by Phoebe Robinson
Comedian Phoebe Robinson addresses living and growing up as a black woman in America in this funny collection of essays about race, gender and pop culture. Best line from the blurb: she's been questioned about her love of U2 and Billy Joel ("isn't that . . . white people music?"), and apparently people do actually ask her whether they can touch her rather magnificent afro all the time. Personal and political - and hilarious.
Where Am I Now? True Stories of Girlhood and Accidental Fame by Mara Wilson
This will make you feel old - the little girl who starred in Matilda and Mrs. Doubtfire is now 29 and has written her first novel. Where Am I Now? tells recounts her life as a child actor when she was often the only kid on a film set full of adults, as well as her experience as the first daughter in a house full of boys, and as a Valley girl in New York. (Wilson has retired from film acting and these days mostly concentrates on writing and playwriting, though she did make an appearance on Broad City this year.)
Share this:
More Culture & Travel / Staying In