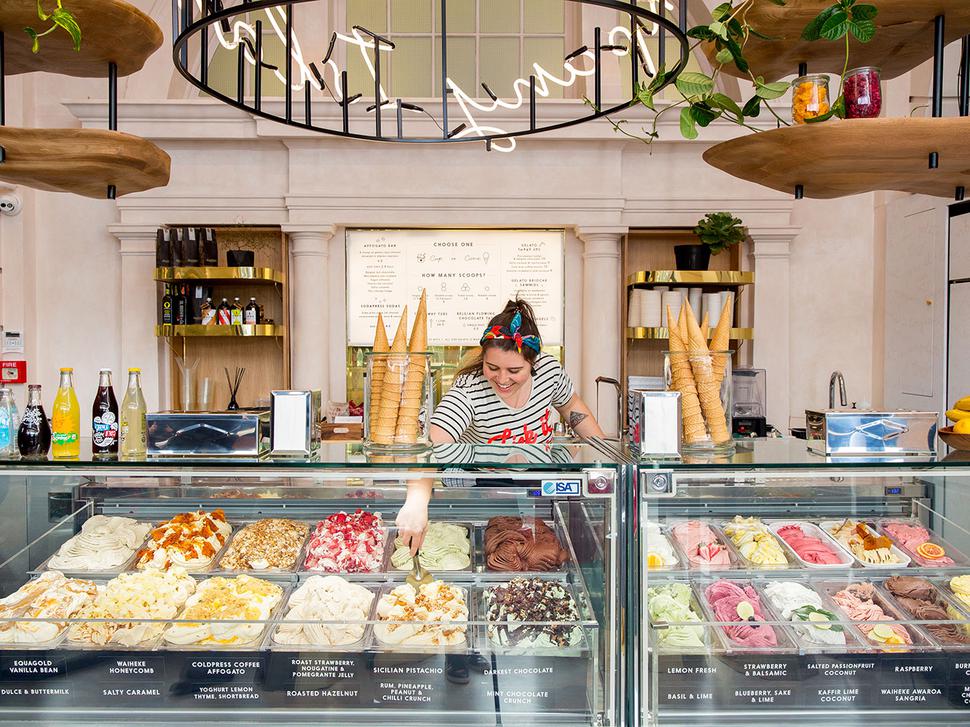 The Best Road Trips for Foodies
Gather friends, pack an empty stomach and head out of town in search of great food
Saturday Dec. 30, 2017
Waiheke Island - About two hours by ferry
Summon island vibes immediately with a gelato from Island gelato's newly opened ferry terminal store. This Waiheke favourite has been scooping up all things delicious on the island since 2014. Enjoy a cheeky Peroni on the ferry over while enjoying the views of Rangitoto Island.
When coffee calls head to The Annex, a converted cottage style café on Putiki Rd and slurp down with brioches, cheese scones slapped with butter and giant toasties served with locally made chutney. Wander the Waiheke market on Ostend Rd for local olives, pâtes and meats. There are a jaffle truck, crepes and everybody's market favourite, Hungarian fried bread topped with tomato, feta and basil.
Dragonfired serves up wood-fired pizzas from their beachside van for dinner. Start with a classic Margherita and add artichokes, goat's feta and capers. You'll find calzone, pocket breads and a seriously good gluten-free polenta box on the menu too. Dig in on the sand with a bottle of local wine or try out Eastern End ginger beer. A Waiheke tipple infused with pohutukawa honey. For glam dining, Oyster Inn Restaurant is a must located in the heart of Oneroa Village. Start with mandatory fresh Te Matuku oysters before fish and pasta mains. 
READ: Viva Editor Amanda Linnell Shares Her Waiheke Secrets
Clevedon - About 40 minutes southeast
Sundays are the day to head out to Clevedon for its farmers' market at the A&P Showgrounds (8:30am-1pm) and its Village Market at the Community Hall from 9am-2pm. Go straight to the queue for a bacon and egg bap and then stock up on and fruit, meats, cheeses and homemade goods.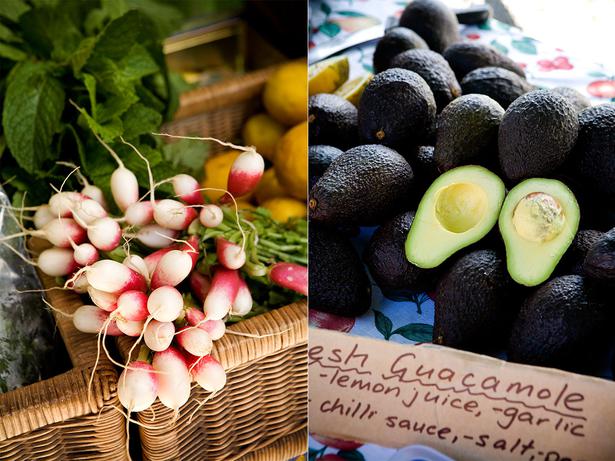 Grab your hamper for the fresh produce at the Clevedon Farmers' Markets. Picture / Supplied

While you're out that way, poke your nose into the Cammell's Honey store, artisan bakery Aristocakes, Ness Valley Nut Co. for locally grown macadamia nuts, Naturally there's a country pub here too, The Hotel Clevedon, and we're also fans of the Turanga Creek winery 10 minutes up the road in Whitford, and the Clevedon Coast Oyster Company factory shop also 10 minutes' drive away, situated on the water.
• Clevedon Showground, Monument Rd, 8.30am-1pm, Clevedon Community Hall, at the Roundabout, Clevedon Village, 9am-2pm

Kaiaua - About an hour southeast 
The seaside community of Kaiaua on the Firth of Thames is famous for one type of food only — old-fashioned fish 'n' chips — and we can attest they are worth the trip. Work up an appetite at the Miranda Hot Pools up the road, grab some greasies and head down to the beach.

READ: Foodie Eleanor Ozich's Beauty Routine

Puhoi - About 35 minutes north
The pretty village of Puhoi north of the city is full of artisan producers plying their wares. On Sundays, there is a Puhoi Farmers' Market 9am-1pm, or pay a visit to the excellent Puhoi Valley Cafe and Cheese Shop or the Puhoi Organic Distillery. For something more traditional, head to the Puhoi Cottage Tea Rooms for Devonshire Cream Teas, or check out our favourite, the historic and very quirky Puhoi Pub.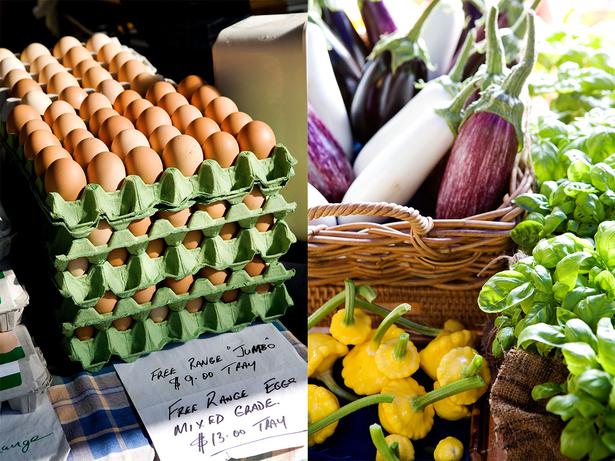 Hobsonville Pt Farmers' Market - About 30 minutes northwest 
Another foodie market worth a look is at Hobsonville Pt, which is undercover in an old airport hangar and opens both days in the weekend from 8am-1pm. Here you'll find fresh produce, bread, meat, fish, dairy products, eggs, coffee, honey and more. Also worth a look is nearby Catalina Cafe, housed in a historic building used by the RNZAF as part of Hobsonville's airbase.
• Hudson Bay Rd Extension, Hobsonville, Saturday and Sunday, 8.30am-2pm
READ: Annabel Langbein's Mission to Make Potluck Dinner Cool
Matakana - About an hour north
Just up the road is the booming settlement of Matakana which is most famous for its Saturday farmers' market (8am to 1pm). Local artisans, growers and farmers gather to create a slice of foodie heaven. Snack your way around the market and haul up the best for an afternoon picnic. Cheeses, baguettes, whitebait fritters and chocolate. Enjoy at the nearby beaches basking in the golden summer sun.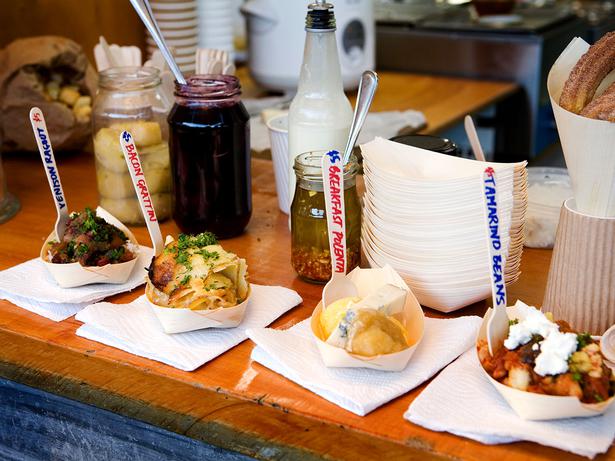 A delicious line up of dishes at the Matakana Farmers' Market. Picture / Supplied

You'll also find a wider burgeoning foodie scene here as well — pop into the Village Butchery or the Matakana Coffee Roastery for some goodies to take home, or relax over a meal at the renovated historic pub here or at a local vineyard.
• Matakana Square, 2 Matakana Valley Rd, Saturday, 8am-1pm
Share this:
More Culture & Travel / Going Places