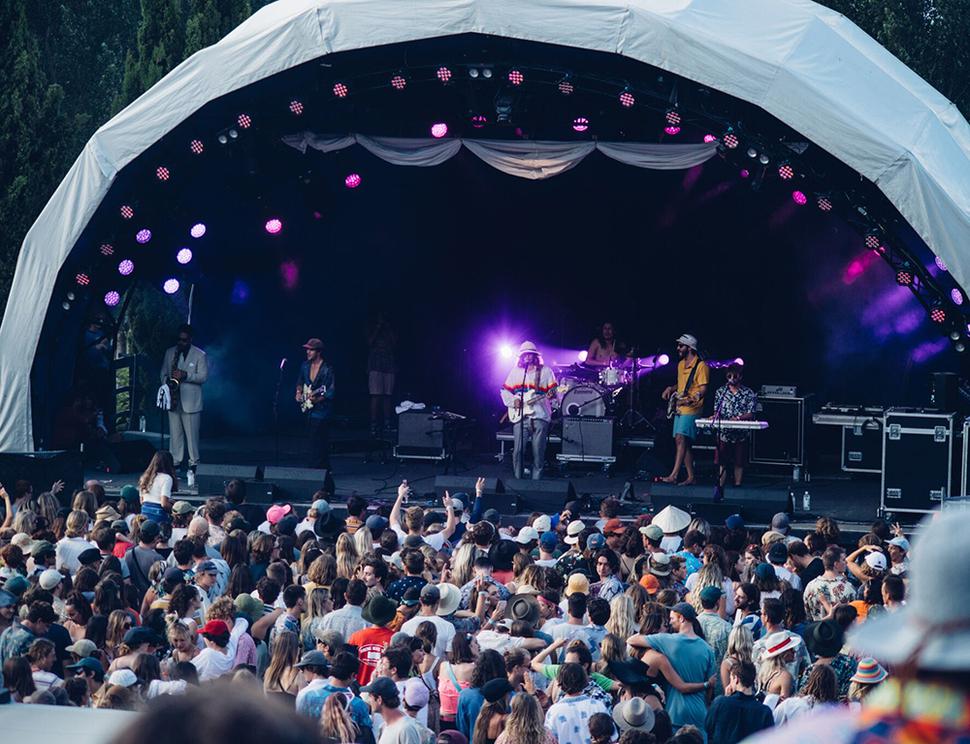 Summer Sounds: Nest Fest Returns To Hawke's Bay In January 2020
Planning a summer roadie? How about an eco-friendly music festival in Hawke's Bay
Wednesday Dec. 11, 2019
If either Napier or Hastings is suddenly devoid of hipsters in early January, this festival might be why. Nest Fest returns to Hawke's Bay this summer with a fresh line-up of fledging musicians performing at Havelock North's Black Barn Vineyards.
The one-day event, which made an impressive debut last year, has a strong focus on plugging New Zealand's indie/alternative scene - no 'drum and bass' of more mainstream festivals to speak of. 
READ: The Coolest Looks From The Vodafone New Zealand Music Awards 2019
Festival organiser Harry Richard Pettit, owner of music management and promo company Bird Nest Entertainment, created the unique festival as a way to give some of his favourite and emerging Kiwi bands a spot on the big stage.
"I wanted to take the bands I was working with, like Soaked Oats and Mild Orange, out of the small gig bar scene and give them the opportunity to play in front of a bigger crowd," says Harry. 
Nest Fest at Havelock North's Black Barn Vineyards. Photo / Supplied

"Nest Fest is about introducing people to new artists and music rather than just going down a more mainstream avenue. It's got an acquired taste but hopefully the crowd ends up loving and following their journey."

He knew he had a great venue for the festival after being introduced to Black Barn, a location with a natural amphitheatre, and opportunity for an intimate experience.  

"We didn't want a paddock or a location that everyone else was doing," he says. "It was a risk but the idea of going down to Hawke's Bay for a gig was nice."

Harry keeps a keen eye on the emerging indie scene both in New Zealand and internationally. He's excited about next year's line in January including international up-and-comers including Brisbane's Gabriella Cohen and songwriter Sophie Ozard. The two acts have also helped balance out the programme.  Harry says he's aware of the responsibility of an event organiser.

 "We don't want to be pinpointed for going down one lane," he says. "Last year we had a response of not having enough female artists which was totally fair. This year is more of a 50/50 split of genders. It's disappointing when other festivals release 90 per cent males which gives a bad rap for everyone else. "

The line-up for the gig also includes Dunedin's Marlins Dreaming, Mild Orange, Joe Ghatt, Daily J, Earth Tounge, Flamingo Pier, and more.  

Harry has looked to other festivals for inspiration.

"The likes of Splore, I really like what they do. Laneway has done a great job over the years."

More than music, Nest Fest places a huge emphasis on being sustainable with recyclable cans being used, water refill stations, and artwork such as flags made out of compostable materials dotted around the sun-soaked grounds. Harry says the eco-aware approach is due to his background in professional skiing and being around nature growing up in Queenstown.

READ: Five Local Music Acts On Their Dream Show & Top Festival Tips

"I get pissed off when I go to festivals and after the last act everyone leaves and there's plastic cups and rubbish everywhere," he says. "I want to do what I can to impact the environment as little as possible." 

The food and drink are on a similar wavelength with plant-based food stalls, and non-alcoholic drink options. Last year saw plant-based Mexican from Tauranga's Oh Boy Tacos, smoothie bowls, and local, seasonal nosh from Black Barn's food vendors. Harry's got plans in the works to have fresh produce from the Hawkes Bay area on site for next year. 

It's an effort made after seeing the lack of good options elsewhere, he says. 

"I've been to other festivals only serving Vodka Smirnoff's or other sugary alcoholic drinks and after a few hours of drinking those you start to get a bit twitchy," he says. "I don't want to be creating that atmosphere. Our audience is really conscious."

January 11. Tickets at Nestfest.co.nz


Share this:
More Culture & Travel / Features & Profiles