Sun, sand & stars in Palm Springs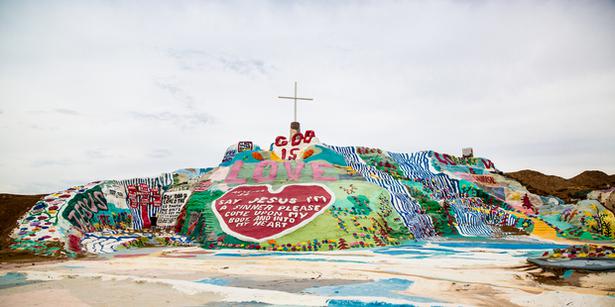 Wednesday Aug. 27, 2014
It is truly a wonderfully weird corner of the world, where retro glamour and resort town hedonism contrast with the DIY spirit of the surrounding California desert. In Palm Springs, futuristic mid-century modern buildings sit against a backdrop of the majestic San Jacinto Mountains and searing blue sky, while out in the sprawling desert landscape a creative outsider community flourishes. It's that contrast - stylishness and strangeness - that is fuelling the latest renaissance of Palm Springs.
Proof that the city is hip once more? Celebrity. The town is buzzing with the news that Leonardo DiCaprio recently purchased the Donald Wexler-designed Dinah Shore house, while rumours circulate about everyone from Anne Hathaway to Ryan Gosling. Cooler than them all is singer and songwriter Sia Furler, of Chandelierfame, who recently married in her new home, the estate built by Max Factor.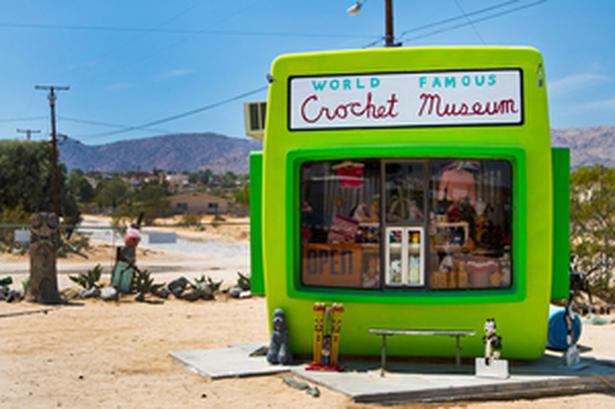 Recent visitors to the town include fashion insiders too, with dreamy Palm Springs photos popping up on the Instagram feeds of Eva Chen, editor of fashion magazine Lucky, and Susie Bubble, one of the world's most influential fashion bloggers.
Fame and glamour are key to Palm Springs, linking the resort town to its former star-power glory. From the 20s to 60s it was a getaway for the Hollywood glamour pack, attracted to the balmy climate and handy location to studios in nearby Los Angeles. Frank Sinatra and his Rat Pack buddies made Palm Springs their playground, frequenting places like The Racquet Club resort and Melvyn's restaurant at The Ingleside Inn (still there today; if you ask, the waiters will embellish your dinner with humorous stories from the past). Flush with money and inspired by the look-to-the-future attitudes of the times, these stars commissioned architecturally ambitious homes from top architects like Albert Frey, Richard Neutra and Donald Wexler, who developed what is now known as Desert Modernism. Think The Jetsons mixed with The Flintstones, with incredible futuristic mid-century properties situated casually through town: Victor Gruen's Le Corbusier-inspired Bank of America building, Frey's City Hall with its dramatic circular cut-out and palm tree entrance, E. Stewart Williams' Coachella Valley Savings and Loan Building and the space-age concrete and glass Elrod House towering over Palm Springs on the mountains above.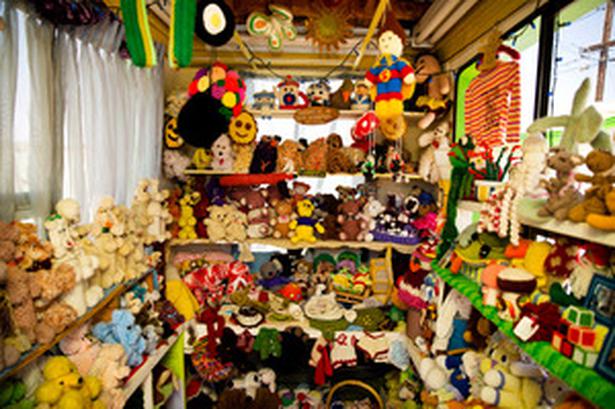 Frank and co's spirits still haunt the town - Palm Springs is famous for its concentration of retirees - but lately the city has been shaking off that retro shadow with a growing number of young creatives moving in or visiting from Los Angeles. Locals talk about a new creative energy, with boutique hotels, restaurants, cocktail bars and coffee shops opening to meet demand, and a redevelopment of the Downtown Palm Springs area. During "the season" - October to May, when the heat isn't so oppressive - the city is at its peak, with galas, pool parties and popular events like Modernism Week and the Palm Springs International Film Festival. And of course Coachella, the April music festival that sees greater Palm Springs swell by around 200,000 people.
Glossy glamour may reign in Palm Springs proper, but further out in the desert surrounding the town the mood changes, becoming darker, weirder, more spiritual. Salvation Mountain epitomises that liberated oddball vibe. Leonard Knight, who passed away in January, started the iconic folk art installation in 1984, with biblical and religious scripture made out of adobe clay, straw and thousands of litres of technicolour paint. An hour and a half from Palm Springs in Niland, the 50 foot-high "mountain" rises from the desert plane, greeting you as you approach Slab City, a campsite of squatters who choose to live off-the-grid in trailers and tents in an ex-marine barracks. This is far from a tourist attraction, but it's worth driving down the main road to see how they live, and to appreciate the community they have developed. During summer it seems deserted, but you will feel eyes watching you from trailer park windows.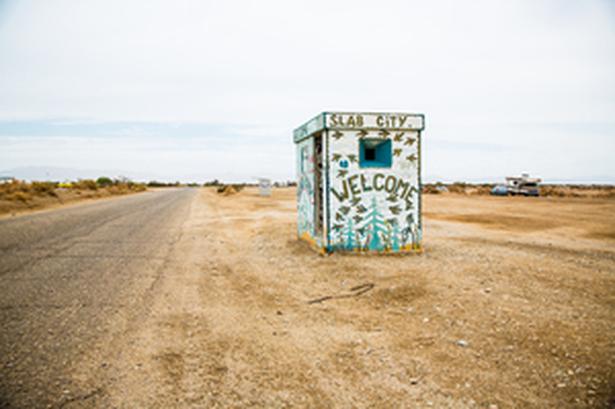 South of Palm Springs is Joshua Tree and the "high desert", where a road trip is essential to tour the High Desert Test Sites - a non-profit organisation that supports and promotes a range of quirky artistic ventures throughout the area. The World Famous Crochet Museum is a tiny, green "museum" shaped like a TV screen, with hundreds of crochet animals inside; Garth Bowles' Boulder Garden a crystal and cactus strewn eco-retreat; and Noah Purifoy's Outdoor Desert Art Museum, an outdoor collection of assemblage sculptures made from "found objects or junk", left to deteriorate in the harsh desert sun. In Landers, another tiny desert town, is The Integratron, a spectacular white domed building sprouting from the landscape like an alien spaceship that has landed in the middle of nowhere. George Van Tassel built the structure in the late 50s as a rejuvenation and time machine, after being "visited" by aliens. He built it on what is said to be an intersection of geomagnetic forces, amplified by the dome structure. It may sound like mumbo jumbo, but the experience inside the dome is truly something else. The all-wood, acoustically perfect sound chamber is now used to host Sound Baths: 60-minute "sonic healing" sessions. Crystal bowls are played as you lie peacefully; sound waves resonate through your body and you tune into the beautiful weirdness of the Californian desert.

• To find out more about Palm Springs visit DiscoverAmerica.com and try its Trip Tuner for bespoke travel ideas, and Greater Palm Springs for more tips.
Share this: