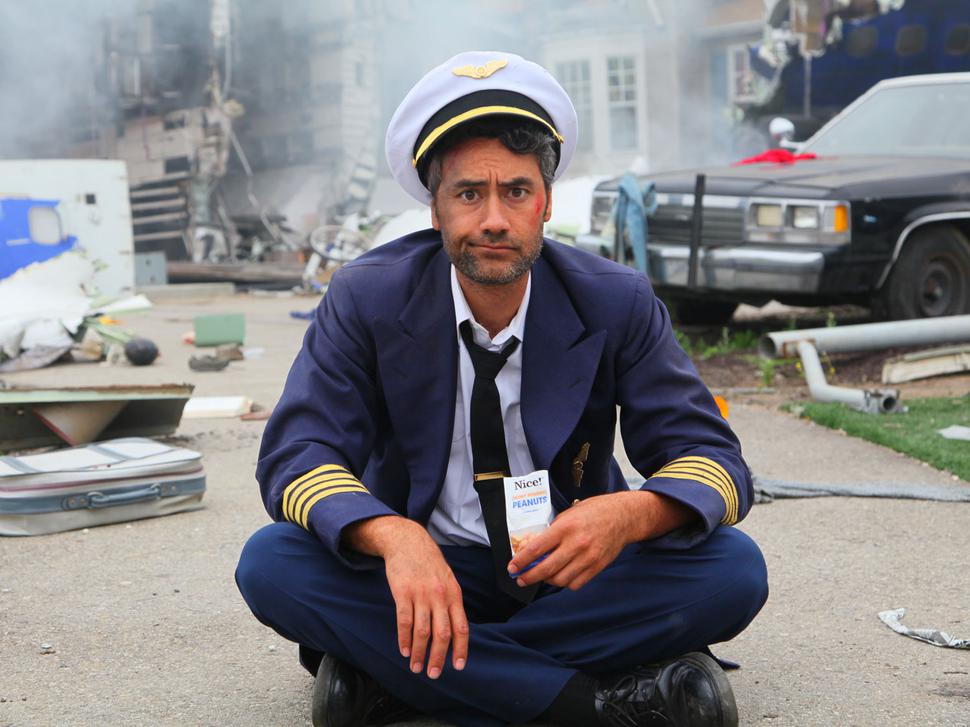 Taika Waititi on Art, Style and His Favourite Pub
We chat to show host and renowned filmmaker Taika Waititi ahead of the Vodafone New Zealand Music Awards
Tuesday Nov. 17, 2015
"I never really had an ambition to be a filmmaker, until I made my first short film," says Taika Waititi. He's chatting from Curious Film, where he is currently finishing off his next feature film Hunt For The Wilderpeople.
Taika has recently returned to Auckland with his family after spending three months in Hawaii, where he spent his days editing the new film, which is based on the Barry Crump book Wild Pork and Water Cress. Set to be released in 2016, it's about a rebellious kid and his foster uncle who go missing in the wild New Zealand bush.
Taika enjoys telling stories that deal with families. In 2003 he was nominated for an Academy Award for his short film Two Cars, One Night, a story about three children who become friends while waiting for their parents in a car park. That was followed up by his first feature film, romantic comedy Eagle vs Shark, and then Boy, which premiered at the Sundance Film Festival in 2010 and was nominated for the Grand Jury Prize.
"I love my family – but it's more that I find the family dynamic is a goldmine for characters and interesting stories and conflict. All those things are the elements that you need for a good story," says Taika.
Before he made his first short film, he was painting and doing video art, working with lots of different mediums to tell a story. After the success of his short film, he says he received a lot of encouragement to continue making films.
"Film has really taken over. Luckily it hasn't felt like a job yet — it feels like a cool hobby that you get to collaborate with cool people and play with cool toys, but for me the important part is telling the story."
An average day looks like...
"Hopefully waking up. That is sort of how I like to start my most average of days, and if it's a really good day I don't wake up. But on the average days, I wake up and I get up and have a shower, feed the kids and then usually I have to leave pretty early because I live way out on Auckland's West Coast and join all of the other workers, who have to sit in traffic to get into Auckland. Then I start my day with a long black, just like everyone else in the city."

My personal style is…
"Very hopeful, optimistic. How I dress is more of a priority list. The first priority is that the clothes are clean. Then that I haven't worn it for more than three days in a row – because then it's unclean. And the third priority is that I try and think about wearing the right shoes. I can't put on nice shoes if I am wearing jeans because then I look like an American and I can't tuck in a shirt into jeans because then I look American. So it's all about finding a way of not trying to look American for me. What I mean is an American tourist, or an American business man, those guys with pleated pants, Nike trainers and a business shirt and a bum bag. Or two phones on their belt."

My favourite bars, restaurants and cafes...
"Where I come from, down in the Bay of Plenty at Waihau Bay, the local pub The Lodge is one of my favourite places to hang out and you never see any strangers there, it's just like all locals. It's the most relaxed atmosphere I feel I have ever experienced anywhere."

The last book I read...
"Hold on I've got this. I read like three at a time and some fall off and I never finish them. The last one I read was about the human brain – oh wait I have it right here: An Organised Mind by Dr Daniel J Levitin. The tagline is "Thinking straight from the information overload." And another book I've been reading is called Fragments. It's got poems and little letters from Marilyn Monroe. It's pretty interesting, she was really well read."
My grooming routine looks like...
"It's sporadic. Basically I feel like sometimes I'm really into grooming and other times I just don't have the time. That's why sometimes I feel like hats are so great. I don't have any ambitions when it comes to grooming, as long as I wash my face, put on moisturiser and try to put on deodorant. Just don't look terrible."
Share this:
More Culture & Travel / Features & Profiles