Talking Art With Alexa Chung
Karen Inderbitzen-Waller visits Fondazione Prada and its Wes Anderson-designed cafe, Bar Luce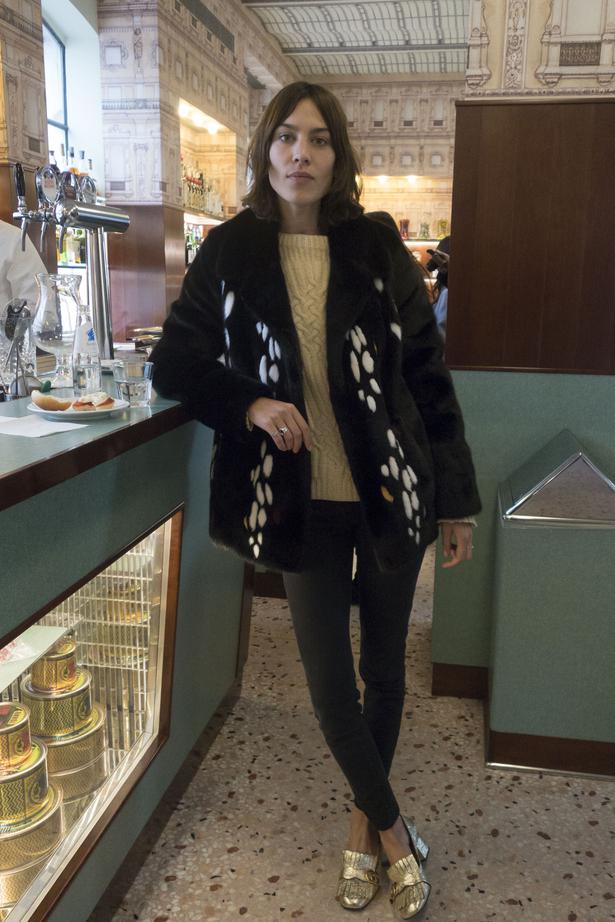 Friday March 4, 2016
My habit of visiting gallery bookstores or shops before visiting the actual gallery was warranted on this particular visit to the Fondazione Prada - where the infamous Bar Luce, designed by cult film director Wes Anderson, is as famous as the gallery itself.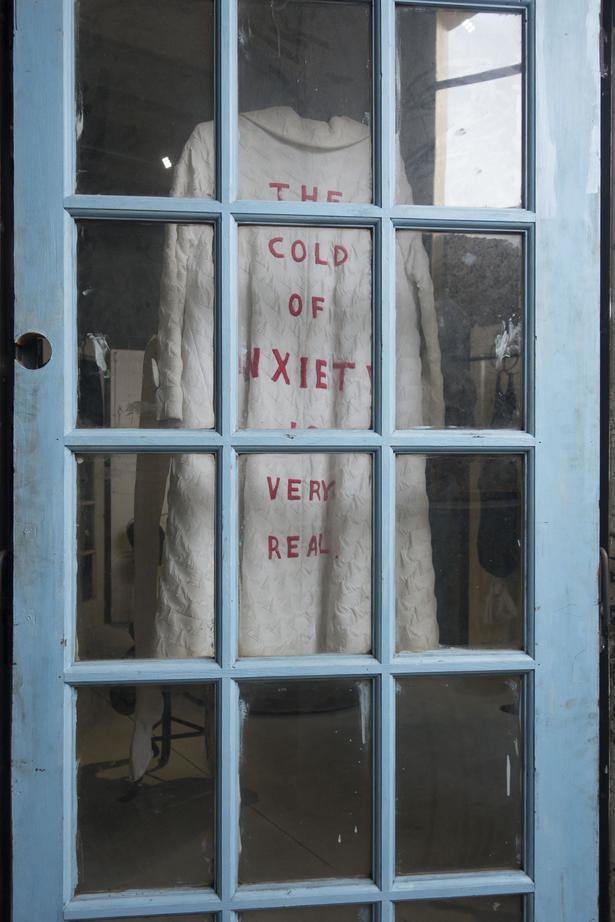 Cell by Louise Bourgeois/Avril Planqueel and Karen Inderbitzen-Waller

Once inside, it was apparent that this was the dream child of Wes - the cartoonish wallpaper and bellboy outfits were a dead giveaway, and spotting the manager in his candy pink shirt and tie aroused fabulous memories of Wes' film The Royal Tenenbaums and those unforgettable pink pants worn by Gene Hackman's butler of sorts, Pagoda.

A pink jukebox and retro pinball machines themed with Steve Zissou and Wes' Prada film collaboration Castello Cavalcanti adorn the kitschy walls, with The Girl from Ipanema seeming to play on repeat during our visit - making the dreamlike feeling of being in Wes' entrails that little bit more surreal.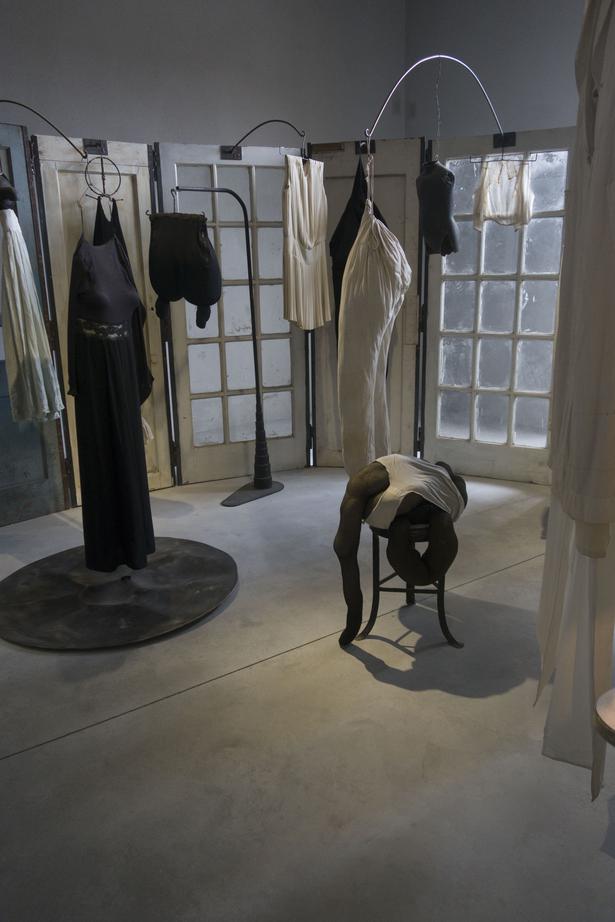 Seated at one of the Formica tables, in a beautiful shade of minty green with pink vinyl chairs reminiscent of Italian popular culture from the 50s and 60s, we ordered coffee and Luce paninis filled with ham, mozzarella, artichoke and tapenade. The service was refreshingly sweet and unpretentious, with the waiter carrying our bags to our table and, despite the queues of anxious looking tourists, never rushing us to leave while we sipped our San Pellegrino and eyed up the wall of candy jars, saccharine cakes and Campari on offer.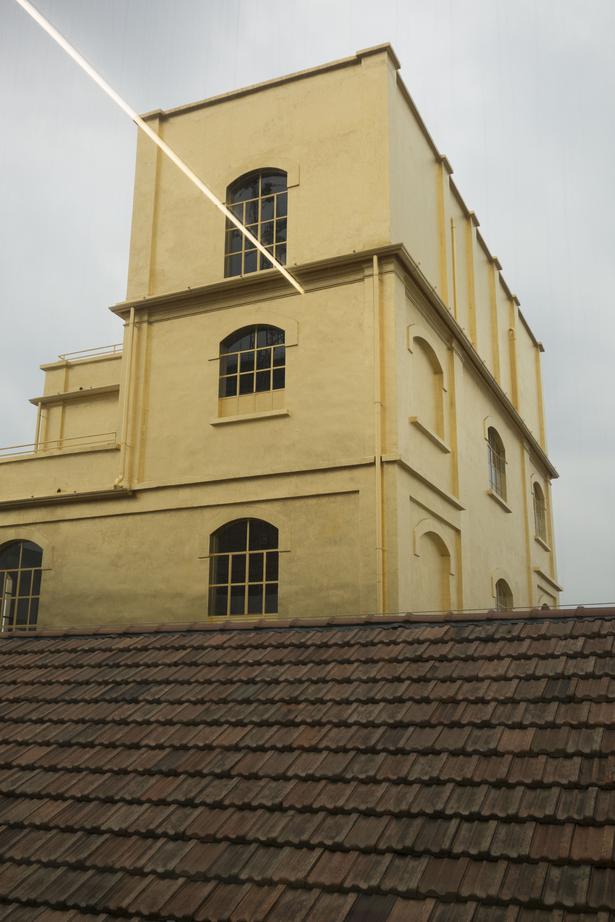 GALLERY: See inside Fondazione Prada
Once we could tear ourselves away from Bar Luce, we headed into the  Fondazione Prada and made a beeline to the Haunted House; the illuminous gold building atop the foundation where artists Louise Bourgeois and Robert Gober are permanently housed. This part of the Fondazione has limited access and can only be visited upon booking.
Other highlights are the incredible robotic works of Goshka Macuga, To the Son of Man Who Ate the Scroll, where an incredibly life-like robot delivers a moving soliloquy about the demise of mankind and the potential thought of a universe without humanity. It was so moving and realistic, naked except for a plastic raincoat, that I had to gather my thoughts as to whether in fact he was real or not, with hands, eyes and lips that forged such a reality that I was taken aback.
The Fondazione Prada has too many incredible artworks to comment on them all and really does require a few hours to navigate through its rich interior of top notch contemporary artists. With the most serene pauses of immaculate palatial concrete gardens, we could not help but wonder why Miuccia Prada has not staged a Prada show here yet, as like her brand, it was absolute perfection at its best.
READ: Inside Milan's Armani/Silos
We concluded our tour in the Processo Grottesco, where we ventured underground to a veritable grotto created using 3D printing by Thomas Demand, another permanent installation. We marvelled at the immense reference material housed to show the process of his immaculate conception of an enormous cardboard grotto, which started with one postcard and amassed to a collection of hundreds of postcards including the grotto from the infamous Playboy mansion.
Reeling from the massive consumption of mind-blowing things we had just seen, we decided a re-visit to the Bar Luce was required, for a Weissbier on tap and one last moment in the world of Wes Anderson.
Being that it was Milan Fashion Week; the visitors to Bar Luce were all considerably fashionable folk. Chanel thigh-high boots, the latest covetable Gucci looks and stunning fashionistas were all a beautiful melange, in residence for Campari, dolce and a piece of the Wes Anderson magic that is Bar Luce.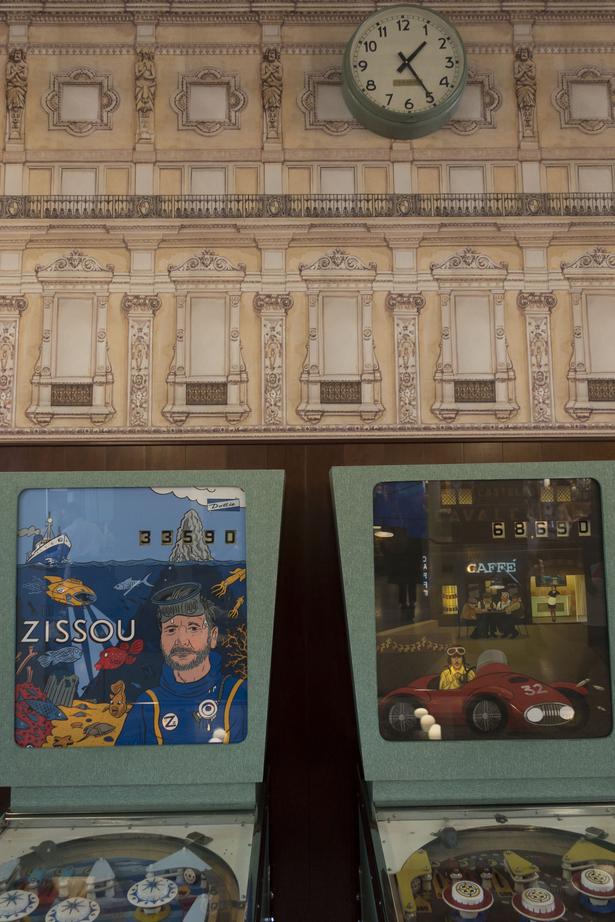 It was no surprise when the stunning creature that is Alexa Chung walked in, as I had witnessed her among the paparazzi outside the entrance to Prada show the night before. Nibbling on tomato and mozzarella and frizzante water at the bar, she was quite a sight to behold in such an ornate setting. Even more dazzling in person, with luminous skin and an impeccable style; she was wearing Gucci gold loafers, skinny black jeans, a cream hand-knit sweater and a fur coat. We began chatting about the gallery and her favourite works at the Fondazione.
GALLERY: Inside Fondation Louis Vuitton
She said she had been most taken by the Haunted House, with her favourite piece a Robert Gober work that lies in the top attic floor: an illuminated beating heart housed in a drain, lost among the leaves, twigs and running water, it literally stole her heart.
Louise Bourgeois' work Cell (clothes) was another favourite, a circular construction of adjoining doors combined with clothing originally belonging to Bourgeois. In particular, a bed coat embroidered with the words "the cold of anxiety is very real", which Alexa instagrammed during her visit.
Another favourite from her visit to the Fondazione? The incredible Wes Anderson-designed W.C bathroom, with its graphic black and white tiled floor. I commented on her incredible fur coat, deep chocolate in colour with Dalmatian-type spots of white, pink and lavender on the back, and how stunning she was in person. "Really?" she replied, "I had just been in the bathroom thinking otherwise!" With that I let her get on with her sandwich, she wished me well and said how lovely it was to meet me. This girl clearly has it all; good manners to boot.
A delightful chance meeting in a magical, dreamlike place, I could only wonder what another day at Bar Luce could bring. If only I could stay ensconced in the minty paradise that is Bar Luce forever.
Originally published on Karen Inderbitzen-Waller and Delphine Avril Planqueel's website, Eclectisme.
Share this:
More Culture & Travel / Going Places