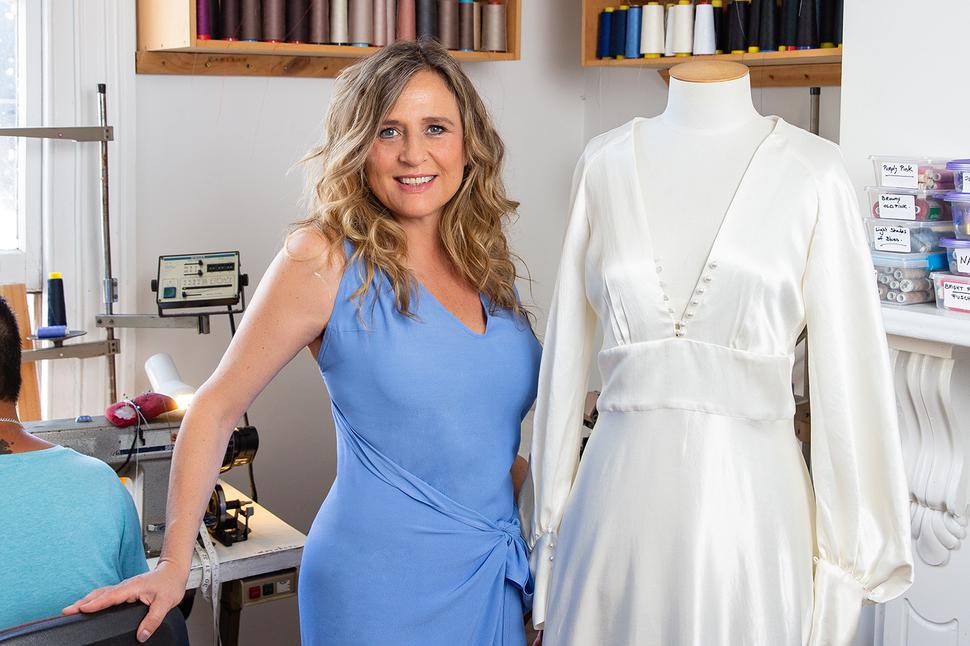 Designer Tanya Carlson On Creating A Bespoke Wedding Dress
Carlson designer Tanya Carlson brings her fashion expertise to every custom bridal gown she creates
Thursday April 11, 2019
For more than 20 years, Carlson designer Tanya Carlson has dressed celebrities, athletes, broadcasters, and, of course, the women who form her everyday clientele. She has also created more than 200 custom wedding gowns over the course of her career, bringing her fashion designer's eye to the process for each lucky bride-to-be.
Tanya describes the act of creating a bespoke garment from scratch as an enjoyable exercise, the flexing of a designer's muscle. "I always feel quite excited when I first start cutting into the cloth."
READ: Wedding Hairstylist Brooke Mann Shares Her Bridal Hair Tips
Tanya is somewhat of a veteran when it comes to the art of the bridal gown. It's how she cut her teeth as a young designer in Dunedin, honing her skills with help from her team of tailors who were experts in impeccably crafting garments. Today, her ability to manipulate cloth into a garment with little use of seams is one of her design signatures.
"I would think a lot of my work is quite sculptural," she muses, "and the signature is working with minimal seams, so you're creating volume in the drape."
She utilised this skill recently to collaborate on a charity project with Kathmandu, creating a one-off wedding dress of Gore-Tex — a material Tanya describes as similar to old-fashioned taffeta — pleated around the body. She used one single piece of the material for the project, much to the team's amazement.
Tanya's custom wedding dresses have even been the focus of their own exhibition. Not All White showed at Dunedin Public Art Gallery in 2014, to celebrate 15 years of i-D Dunedin Fashion Week and Tanya's instrumental role in its development.
Arranged in the space on ten cuisinaire rod platforms designed by Michael Parekowhai, the gowns were donated especially for the exhibition by the brides who had worn them. As the name suggests, there were ivory dresses but also dresses in pink, green velvet and red lace, all exquisitely hand-crafted by Tanya.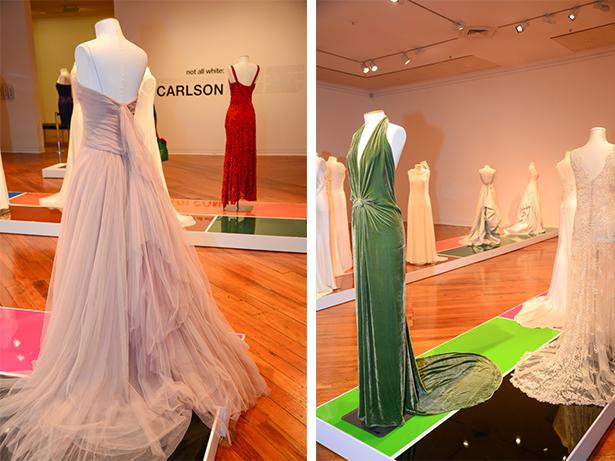 Though bridal gowns used to form the bulk of her made-to-measure business, over recent years it's evolved to be something she likes doing with clients she has a personal relationship with, or customers who have an existing love for Carlson through its ready-to-wear clothing.
She draws inspiration from the person themselves and references she compiles through research. "I really want people to look their best," says Tanya.
An enjoyable part of the experience for her is making something at a demi-couture level, involving hand stitched details and beautiful, high-end fabrics.
GALLERY: 9 of the Most Memorable Movie Wedding Dresses
Tanya professes to not harbour overly romantic sentiments; however she loves incorporating thoughtful details in homage to the bride's family in her wedding creations. She created a veil for one of her clients out of fabric from the mother of the bride's wedding dress; another dress had a secret embroidered "N" in the lining for the groom's mother who had passed away.
Tanya has seen many wedding dress trends come and go. For years it was "strapless, strapless, strapless" followed by a preference for lace and skin-baring gowns; what she describes as a "woodland fairy" look. Currently, she's seeing a movement towards more sculptural looks.
A recent favourite design that incorporated sculptural, flowing elements was broadcaster Melissa Chan-Green's wedding reception outfit, featuring white trousers underneath an asymmetrical, softly pleated top with a rear train.
Tanya also remembers a time when people were keen on a dress that could be worn again, but says these days it's more about perfecting a one-day statement rather than compromising on the dress for the purpose of re-wearing it.
Most of the women Tanya makes clothes for are quite independent, she says, and when it comes to settling on a wedding dress design, she doesn't try to change someone's mind too much. "I often think their first idea is their best idea."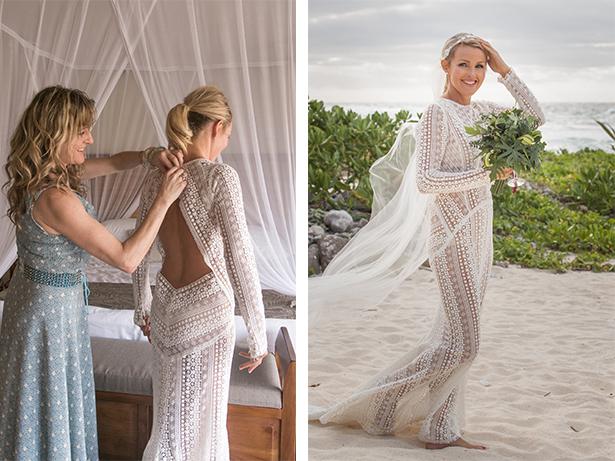 TANYA'S TIPS
• For your initial consultation, it's helpful to show the designer moodboards and images of what you're thinking for flowers, crockery, décor and any other details as it all helps to paint a picture of the overall mood of the wedding.
• Make sure you're very clear about the expense up front; don't be afraid to ask questions. Things like changing your mind and more fittings than originally planned will add cost to the overall process, as will different fabrics and details.
• Shape wear and underwear are important parts of the whole look, so ask your designer what will work best.
• If you're planning on wearing any jewellery or accessories, make sure you talk to your wedding dress designer about these too, so they can see how they'll work as part of the ensemble.
• If, at the stage when the dress is still in the calico pattern stage, you can't envision it or aren't happy – it's not right! Stop the process before it goes any further, because the designer will feel a lot better and so will you.
Share this: