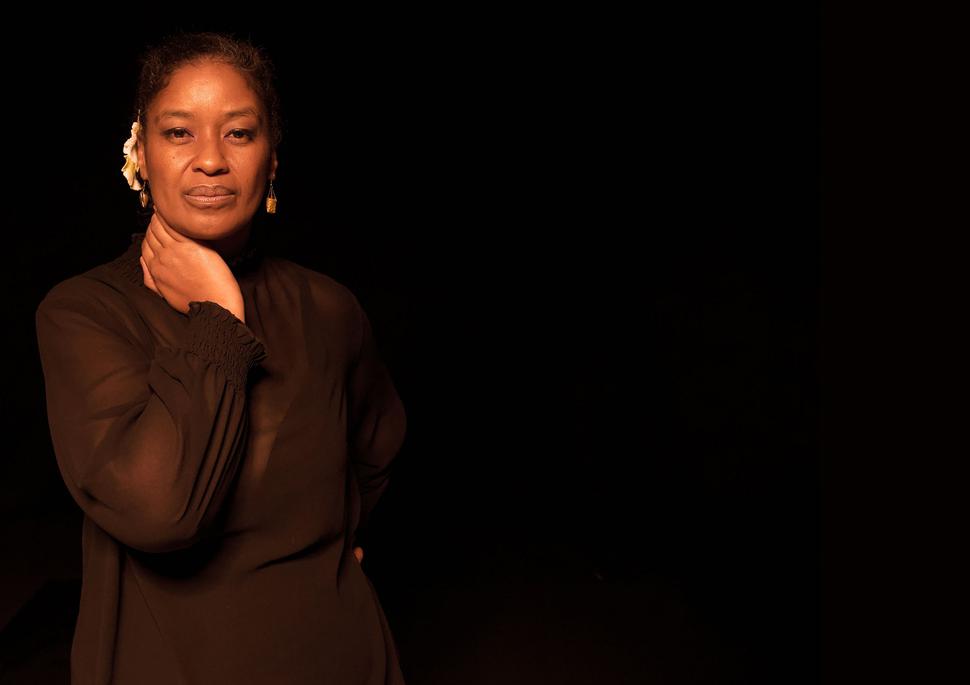 Artist In Residence: Sovereign Storytelling With Teremoana Rapley
Passionate and pioneering in her practice, a video diary marks a Tautai Fale-ship residency offering a snapshot into an album 35 years in the making
Saturday Nov. 20, 2021
As part of our Tautai Fale-ship artist in residence series, we get to meet some of the 10 artists who have successfully gained the opportunity to partake in this year's Tautai Fale-ship residencies.
The leading Pacific arts organisation's Fale-ship residencies are responding to global transformation through a localised lens, helping amplify, collaborate with and support the indigenous authorship of Tagata Moana artists in Aotearoa.
"The Fale-ships form part of a deeper kaupapa to bolster the creative expression of Moana artists during this time of great change," explains Tautai director Courtney Sina Meredith.
"The residencies are about more than platforming exciting talent during lockdown, they are driven by an indigenous determination to re-centre the power dynamic within the wider arts landscape. The celebration of Moana artists creating within their own sacred spaces is as political as it is beautiful. I cannot wait to see what these residencies inspire in the 10 selected artists and within the Tautai community."
Artist In Residence: The Graceful Moves Of Dancer 'Isope 'Akau'ola
The Tautai Fale-ship Residencies are generously supported by Creative New Zealand and Foundation North.
Our next profile is with Teremoana Rapley, whose multidisciplinary means of music, imagery, shadow-play, audio-spatial design, moving images and space collide for a deeper investigation into her creative processes.
Teremoana has simultaneously spent over 25 years producing both mainstream and indigenous television content; managed international and domestic entertainment tours; set up and ran a family screen-printing business; designed and delivered social change initiatives for both local and central government; and, after raising her four sons, continues a 30+ year musical journey with her highly anticipated debut album, Daughter of a Housegirl, set for release in 2022.
She is a multi-disciplinary and inter-dimensional creative, who provides space for an unhindered reconnection to her tupuna.
For her 2021 Fale-ship Residency, Teremoana gives insight into the life of a creative whose work is primarily based in live performance and stage shows.
Reflecting on how her home environment contributes to her creative process, Teremoana says, "Having spent so much time in lockdown and at home, I have spent the past two decades setting up each of our rental houses as creative spaces. Lockdown afforded me the time to spend in my creative space, Tautai provided the opportunity to think 'What is my creative space?'"
Over a series of diary-style videos, Teremoana shares insights into her time outside of her public, creative outputs and reflects on her work as upcoming gigs and events are cancelled due to the current and ongoing lockdown in Tamaki Makaurau.
The videos provide intimate insight into the reality of musicians working under lockdown conditions, and the drive to continue to create despite current circumstances.
How has this residency helped you explore what your creative space means to you as an artist?
The Tautai fellowship residency provided the privilege for deep exploration of my creative space by providing the time or space for me able to do this as I have a day job.
Like most other human beings that I know you need money to survive. My creative practice doesn't revolve around the transaction of money only. So time set aside to think about my creative practice and the context of where my life is, means money. 
So I can only really spend time on it when I have time to actually think about it.
What kind of support have you seen from fellow artists when it comes to navigating the challenges of creating music in lockdown?
In terms of support, I know that there are lots of opportunities currently coming from the Ministry of Culture and Heritage, NZ on Air, New Zealand Music Commission; there's been money that has been put into investing in terms of a Covid response for musicians and support.
But you'd have to be in a clique of other fellow musicians or fellow artists to see what sort of support looks like. So for me, I'm pretty much a loner in that space. But I do tend to support other artists.
Talk us through your new single Moving — what inspired the song both musically and lyrically?
My eldest son made the beats and wrote that song. Interesting, right? I don't sing other people's lyrics, but for my son, I would. I refined the tune, but that track was entirely penned by a 25-year-old Kahungunu, Cook Islands, Jamaican man, that I gave birth to actually. Ha! That song is a connection between myself and my son. He wrote it so that's in his domain.
What is your personal philosophy when it comes to identity and self-expression through clothing and adornment to help enhance the visual storytelling of your work?
I don't actually think about things in that context. I like colours. There are specific colours that I like and I love my skin tone colour. I like to think that I wear things that are complementary to my skin tone colour, my body shape, and my crown. I'm redefining the space that I operate in as a Black sovereign storyteller — I know what it means to me. 
But it can mean whatever you want it to mean to you in terms of the importance of enhancing visual storytelling — storytelling as in everything that you can touch, express and communicate.
ARTIST IN RESIDENCE: Mixed-Race Identity Politics With Digital Artist Tai Nimo
What energy will this new body of music possess?
My creativity is an extension of how I express myself and it seeps from every single pore of my physical body. The words that I'm expressing to you right now are my creativity, it's also how I approach my day job at an economic and cultural development agency as part of local government.
I use my creativity to express my work and how I comprehend my place and my day job. This is my heart, mind and soul being expressed, collected, recorded, and redistributed through analog and digital means to people's ears and eyes.
The energy of my debut album Daughter of a Housegirl will be all of that — my life, my family, my existence.
We talk so much about creativity being a "labour of love". What's your perspective on this?
In terms of putting the words "labour" next to "love", labour for me is what was forced upon myself and my people when colonisation arrived.
Whether my Black ancestors were listed as chattels on assets registers or since my mother arrived in this country from the Cook Islands in the 70s, with my father who is papa'a (Pakeha ) who met her in the Cook Islands and brought her to Aotearoa.
The only job she could get was cleaning toilets, a job my dad was able to get her through his job. Prior to leaving the islands, she was a toll exchange operator. She has been labouring since she arrived. So "labour of love" doesn't really come into the space of creativity for me.
Creating in lockdown as a creative being requires plenty of support from those around you. How have your family and kids provided you with inspiration and/or support?
I'm actually quite a loner, so I don't necessarily need to have support around me. In terms of inspiration, I am inspired by anything that touches my heart. I draw support from myself. I don't need to draw support from external sources.
If I need a sound engineer then I'll reach out and grab those technical skill sets that I don't have. I've collaborated with a whole group of people but I haven't sat down and thought, "Yep, I'm going to work with this person and that person".
I just look around at my mates and people that I know and I believe things happen for a reason. These people are in my life for specific reasons and sometimes the real challenge is just being able to look up and look out and see what is around you.
I also have worked my butt off to raise my own funds to support my own creative process and what I'm doing in terms of this creative space and whatever that interprets into other people's minds, whether it be a single or a video.
I'm also an acrylic painter. I'm a graphic designer. I'm a director, I'm a producer, event manager, tour manager; I do many things creatively, and all of those elements make up and communicate myself to the world as a Black Moana sovereign storyteller.
"Sovereign" is a word that you use to describe your work. For a young Moana artist from any discipline, what do you hope they might take away from your personal experience and storytelling through this residency?
Those are things that I don't really think about when I'm creating and it's something that I purposely don't take into consideration because, from a very young age, I was asked to be a role model. 
I'm assuming it's because I am brown because I didn't see any of my Pakeha counterparts being asked to be role models. So the experience that I want people to understand as a human experience, it's got nothing to do with skin colour, or with hair type or sexual orientation. It's got to do with being a human being and my own.
I treat people the way that I would like to be treated. I think that's a good marker for myself, a good way for me to carry my life.
It doesn't necessarily keep me safe all the time, but it helps to inform the type of person that I am, especially in times when it can be so challenging.
As much as I approach my life and my work without looking at people's skin colour, that doesn't mean that I'm treated in that same way. 
READ: Emma Espiner On What Does The Concept Of Identity Means In Aotearoa Today
But I think it's a way to approach life with integrity, and with dignity. For each lesson that you learn, you might get burned or something new gets put into your kete of life of how you approach life.
Those are lessons that really can only come when an experience happens where it's not, necessary, absolutely positive.
You know, there has to be balanced. So as much as there can be successes, your failures are just as important as success.
And it's the lesson that you learn from those failures that make it a success.
Share this: