TBT: The Best and Worst Onscreen Mums
What we learned from 9 of the most memorable TV and movie mothers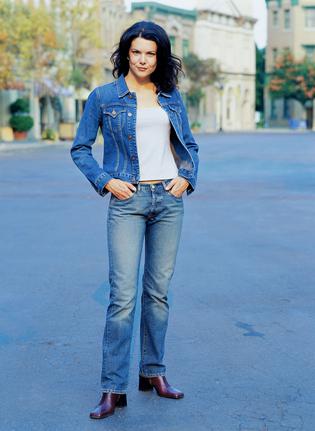 Jean Weir on Freaks and Geeks
Becky Ann Baker played the geeky-thinks-she's-hip mum so well in Freaks and Geeks, Judd Apatow brought her back to portray Loreen Horvath, mother to Hannah in Girls. In these brilliant shows, she illustrates how not to respond to a possibly-suicidal cry for help (from Hannah), and why you shouldn't trust your daughter (Lindsey) when you go away.
Edina Monsoon on Ab Fab
One of the best "bad" mothers on TV was played by Jennifer Saunders on Absolutely Fabulous. Eddie's daughter Saffy has to play mother, while Eddie parties and pursues a life of glamour. Her most important lessons include how a mother should dress (fabulously), and how not to treat your daughter.
Lorelai Gilmore in Gilmore Girls
Every child at some point wishes their mum was young and cool like Lorelai Gilmore. Lauren Graham plays the perfect mother to Rory, with her parenting inspiration ranging from allowing her daughter freedom to be herself, to embracing the consumption of pizza whenever possible.
Mrs Robinson in The Graduate
The gorgeous Anne Bancroft played the experienced woman perfectly, even though the actress was only six years older than her conquest and was made to look older for the movie. What we learned from her character? How not to fill your spare time, and why you shouldn't share love interests with your daughter.
Pam Jones in Bridget Jones's Diary
Bridget's mother, the slightly tragic Pam, has a special talent for screwing things up for her daughter, in a well-meaning sort of way. Gemma Jones' character shows us how not to meddle in your daughter's love life and how to celebrate Christmas with panache.
Mrs George in Mean Girls
"I'm not, like, a regular mom, I'm a cool mom," Amy Poehler's character on Mean Girls famously said. As the trashy suburban mum, Mrs George's lessons include how to rock a pink velour track suit, and how to responsibly offer alcohol and sexual protection to your daughter and her friends.
Nancy Botwin on Weeds
Mary-Louise Parker's Nancy serves as an excellent example of a bad but loving mother. She's the drug-dealing mum whose kids end up rather screwed up from the experience. Among other things, Nancy teaches us how to grow a business, and how to run from the law (though not always expertly).
Mrs Gump off Forrest Gump
Sally Field has played many memorable onscreen mothers, including Miranda in Mrs. Doubtfire, M'Lynn in Steel Magnolias and of course, Betty in Not Without My Daughter. But her best role was surely the fiercely protective Momma to Forrest Gump. Mrs Gump taught us how to foster self-love and acceptance, with her many pearls of wisdom.
Kate McCallister in Home Alone
Catherine O'Hara will always be remembered as the frazzled but loving mother of Kevin, the child she forgot to take on holiday. She taught us how to look glamorous in emergency situations (camel coat and gold earrings), and why pre-flight organisation is paramount. 
Share this:
More Culture & Travel / Staying In