The best of New York's dining scene
Douglas Rogers has tried almost everything New York's eating scene has to offer, once dining out with Tim Zagat of the highly-respected Zagat restaurant guides. He shares his top destinations.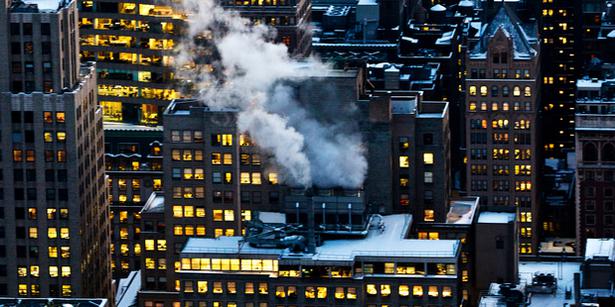 Wednesday Feb. 26, 2014
Some years ago, I did a dine-around of New York restaurants with Tim Zagat, the Orson Welles of the New York food world and one of the greatest restaurant critics of his time. I wanted to visit the top restaurants in the city as listed in his little burgundy-coloured guidebook, but we soon veered off-menu.
We visited seafood temples it usually takes months to get a table in; hole-in-the-wall sushi joints I'd never heard of; burger bars frequented by masterchefs. At one point, near Times Square, he stopped the limo to ask a Chinese delivery guy riding past on a bicycle whether he could sample his noodles.
I came away from that evening understanding that no city on Earth has the scale, variety or quality of restaurants in New York. Here are some of my favourites.

Prime Meats
465 Court St, Brooklyn, frankspm.com
Brooklyn is now a big foodie destination, and Frank Castronovo and Frank Falcinelli, of cult Italian-American restaurant Frankies Spuntino fame, have outdone themselves with their latest Carroll Gardens opening: a gorgeous, wood-panelled, 19th-century-styled, German-American eatery.
The pork belly and braised beef brisket in red cabbage are out of this world, while bar staff in bowties and braces mix cocktails such as the Applejack Sazerac or the Rubens Cooler. The period look and country music soundtrack add to the warm welcome. Ask barman Damian to invent you a cocktail.

Peter Luger
178 Broadway, Brooklyn, peterluger.com
Arguably the greatest steakhouse in the US, this amber-lit, wood-panelled gem in Williamsburg, Brooklyn, has been going strong since 1887. Frequently name-checked in The Sopranos, it has been owned by the Forman family of Brooklyn since 1950, and is famous for its rare, juicy porterhouse steaks (the owners always get the first choice of cuts from New York's meat markets).
Take a seat in the brass-chandeliered front room, next to politicians, mobsters, celebrities and sports stars, and let one of the famously surly Teutonic waiters tell you what you're having. Sides to go for are creamed spinach and a plate of tomatoes. Warning: it's pricey, and bring cash: they do not accept credit cards.

Grand Central Oyster Bar
E 42nd St, oysterbarny.com
There's more to the 1913 Beaux-Arts masterpiece that is Grand Central Terminal than catching trains. The lower concourse is an underground food world of some 20 restaurants and delis, the highlight being this glorious museum piece of a restaurant, as old as the station itself.
Join commuters and dedicated oyster fans at the long bar counter or at spacious booths, and order from dozens of varieties of oysters, mussels and clams flown in fresh from across America.
Venerable staff know their Prince Edward Island from their Maine oysters, and the vaulted and tiled Rafael Guastavino-designed ceiling sparkles overhead with hundreds of incandescent light bulbs as you eat. Come before 5pm - it's hard to get a table or a seat at the bar in rush hour.

Balthazar
80 Spring St, balthazarny.com
In the heart of SoHo, this timeless French/American bistro from British-born restaurateur Keith McNally is a modern classic. Enter through the curtained doorway and you find yourself in a hallowed, gold-lit space of high ceilings, mirrored walls and tiled floors.
Diners tuck into oysters and steak frites at cosy wood tables or red-leather booths in the main dining area, while designer-clad women and suited men wait their turn sipping cocktails and champagne at the elegant marble counter to the right.
The raw bar is superb, as is the wine list, and don't be surprised to bump into Uma Thurman or Gwyneth Paltrow checking their makeup in the bathroom. They do a great breakfast, and have a bakery, too. Book well in advance.

Restaurant at the Mark
E 77th St, themarkrestaurantnyc.com
The latest from master French chef Jean-Georges Vongerichten, located in the fabulously restored Mark Hotel, is the ultimate blue-chip Manhattan experience: fine-dining mixed with high-grade people-watching.
At lunch, Upper East Side heiresses with dogs in their purses pick at salads, oysters and foie gras while their town cars idle outside; at dinner, Wall Street tycoons and Madison Ave millionaires come for perfectly balanced Vongerichten specialities such as a tuna tartare and grilled black sea bass with fennel.
The scene in the adjacent pink-lit bar area could have been choreographed by Vogue; take one of the cowhide chairs, sample a signature kumquat mojito, and check out the supermodels.

Eleven Madison Park
11 Madison Ave, elevenmadisonpark.com
The finest dining experience in New York, bar none. Swiss culinary genius Daniel Humm's soaring space above Madison Square Park is grand enough: skyscraper ceilings, towering tree arrangements, sky-box dining suites. But the endlessly reinvented food is what you come for.
The diagram menu that made the space famous has been replaced with a tasting menu dedicated to all local New York farm and sea ingredients: oysters, scallops, lobster, duck, and aged beef.
The foie gras terrine with plum and bitter almond is a delight, and the sturgeon presented as a take on a New York City bagel is mesmerising. Call months in advance to get a table. Tasting menu $245 lunch and dinner.

Shake Shack
Madison Square Park, shakeshack.com
What started as a hot dog cart in Madison Square Park in 2001 is now a national franchise, the hot dogs having been joined by a spectacular selection of gourmet burgers and shakes. As for the cart, it is now a busy kiosk with a queue lined up around the block and garden tables outside that are permanently packed.
The DogMeister topped with cheddar, American cheese and shallots is a hit as far as dogs go, but we like the SmokeShack burger: a cheeseburger topped with smoked bacon, cherry pepper and a tangy sauce. The queue at lunchtime is always long, so come before noon.

Dos Toros Taqueria
4th Ave, dostoros.com
If it's a quick bite you're after, I defy anyone who has tasted the guacamole-filled pollo asado (grilled chicken) quesadilla not to come back here for more. This is Mexican food made from super-fresh ingredients, with friendly service and in funky surroundings, with informal bar-stool-style seating at tables made from reclaimed wood.
The menu is a simple list of burritos, tacos and quesadillas, and you go to the counter and tell the staff what you want and which extras to add. One burrito will keep you going all day. There are three other locations in the city.
Share this:
More Culture & Travel / > International