The Fashion Secrets Behind Netflix Show The Crown
The award-winning wardrobe designer of Game of Thrones and The Crown on getting the royal look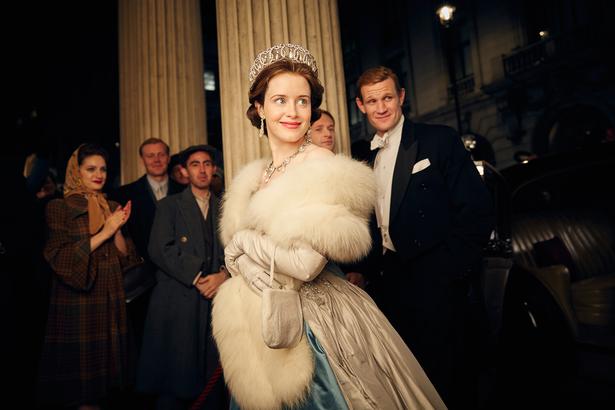 Monday Nov. 7, 2016
Michele Clapton is one of the most in-demand costume designers in the world right now. The British talent behind the Emmy-award winning wardrobing of Game of Thrones, was temporarily tempted away from that sprawling medieval mega-show to take on a tribe even more daunting even than The Wildlings - the Royal family. She's responsible for the sumptuous wardrobe in The Crown, released on Netflix this week - the most expensive TV series ever made.
Written by Andy Morgan and produced by Stephen Daldry, the first 10 episodes that is set to span decades, follows the House of Windsor from the mid-1930s, through the death of George VI and the beginning of the reign of Queen Elizabeth II. Reimaginings of public events are interlaced with fictitious private scenes brought to life by a cast including Claire Foy as the young Queen, Jared Harris as George VI, Matt Smith as Prince Philip, Vanessa Kirby as Princess Margaret and John Lithgow as Winston Churchill. Apart from providing the best (imagined) royal eavesdropping since The Squidgy Tapes, it is a lush and beautifully costumed visual feast.
"I love these 10-part dramas because they give you a chance to really explore the stories in a way that film doesn't," says Clapton. "The BBC does a great job but its budgets don't allow you to explore in the same way as Netflix or HBO."
What portion of the massive budget she bagged for her department she won't reveal, but certainly enough for the costumes to be one of the show's big draws - particularly the looks worn by the Queen and Princess Margaret as they are portrayed in their twenties. The day before our interview Netflix threw a "salon show" in a venue not far from Buckingham Palace, where the costume designer talked through the princesses' costume highlights.
Apart from the Queen's wedding and Coronation gowns, most of the garments are inspired by rather than copies of clothes worn by the Queen and Margaret - which is why some eagle-eyed viewers may spot some inaccuracies. "But replicating everything would have been so dull," says Clapton. "When it comes to finding the essence of someone, you look at their wardrobe, you look at what they might have worn and you then create the look without being really pedantic about it."
READ: Why Royals Have to be Fashionable
The style of each woman reflects their different status and nature: Princess Margaret was more of an extrovert and a natural performer than her older sister and with a more minor role was able to be less conventional.
"At the beginning of the show where they're relatively close the costumes aren't so different," says Clapton. "But as the series develops you see how far apart they become.
WATCH: The Crown trailer:
"Initially you only see the Queen totally at ease in her mac and her jodhpurs, driving a Land Rover," says Clapton. "For the rest of the time I wanted her to look as though she'd been told to put these clothes on for her job. They're meant to look as if they'd only had one fitting, because that's all she would have had time for. But Margaret's dresses have had two or three - the waist is tighter, the skirt is fuller. She could do that because she had the space and time to be a fashion icon."
READ: The Queen's Flawless Royal Style
As the Queen settles into her reign she moves into what Clapton calls "the uniform dresses" - traditional styles, in blues or pinks. "It's the idea that once she was confronted with meetings with Churchill and men of stature - and often the only woman in the room - she wore things she didn't have to think about. It was feminine but it almost hid her, like an armour."
That's not to say that Claire Foy's Elizabeth looks dowdy. In the early years of her marriage and coronation we see through her breezy full-skirted dresses and colours, just how astonishingly young a monarch she is - just 25 when she ascended the throne. "She's safe and neat but I wanted that freshness," says Clapton. "In one scene she finds out there are 100 dresses for the 1953 Commonwealth tour and she's amazed. But they were selling the New Look Britain. Suddenly they had this new young queen. It was such a vehicle for Britain to show London style."
But it is with Princess Margaret, that Clapton was able to go to town. She's seen in confident, feminine fashion - whether it's a one-shouldered pink gown when telling her sister that she's engaged to Group Captain Peter Townsend, or a sharp pencil skirt and a satiny blouse as she's flirting on the phone to him, or lounging in a pair of fabulous silk pyjamas. "With Margaret I tried to be a bit more sophisticated, so I put mauves with mink and used a bit of Brutalist print. I wanted to show what was going on in architecture, what was happening in Soho."
One of her favourite looks is a dramatic macintosh with upturned collar that Margaret wears with movie star sunglasses after Townsend is virtually exiled from the country (their marriage was forbidden as he was a divorce). "I love that even then she's playing for an audience: 'This is me being devastated'."
Portraying other characters was almost as much fun. "We had to make a fat suit for Victoria Hamilton who plays the Queen Mother and another one for John Lithgow to try and create the extraordinary hunched shape of Winston Churchill."
But Clapton, who is back at Game of Thrones, didn't feel any trepidation about helping to portray real people. "It's a very complex, well-written piece that I don't think is disrespectful," she says. "It just asks some questions. Who knows if we're right but in terms of story it's very empathetic. I think it's a great PR job for the Queen, actually."
- The Daily Telegraph
The Crown is available on Netflix now
Share this: