A luxury island escape
Fiji's luxurious Dolphin Island hotel is guaranteed to put your holiday on a whole new fabulous level.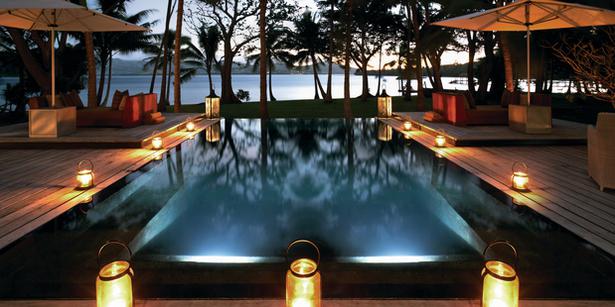 Friday July 4, 2014
A private island. All to ourselves, apart from the beautiful people whose role it is to make sure our every whim and comfort is looked after. And it's not that far away, Fiji; just a short flight - business class of course - with Fiji Airways. It's our chance to leave the cold wet winter of Auckland behind.
Dolphin Island, owned by Alex van Heeren, who also owns Huka Lodge in Taupo and Grande Provence Estate in South Africa, sits at the northern tip of Viti Levu. It's a mere 5.5ha and you can arrive by sea plane, helicopter, your own luxury yacht or, as we did, take a three-hour drive through the Fijian countryside before jumping on a longboat and arriving by sea.
At the end of the jetty, Dawn, the island's manager, stands with a wide smile and open arms. "Welcome home," she says and pulls us close in a big hug. All the tension in my body dissolves immediately and I almost cry. "You are the only guests here. This is your home now."
My partner and I look at each other and throw back our heads with joy.
For the next 48 hours, Dawn is as caring and thoughtful as a mother, pre-empting our every need and showering us with kindness and a never-ending array of fabulous food.
Our luxurious bure - just one of four - is the size of a small house, elegantly fitted out with every modern luxury you can imagine as well as touches of Fijian history and plantation-style furniture. Bifold doors push back to allow in the gentle swishing sound of the ocean and the sweet warm fragrant air, which wraps itself around us like an exotic cocoon of luxury.
We take a stroll around the grounds, before heading to the main bure for a glass of Champagne before lunch - our first taste of Dawn's delicious cooking and what will be the first indication that every meal with Dawn is a feast, even if there's just two dining.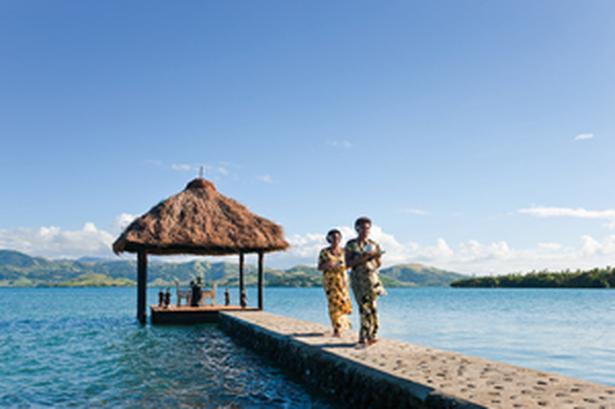 There's a fish curry, beef curry and lamb curry, plus naan bread, two different salads, asparagus, okra and more. Breakfasts are platters of fresh pineapple, papaya, passionfruit, banana, kiwifruit ... an array of cereals, pastries, breads, eggs in every shape or form you desire, bacon, sausages, mushrooms ... Dinner? whatever you can imagine and a whole lot more.
Our sense of time disappears with every lap of the tide, and we sleep, read, sleep, read ... on the bed, on the loungers by the pool, in the hammock, on the loungers by the beach, back on the bed. Before we know it's time to feast again. Dawn is a generous host, not just when it comes to the food she creates, but also the sharing of herself, and her wisdoms of life. She brings a richness to this island experience far beyond the cash that it takes to stay here.
The next morning a monsoon rain takes hold and beats its relaxing rhythm on the thatched roof of our bure. There is nothing to do but give ourselves up to the joyous combination of rain and warmth. We read some more, play board games and doze. Ashamed at our laziness we decide to go out and play.
We put on our togs and run through the rain, dive off the jetty into the warm ocean, before laughing and shrieking as we jump in puddles and back to plunge into the swimming pool. We're big kids - and who cares - this is our playground to do with as we please. We fill the giant bath in our giant bathroom with hot water and coconut milk bubble bath and soak up the pleasure of feeling free of responsibilities.
To indulge ourselves even more we opt for massages and Elizabeth from a neighbouring island comes across by boat, with her husband carrying the massage bed, and sets it up in the next-door bure.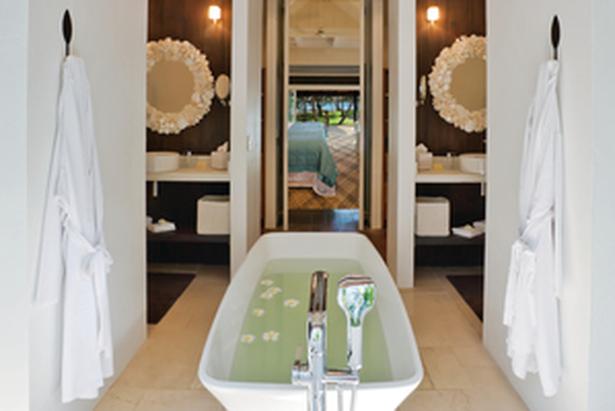 "I only have six children," she tells me. "And 16 grandchildren, and three great-grandchildren. We all get together at Christmas and the children come in the holidays. They do all the chores, that's how they learn. I don't do anything when they come to stay, it's the Fijian way."
Elizabeth and her husband are the caretakers of a property owned by foreigners. "We don't have chickens or dogs. The businessmen, when they come, don't want to be woken by noisy animals. 'We are here to relax', they say. But they are always on their laptops," Elizabeth laughs, shaking her head.
The massage is strong and firm. "I have healing hands," she says. "I learned from my mother and my grandmother. It's a gift from God. When I was 9 years old, my aunt went into labour and I had to deliver the baby. 'Do you want your cousin to die?' she said. 'You have to do it'. I was shaking. I got out the baby, wrapped him up, and put the cords and placenta in a sack."
Elizabeth and Dawn are good friends. Two strong women living the island life. "We look out for each other." My heart fills.
We have been on this island for 48 hours, yet it feels like a week. As the small boat comes to collect us from the jetty there's an overwhelming sense of gratitude. To Dawn and her helpers Bunny and Minnie, who have given us a gift far greater than they will ever know. The gift of time, to be in the moment, to recharge, to reconnect.

• Amanda Linnell was a guest of Dolphin Island (dolphinislandfiji.com) and flew there with Fiji Airways, which is the only daily airline to offer business class from New Zealand to Fiji, with its new A330 offering a premium business class experience. Business class passengers enjoy exclusive check-in and access to the business class lounge. Fiji Airways offers up to 14 flights a week from New Zealand to Fiji, with business class options from Fiji on to the US, Hong Kong and Pacific Islands. For more information go to fijiairways.com.
Share this:
More Culture & Travel / > International