Where to Stay: The Johnson, Brisbane
Brisbane hotel The Johnson has world-class facilities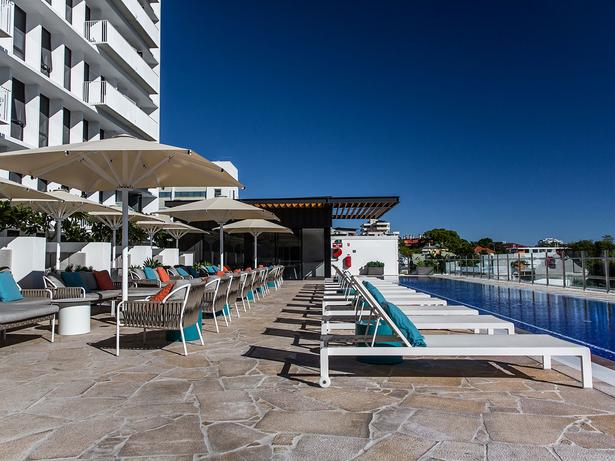 Friday May 26, 2017
From the road, the black boxy structure of The Johnson's restaurant and entrance makes a striking statement, as does the multi-coloured steel sculpture that graces the courtyard. It's not clear if this is an art museum or an art precinct. It's neither, but art does play a central role in this playful hotel, which is also home for the full-time residents of its 193 apartments.
The feeling is one of Melrose Place, but on a much larger scale. The hotel has world-class facilities, including a 50m lap pool, designed by Michael Klim. This stunning pool overlooks the homes of Spring Hill and the city, and there are plenty of sun loungers and chic booths to enjoy a weekend lunch. Also on the deck, a barbecue area for locals that brings families and groups together.
The hotel is one of six around Australia in the Art Series Group that includes properties in Melbourne, Adelaide and Queensland. Each hotel takes design cues from an Australian artist of distinction. The artist on show in Brisbane is abstract artist Michael Johnson whose colourful abstract works are inspired by the Australian landscape.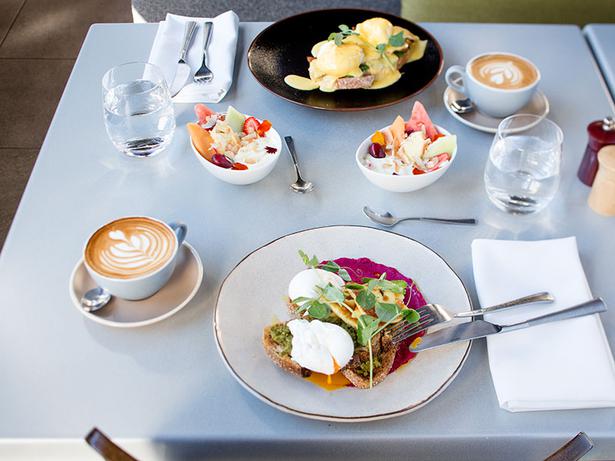 His large colourful prints grace the walls of each self-contained suite, the lobby and restaurant whose palettes are all inspired by the artwork. Our suite was spacious, with a small balcony overlooking the city. The full kitchen featured marble benches and the living area had a comfortable sofa, a dining table and plenty of art books to pass the time. The bed, separated by a glass wall was cosy and the bathroom was compact.
The Tumbling Stone painting was the inspiration for the on-site Tumbling Stone Restaurant, the work inspired by the natural beauty of North Queensland — the rainforests, rivers and ocean. The eatery is elegant in black cedar and has an indoor-outdoor feel with hanging plants and booths.
Residents pop in to dine when they can't be bothered to cook, making the place always seem buzzy. Our meal was outstanding, we chose pan-roasted barramundi with spinach, toasted seeds and goat's curd with a salad of baked fennel, orange, almonds, spiced squid and saffron.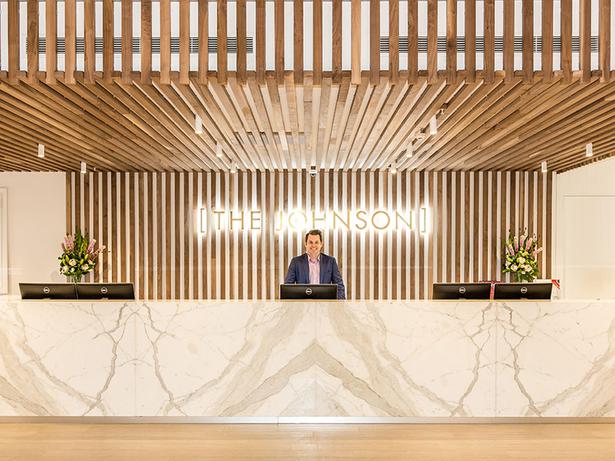 Other points of interest are the in-house art libraries and the in-room dedicated art channel that has an interesting documentary on Michael Johnson's life.
The mantra of the Art Series Group is to locate the hotel in the most vibrant art and culture hubs and this fits the bill for The Johnson. Also check out nearby Spiro Grace Art Rooms (SGAR), a Spring Hill cottage turned art gallery.
Also a short 10-minute hop by car to the Gallery of Modern Art (GOMA) and the Queensland Art Gallery QAG, the hotel provides day-rental smart cars and hire bikes if you need wheels.
• 477 Boundary St, Spring Hill, Visit Artserieshotels.com.au
Share this:
More Culture & Travel / Going Places