The man shocking the fashion establishment
If fashion, as Jeremy Scott claims, is all about youth and setting the tone of the moment, then he's right on song at Moschino, says Lisa Armstrong.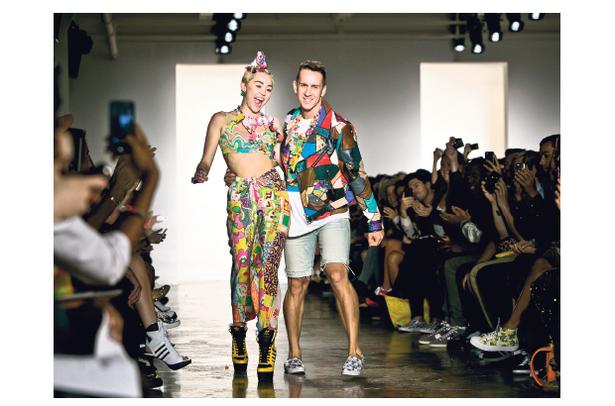 Thursday Dec. 11, 2014
Black sweatshirt patchworked with flags, demi-shaved, carrot-top quiff, Adidas trainers cunningly designed to resemble a kind of two-tone brogue, tofu salad - Jeremy Scott blends right in with the sleek, international crowd murmuring over their lapsang in Claridge's.
The love affair between rap stars - to whom 41-year-old Scott bears far more resemblance than the average fashion designer - and olde-worlde five-star hotels is as ancient as the Beastie Boys and, in its way, a clear demonstration of his world view.
"I don't think the distinction between high and low culture exists anymore," he says in his soft, considered Missouri tones. "McDonald's, Barbie - they're all icons, recognisable from London to Timbuktu."
True enough. Yet the McDonald's collection for his debut last February at Moschino, the much-loved 31-year-old Italian label, achieved the near impossible: it shocked the fashion establishment.
The degree of unease it inspired is odd, since Franco Moschino, the label's founder, rejoiced in taking jokey shots at the fashion system. It wasn't just the combination of McDonald's french fries - yellow and ketchup-red at a house that had, for two decades, reliably produced little black dresses and boucle jackets - that alarmed. This was a youthquake that rattled the foundations of Milan, that most staid of fashion capitals.
Perhaps because of the rapid democratising changes in the business brought about by the internet (everyone can critique a fashion show instantly), it felt too close for comfort.
Some of the establishment didn't return for his second show in September. They missed a homage to Barbie, with roller-skating models in platinum wigs, bubblegum pink lipstick and shrunken fuchsia leather.
"Honestly, it shocks me that people found it so shocking," Scott says, eyes popping with what looks convincingly like hurt. But he's not really hurt, he insists. "I'm glad it inspired dialogue, because so few things do today."
Fashion's grander dames may find his world view problematic in an era that fetishises luxury, and where the accepted business model is to woo the stratospherically rich with artisanally crafted skins and four-ply cashmere. However, the under-30s adore it.
This is not the aspirational suction they might feel towards a coolly aloof (and way out of their price range) label such as Saint Laurent, another brand that is unashamedly by-passing the approval of respected fashion critics to appeal directly to the youth market, but a genuine affection for a fancy fashion house selling them stuff they can afford.
Moschino's McDonald's phone-cases, available immediately after that first show, became such a cult that versions created out of actual McDonald's cardboard packaging started to appear on Instagram - a post-post-modern joke that tickled Scott mightily. A similar success seems assured for his looking glass, pink rubber Barbie phone case.
It's not exclusively youth who appreciate the levity. At the recent Harrods launch of Toy, Scott's first perfume for the house, the throng of excitable fans - that probably is the best word - waiting to buy the "woody" scent in its fluffy teddy bear bottle (a tribute to Franco Moschino's 1988 bear-festooned dress), included "at least one eager client who must have been about 70", reports Scott.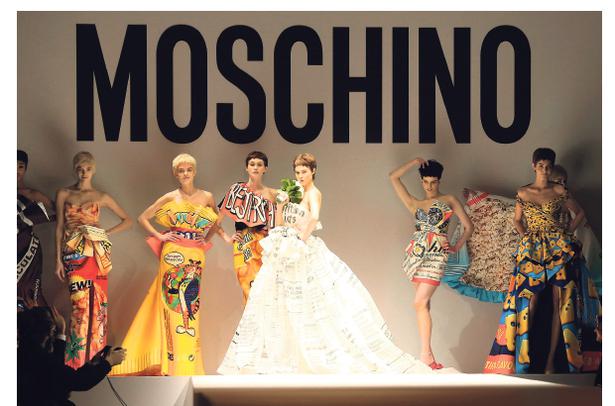 But let's not get bogged down in age. Moschino hasn't been this hot since the 80s. Whether or not it's ironic is a moot point. The queues to get into the Barbie show were unprecedented, with crowds standing three deep at the back. Scott professes to love Barbie and not see any problems with the cultural reach of her unrealistic body proportions.
"I really don't see little girls growing up and thinking, 'Oh, I'm going to morph myself so I look like Barbie'. Barbie's a doll. That's all. It's make-believe."
It's possible not to agree entirely with Scott, but hard to dislike him. He is courteous, thoughtful and - unusually in fashion - unpretentious.
"I don't care if the critics don't like me. I want to be the people's designer, like Diana was the people's princess. Fashion," he avers, "should be joyous."
I think he really means this. He probably has the least complicated relationship with fashion of any designer I've met.
His teenage years sound very Lord of the Flies. He was beaten up daily, he says, for walking down the street in clothes that didn't meet the approval of his denim-wearing peers.
"Missouri was devoid of fashion. No chicante [elegance] at all. My fashion leaning is a miracle," he muses, although thinking about it, he says, it could be a throwback to his farming grandparents. "My grandmother was always making hats, tea cosies, out of the plastic bags the vegetables came in."
Perhaps part of him enjoyed the response this transgression provoked. By 14, there he was in cattle country, deciding to become a vegetarian and enrolling in French classes because he'd figured out he needed to end up in Paris in order to design clothes.
The path to his chosen career was not smooth. A letter from New York's Fashion Institute of Technology, one of America's most prestigious fashion colleges, informed him: "I was lacking in - let me get this right - creativity, originality and artistic talent.
I was shattered. When my portfolio eventually returned, all the art work was folded up into little pieces. Now I can imagine that whoever wrote that letter must have been so horribly upset with their own life, but it's just so ... rude."
Eventually, he made it to the Pratt Institute in Brooklyn and was so thrilled at being accosted by people who wanted to compliment him on the 1880s' and 1980s' mash-up he was wearing that he began to look even further afield. At 21, he pitched up in Paris with six suitcases, no money and not a single contact.
"To be honest, I hadn't really thought it out."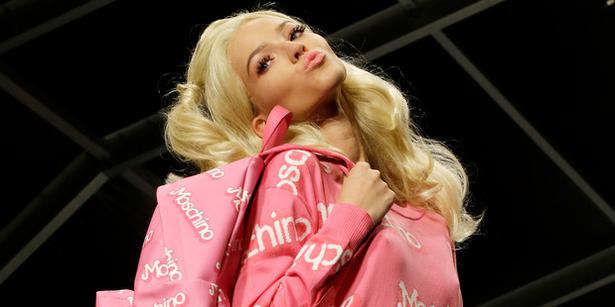 Some nights he slept on the Metro but, within a year, he'd made enough friends to stage his first show. Few journalists turned up, but one who did hosted a fashion show on French TV and featured Scott prominently. By his third show fashion's elite - including designers Raf Simons (now head of Dior) and Hedi Slimane (Saint Laurent) - were in the front row. Tom Ford later became an unlikely champion.
Six and a half years later, Scott had moved to LA, won the Venus fashion award for best newcomer (twice), picked up a nomination from the CFDA, and forged a successful relationship with Adidas.
"The people in Paris were completely supportive and charming," he says. "I know that's befuddling, but that's how it was."
Maybe it's his apparent lack of business guile that charms. "I am so not a businessman," he insists, recounting how, when interviewed by Parson's College, they asked him who he thought his customer might be. "I said, 'I guess that would be my friends', and they said, 'that so isn't going to work'."
However, it was prophetic on his part: the legions of Scott-ites see him as one of them. LA's sunlit lifestyle suits him, as does its music industry eco-system. Gaga, Miley Cyrus, Britney Spears (most notably in her air-stewardess uniform in the Toxic video) all wear his clothes. Katy Perry, whom he began dressing when she was making religious music, flew to Milan for his first Moschino show.
It never occurred to him that he couldn't design an Italian label out of LA. Slimane is based there, as is Rick Owens. "It's not as if we all hang out - although I have dinner with Hedi now and then. We're all working really long hours, but that's how the industry is."
To those who say his humour is a blunter instrument than Franco Moschino's, he responds: "Mine isn't so ironic. I love the things I play with in the collections."
As for those customers who require camel cashmere coats: "I think there's enough of that out there already.
"To be honest," he adds, looking this camel cashmere lover sweetly in the eye, "I don't really think of that stuff as fashion at all."
Share this:
More Culture & Travel / Features & Profiles