The New Talent: Shane Petana
We meet the talented teenager, Shane Petana, who is a part of a project that sees 12 rangatahi [youth] matched with leading creative New Zealanders to develop plays, art and music.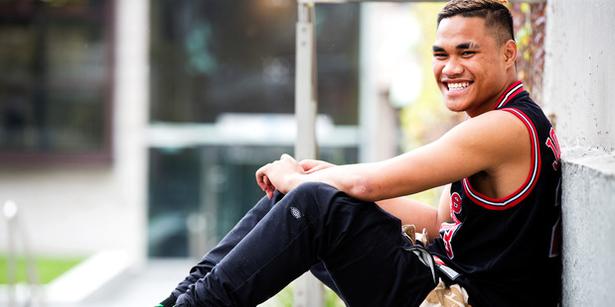 Wednesday Oct. 29, 2014
Last week Shane shared his story as part of Manawa Ora: Stories from the Street, a project that sees 12 rangatahi [youth] matched with leading creative New Zealanders to develop plays, art and music. The stirring performances are the brainchild of Sarah Longbottom, founder and creative director of the Nga Rangatahi Toa Creative Arts Initiative which uses creativity and arts mentoring as a way to re-engage with youth who have fallen through the cracks and help them into tertiary study or employment.
"I developed Manawa Ora to provide our rangatahi a highly supportive environment of love, kindness, compassion and creativity where they can make sense of and take ownership of some really challenging life experiences," says Sarah. "Their bravery in bringing their stories to the Manawa Ora stage lays down a challenge to all of us to speak truth and be real."
Shane worked with his mentor, actor Vinnie Bennett, to develop a one-act theatre piece. "My performance was about my life story and how I was brought up by my twin brother, cos there was just the two of us. It was about expressing myself, my feelings about everything that has happened to me."
The 17-year-old is studying Sport & Recreation to achieve Level 2 & 3 NCEA at SENZ, and hopes to become an NRL star when he's older - but is looking forward to getting on stage and performing again. The best part of the Manawa Ora experience, says Shane, was getting to know Vinnie and "spending time with everyone involved, all the kids and mentors. I have never been so free around everyone; I have never felt so much love".
BELIEVE IN YOUR TALENT
"I think [the rangatahi] gain an understanding that there is love, kindness and goodness in this world and this starts from within," says Sarah. "They begin to understand themselves and others as equals. I think they start to believe in their own talent and know that anything is possible."
WORKING WITH VINNIE
"It was awesome because it felt like he knew where I was coming from, and he did know where I was coming from," says Shane. "It was good to know I am not the only person who has had struggles, and to know I can still achieve a lot like he has."
THE BEST ADVICE I'VE RECEIVED
"Just be myself and don't be afraid of anyone or anything. Vinnie, my mentor, told me that."

• Read more and donate to the fantastic work of Nga Rangatahi Toa atngarangatahitoa.co.nz.
Share this: