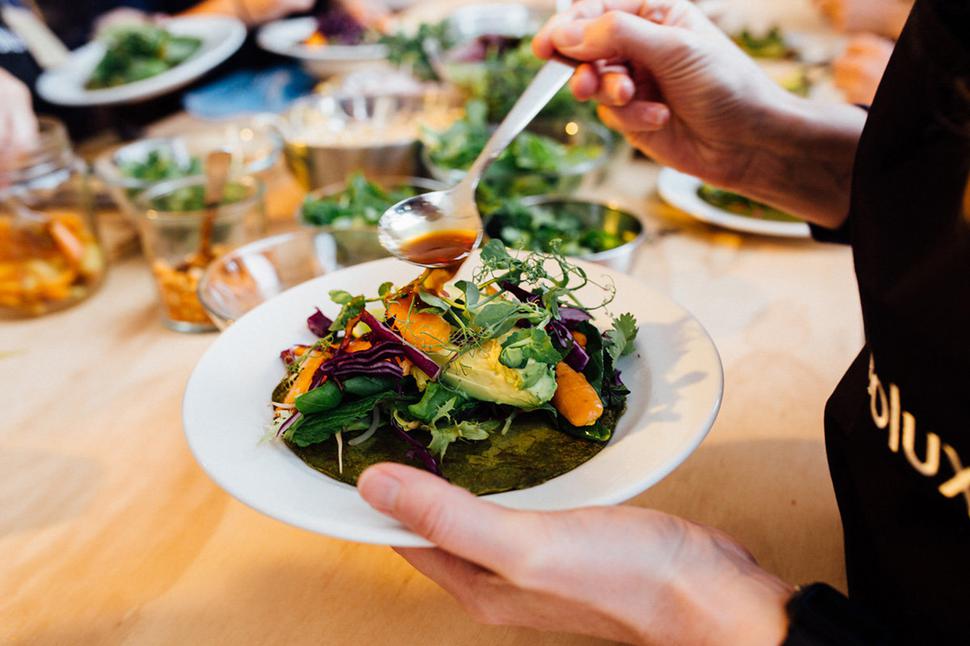 Highlights from Taste of Auckland
A round-up of what the Viva team ate, saw and did at this year's Taste of Auckland
Friday Nov. 17, 2017
Auckland's largest food festival kicked off at Western Springs on Thursday. The sun was shining, the tunes were playing and all around was the aroma of incredible dishes being prepared for the foodies who had flocked to Taste of Auckland to sample some of Auckland's best restaurants present their festival fare.
Here's a quick round-up of what the Viva team experienced that night. 
Viva editor Amanda Linnell with Ray McVinnie and George Calombaris pick the best in show
Australian chef and MasterChef judge George Calombaris joined Ray McVinnie and Amanda to judge the Best in Taste Awards. The lucky three got to taste the restaurant dishes in the festival before deciding on the top three dishes.
Saan came in third with their crispy fried soft shell crab, Tok Tok took second place with their crispy duck and Miss Moonshines took top honours with their Hawke's Bay lamb, fired pumpkin and chimichurri. 
Tasted: Tok Tok's Crispy Quarter Duck
This dish is a duck-lovers dream. Beautifully juicy pieces of duck are served with a light and flavoursome dressing that honours the much-loved South East Asian flavours of coriander, chilli, Vietnamese mint and ginger, while still managing to let the savoury flavours of the duck shine through. The portion size of this dish is generous enough to share with your mates, who'll definitely be eyeing up your choice. — Shoba Pillai, digital editor
Tasted: Miss Moonshine's Spicy Fried Chicken
After hearing the results, I had to get a dish from the winning restaurant, Miss Moonshines, where I enjoyed the spicy fried chicken on the Viva bean bags. The slick team had my order ready in a heartbeat, and the flavours were delicious. And amazingly spicy! — Lucy Casley, designer
Spotted: Baduzzi's Karitane Crayfish
As one of the icon dishes from Baduzzi, it's no wonder this sold out before we got the chance to sample it. But gawking at what others are eating is half the fun of a food festival, and this seafood dish caught our attention. Half a crayfish is grilled and and smoked, with smells reminiscent of barbecues at the bach by the sea.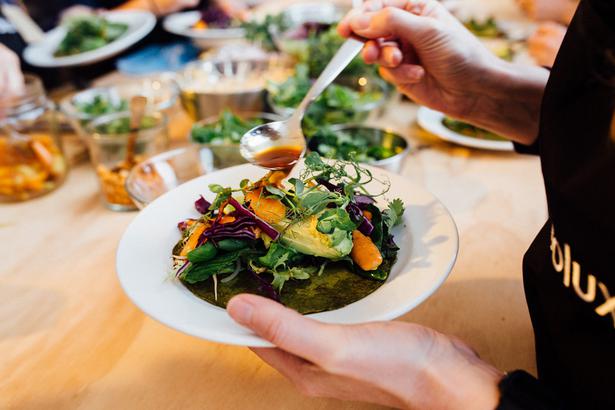 Cooked: With Sean Connolly
We were lucky to be invited to the Electrolux Chef's Secrets kitchen to get up close and personal with chef Sean Connolly. We just loved his casual approach to teaching, and in our session, we attempted an incredibly simple Italian dish of buffalo ricotta gnocchi with a mushroom medley. With a buttery Chardonnay to match the buttery sauce, we were thoroughly pleased with our efforts in the kitchen and in the company of a lovely crew. Who knew gnocchi could be this easy!?
Tasted: The Vodka Room's Confit Octopus
Served with kefir butter beans, fermented heirloom tomatoes, pickled onions and croutons, this is a chewy, tangy, light-yet-complicated dish. A great choice when you want to make sure you've still got room for another dish. — Kim Knight, Canvas Magazine feature writer & friend of Viva
Tasted: Tok Tok's Spanner Crab with Seared Scallop and Betel Leaf
This was so tasty — fresh leaves piled high with zingy spiced crab and a seared scallop. After taking a few bites, you can wrap the crab up in the leaf and eat it, sort of like a very unique burrito. — India Essuah, digital assistant
Spotted: Christmas gift ideas
Looking around the stalls, we also gathered a lot of inspiration for foodie Christmas gifts from Six Barrel Soda Co., Cook & Nelson, and Quick Brown Fox Coffee Liqueur — there's no excuse not to get a few things under the tree early if you're heading along to the festival.
Watched: Demonstration by Dariush Lolaiy
On stage at the Taste Theatre was Cazador's Dariush Lolaiy whipping up a rustic pheasant dish. We could've stayed longer but the night was getting on and there was so much more to explore. There's a great line-up of chefs for the duration of the festival so mark it in your festival schedule, and get yourself a hot spot at these free demonstrations.
Wandered: Artisanal shops and stalls
We perused the market shops and stalls to discover even more deliciousness from the artisanal products on offer. Pickles, dips, sauces, sausages, coffee, chutney, yoghurt and plenty of wine and beers kept us sampling and shopping for a good chunk of our festival time. 
Chilled: At the Viva Lounge
It was all getting a bit much for some of us, so we pulled up a bean bag and chilled out at the Viva Lounge, where we got to indulge in our other favourite festival activity: People watching. 
Finished: With Duck Island ice cream
You don't always have to drive to Hamilton to taste some of the best artisan ice cream in the country. Go old-school and ask for a taster of peppermint slice - they make the slice from scratch before adding it to the ice cream. 
Share this:
More Culture & Travel / Going Out