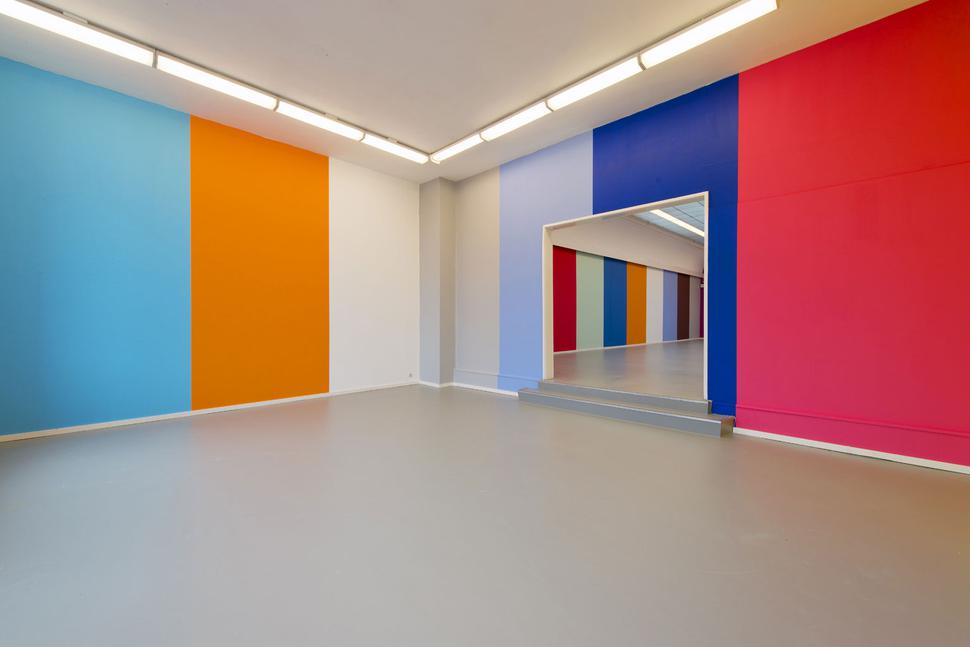 21 Great Things to Do in December
The art, film, food and music events you need to know about around the country this month
Tuesday Dec. 1, 2015
1. Julian Dashper & Friends
A tribute to an artist who changed the way people viewed New Zealand art history, discover the late Julian Dashper and take a journey through his art in conversation with works by other national and international artists. The exhibition consists of paintings, sculptures, photographs, a video, and a giant road sign from artists including Rita Angus, Colin McCahon, John Reynolds, Billy Apple, Jan van der Ploeg and Marie Shannon and many more. 
— City Gallery Wellington, 5 December - 25 April. citygallery.org.nz
2. K'Rd Stories
Ten fictional narrative short films set on Auckland's Karangahape Rd are being shown at different locations as part of the First Thursdays Festival.
 —  Different locations along K Rd, December 3, repeating every 15 minutes from 6pm-9pm. kroadstories.com
3. Food Space at Silo Park
Mobile food vendors will flock to Silo Park every Wednesday over summer for Food Space, a relaxed eating experience offering diverse international cuisine, craft beer, local wine and music. The first event kicks off tonight, with favourite stalls Dixie Barbecue, Taco Loco, Stumpy's Pizza, The Beverage Sisters, to name a few, setting up shop.
— Silo Park, every Wednesday from December 2 until March. foodspace.co.nz
4. Summer in the Square
Celebrate the arrival of summer with dance, DJs, live music and amazing food at Aotea Square. Headlining December's programme is an extraordinary outdoor dance work by award-winning choreographer Malia Johnston. The fun continues with mobile vegetable gardens, lunchtime performances and Beambox, an interactive playground created by local university students and Auckland Live.
— Aotea Square, Auckland, 2 December - 19 February. aucklandlive.co.nz
5. Necessary Distraction: A Painting Show
What can painting offer that other art forms cannot? Discover the new found strength of New Zealand painting in this multi-artist exhibition. Read Why Artist Stella Corkery Thinks We Should Slow Down
— Auckland Art Gallery, 28 November - 4 April. aucklandartgallery.com
6. Meine Bilder by Zac Langdon-Pole
This exhibition features a poem and a film that are used to test the seduction of images and the limits of memory and language, as well as forms of collective and individual agency in the face of loss, destruction and impasse.
— The Physics Room, Christchurch, 5 December - 30 January. physicsroom.org.nz
7. Honky Tonkin'
Experience the work of Campbell Patterson as he turns everyday activities into monomaniacal encounters. The central focus of this exhibition is the site-specific frieze of handwritten text, including a script that spans the full length of two gallery walls.
— Te Uru, Waitakere Contemporary Gallery Auckland, 28 November - 24 January. www.teuru.org.nz
8. Devonstock 2015
Devonport's premiere music festival returns this summer with a lineup of fantastic New Zealand artists as well as up-and-coming stars. Headlining this year's festival is Brendan Thomas and the Vibes, who wowed audiences this year with their energetic psychedelic blues-rock on X-Factor NZ.
— Windsor Reserve, Devonport, 13 December. depotartspace.co.nz
9. Andy's Burgers & Bar
SkyCity is welcoming a new burger bar in its precinct, with chef Renato Passoni Ribeiro moving across from Federal Street Deli to create a new simple menu of burger bar classics with a modern twist.
— Federal Street at SKYCITY, Auckland, open from December 18. 
10. Reggae by the River
Returning to Taupo this summer, Reggae by the River is set to showcase some fantastic New Zealand music. Pack a picnic and spend a relaxing evening enjoying the sounds of Trinity Roots, The Black Seeds, Tomorrow People and more kiwi artists.
— Riverside Park, Taupo, 30 December. reggaeontheriver.com
11. Unknown Mortal Orchestra
Ruban Nielson is returning to New Zealand with Unknown Mortal Orchestra for six highly anticipated shows. The first Wellington show has completely sold out and due to popular demand, a second show has now been added.
— Auckland (12 December), Wellington (14 & 18 December), Christchurch (15 December) and Dunedin (16 & 17 December). unknownmortalorchestra.com
12. Rhythm and Alps
Escape to Wanaka for a two-day outdoor festival and celebrate at the Southern lakes' biggest New Year's party. There is a talent-packed roster and more live music than ever, including performances by Carl Cox, Sticky Fingers, Opiuo Band.
— Cardrona Valley, Wanaka, 30 December – 1 January. rhythmandalps.co.nz
13. Roberta Thornley: Round and Round
This series of photographs centre around the bush below Roberta Thornley's studio used by children from neighbouring properties. These striking images circle and explore the world they have created.
— 4 Winchester St, Grey Lynn, Auckland, 17 November – 23 December. timmelville.com
14. The Auckland Fair
Experience a market like no other and shop from over 120 exclusively handmade stall holders. Designed to empower New Zealand businesses, the Auckland fair has been growing strength-to-strength since it began over five years ago. Despite the large attendance, the fair provides an intimate setting where you can stop to chat to the people behind the table and make a meaningful connection with your purchases.
— Shed 10, Auckland, 6 December. aucklandfair.com
15. Colour Dash
Take on the world's most colourful walk or run to help raise funds for the Ronald McDonald Charities. Throughout the 5km fun run, participants will be splashed with special colourful dust.
— Barry Curtis Park, Auckland, 6 December. colourdash.co.nz
16. Sculpture in the Gardens
Discover large-scale artworks from New Zealand's best-known and up-and-coming sculptors. The 2km outdoor trail includes 20 pieces of work as well as live music on Sundays and artist-guided walks.
— Auckland Botanic Gardens, 29 November – 6 March. sculptureinthegardens.nz
17. Auckland Choral - Handel's Messiah
Handel's Messiah is performed by chloral groups around the world and is known as the most popular oratorio of all time. No matter how many times it is heard, Messiah never fails to move an audience.
— Auckland Town Hall, 14 & 15 December. Visit aucklandlive.co.nz
18. The New Zealand Herald Boxing Day Races
For over 150 years, Ellerslie's Boxing Day races have provided a day of high fashion, entertainment, socialising and premier thoroughbred racing.
— Ellerslie Racecourse, Auckland, 26 December. ellerslie.co.nz
19. An Evening with Oprah
Oprah Winfrey is making her first ever trip to New Zealand where the public has the opportunity to spend "An Evening with Oprah". The event will be a one-of-a-kind intimate evening where she will take the stage to discuss her personal story and insights to life.
— Vector Arena, Auckland, 16 December. ticketmaster.co.nz
20. Sol3 Mio - Christmas in the Vines
Last year over 7000 fans joined the opera sensations in their Christmas celebration. The three powerful operatic voices will perform traditional songs and Christmas carol favourites, as well as a selection of new material and a host of hits from their debut album.
— Waipara Hills Winery, Canterbury 19 December & Villa Maria Estate Winery, Auckland, 20 December. sol3mio.com
21. Connections 2015
Eight rookie artists were each given the task of capturing different parts of Auckland city on film, fitting the project amongst their day jobs.
— Queens Wharf, 89 Quay St, Auckland. connections2015.co.nz
Share this: