Tinker, Tailor, TikTok: Meet Fashion Designer & Social Media Star Judy Gao
In her particular niche, "wholesome sewing content", the fashion designer offers insight — and an interlude of glamorous, soothing escapism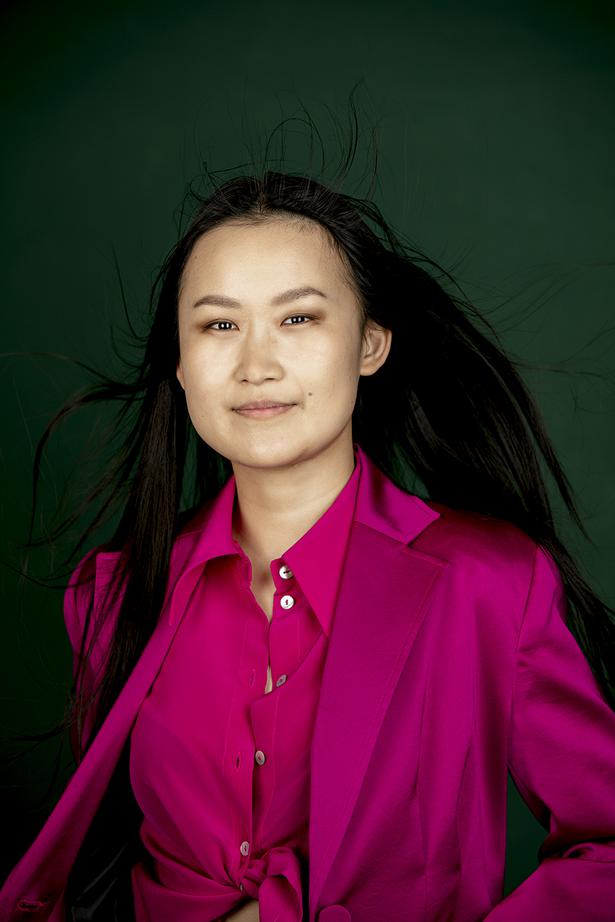 Sunday Aug. 8, 2021
Despite its seemingly lo-fi approach, TikTok's cultural influence is wide-reaching, particularly with a younger generation — the songs that go viral on the app go straight to the top of the charts; its creators are now starring in Vogue videos; newspapers including the Washington Post and the Guardian have hugely popular accounts; and government organisations like NZ On Air are putting funding towards new storytelling initiatives.
That's because it is reaching young people in a way that traditional media largely isn't — recent research showed that the biggest age group in the US using TikTok was those between 18-29; while research firm eMarketer predicted that by the end of this year, TikTok will have more Gen-Z users (that's people born between 1997-2012) in the US than Instagram.
For fashion designer Judy Gao, the 27-year-old behind namesake label Judy Gao Couture, it's a way of sharing her work with the world, engaging with fashion enthusiasts in a different, more informative way.
READ: Meet TikTok Star & Rising Beauty Buff Lydia Grace MacNeil
When and why did you join TikTok?
I joined in April 2020 after the lockdown. I saw the potential of growing my fashion business on it. There were many small businesses and creatives "blowing up" and thought it wouldn't hurt to try.
How would you describe your approach?
I have a specific niche of "wholesome sewing content". I show my process of finishing a garment from start to finish with the final reveal. It's suitable for all ages and anyone who's curious about how dresses are made.
What do you think makes TikTok so great?
The algorithm is favourable to creators. Unlike other social media platforms, your content has a chance to reach a much wider audience. Also, as a viewer, the algorithm just knows what's up. It'll show you a lot of cool and informative videos you didn't know you needed to see.
As a platform, what do you love most about creating content for it?
Creating video content has been a much better way to express my creativity. Video allows for music, sound, and transitions to create a full mood. I love the satisfaction of editing a video to fit the music and beat.
READ: NZ Expat & TikTok Brand Leader Hongi Luo Is Shaping The Future of Social Media
What's one of your most popular videos?
A satisfying sewing video inspired by ASMR. I really emphasised all the sounds e.g. cutting fabric, sewing, steaming. I think people enjoy the soothing and reminiscent audio aspect and how it reminds them of their mum/grandmother sewing when they were a child.
Is your audience largely local, or more global?
My audience is largely global — mostly in North America (US, Canada, Mexico).
TikTok has become known as the platform that speaks directly to Gen Z and Gen Alpha (i.e. young people). Why do you think it's so popular with this generation?
I think TikTok is so popular with the younger generation because it allows them to feel included and express themselves in a more natural way. On TikTok, people are praised for their imperfections and failures. It's not as curated compared to Instagram and it's much easier to find like-minded people who share the same interests.
What — if anything — do you think the difference is between a TikTok influencer and an Instagram influencer?
There is a difference in the medium of videos vs photos so I do feel that TikTok influencers are different compared to Instagram influencers. Instagram focuses more on the curation of beautiful photography and feed, whereas TikTok focuses on the influencer's views and personality.
Many young people have complex relationships with social media and the impacts it can have, particularly on mental health. What's your take on that? How do you practise healthy social media habits?
Young people definitely have it very hard these days with social media. Having to grow into their bodies and figure out who they are, while at the same time being bombarded with perfectly Photoshopped celebrities and people showing off their perfectly eventful day. It's so important to realise that social media is someone's highlight reel and that not everything you see is real.
Anything else you'd like to add?
I see a lot of people put emphasis on follower count. I just wanted to remind everyone, especially young people, that having a following does not equate to success. Having "clout" does not bring happiness. It can bring more opportunities but don't obsess over the numbers and don't let that define you.
TikTok handle: @judygaocouture
Share this: